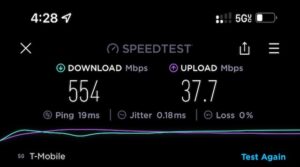 AT&T and Verizon were the big winners of the FCC's C-Band spectrum auction last year - and this mid-band spectrum is key to these carriers' plans to unlock the true "next generation" potential of their 5G networks.
This piece of spectrum has been designated Band n77 for 5G cellular use - and it was initially slated to be ready for deployment beginning in December.
But as we covered back in November - at the last minute the FAA and the airlines stepped in to express concerns that C-Band might interfere with older radar altimeters, and the airlines even threatened that thousands of flights might end up canceled every day if C-Band deployments proceed as planned.
At the time, Verizon and AT&T agreed to a one month delay - holding off their network launches until January 5th.
But the airlines were still not happy, and have been threatening lawsuits to halt the 5G network rollouts entirely as the launch came once again down to the wire.
Meanwhile - the cell carriers have been pointing out that the airlines seem to have no issues flying in other countries where C-Band has already been deployed:
"US aircraft currently fly in and out of France every day with thousands of US passengers and with the full approval of the FAA. The laws of physics are the same in the United States and France. If US airlines are permitted to operate flights every day in France, then the same operating conditions should allow them to do so in the United States."
Fierce Wireless has covered some of the drama - and what hopefully appears to be a resolution, with a seemingly final two week delay negotiated today by Secretary of Transportation Pete Buttigieg.
AT&T's statment:
"At Secretary Buttigieg's request, we have voluntarily agreed to one additional two-week delay of our deployment of C-Band 5G services. We also remain committed to the six-month protection zone mitigations we outlined in our letter. We know aviation safety and 5G can co-exist and we are confident further collaboration and technical assessment will allay any issues."
Verizon's statement:
"We've agreed to a two-week delay which promises the certainty of bringing this nation our game-changing 5G network in January, delivered over America's best and most reliable wireless network."
And the FAA:
"We look forward to using the additional time and space to reduce flight disruptions associated with this 5G deployment."
Is the war between he FAA and FCC finally over?
Most analysts think so - and that this final two week delay and some C-band rollout compromises around major airport flight paths will let all sides save face.
We'll know for sure on January 19th.
Key Mobile Internet Related Considerations
Verizon's "5G Ultra Wideband" has up until now only been available over short range mmWave signals, but with C-Band Verizon will be able to roll out faster 5G to a MUCH larger audience.

Mid-band spectrum (like C-Band) is essential to cellular carriers delivering truly "next generation" 5G performance over a wider area.

T-Mobile has ample mid-band spectrum from its acquisition of Sprint, but AT&T and Verizon have been aiming to rely on this newly available C-Band spectrum to be central to their 5G expansion plans.
Verizon in particular is eager to launch C-Band, saying today that "This month, more than 100 million people in 1,700-plus cities around the nation will have access to speeds up to 10x faster than 4G LTE via Verizon 5G Ultra Wideband network."
If C-Band keeps getting delayed, Verizon and AT&T will continue to fall further behind T-Mobile in delivering a next generation 5G experience.
Check your device compatibility - not all 5G devices are Band n77 compatible!
Video Story:
For More Information:
Related Mobile Internet Resource Center Content:
And here is all of our past C-Band coverage: