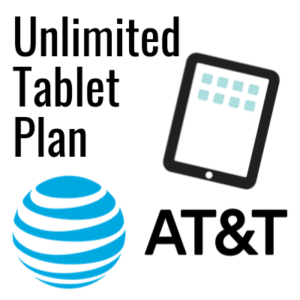 Earlier this month AT&T abruptly retired their popular $34.99/month ($40 without autopay) unlimited prepaid DataConnect plan for iPads and other tablets.
And customers who had been using the plan in unauthorized devices like hotspots and cellular embedded routers have been facing cancellations.
AT&T confirmed with our staff that the plan was indeed retired and customers who are using the plan within terms of service would be grandfathered in.
And AT&T also informed us they were planning a replacement plan.
Last night, that replacement plan appeared. It's still $34.99/month, but it's capped at 25GB of on-device data.
Video Version
Subscribe to our YouTube Channel
New AT&T DataConnect Prepaid Tablet Plans
All of AT&T Prepaid tablet plans now only come with capped buckets of data.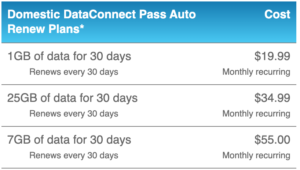 The following plans are 30-day plans with domestic-US data only. Pricing is based on signing up for auto-renewal:
1GB for $19.99/month - no hotspot data
25GB for $34.99/month - no hotspot data
7GB for $55.00/month - hotspotting permitted
For those looking for 'one-time' data buckets without enabling auto-pay, AT&T Prepaid offers two domestic (U.S.) plans:
2GB for $30.00 for 90 days - no hotspot data
25GB for $40.00 for 30 days - no hotspot data
International DataConnect prepaid plans, both valid for 30 days, are now:
1GB for $60.00 - no hotspot data
3GB for $120.00 - no hotspot data
All of the above plans expire when full data allotment is used or the specified time period ends, whichever comes first. Data allowances must be used in the time period provided; any remaining data will be forfeited (no roll-over).
Note that tethering is allowed for compatible devices only on the $55 plan, which is capped at 7GB of data a month.
Continued AT&T Cancellations
Since the unlimited $34.99/month plan retired earlier this month, we have continued to hear about cancelations for customers utilizing the plan in routers & hotspots.
Initially, the fraud department contacted customers with an opportunity to keep the plan if they moved the SIM card back to a tablet, but recent reports indicate AT&T is just canceling plans outright (with a generic note that the plan was either inactive or the cancellation was requested by the customer).
We also have seen some reports of customers logging into their AT&T account to find only the high priced tiered data plans are available with no option to renew the unlimited plan they had.
We highly recommend anyone using the grandfathered unlimited tablet plan to keep their SIM card in an authorized device going forward.
3rd Party Resellers and Data Brokers
There are many 3rd Party Resellers and data brokers who rent out AT&T unlimited data lines. Some have assisted customers with setting up the grandfathered unlimited tablet plan for use on a hotspot or router.
Other resellers claim to have legitimate agreements with AT&T to resell service while others may be reselling lines without authorization.
If you are renting a line of service or used a vendor to set up a $34.99/month AT&T unlimited plan - anticipate that your account could be impacted by this shift as well.
We also keep an eye on resellers that we track for 'out of stock' notices that are popping up.
NetBuddy Cancellations
Of particular note, we received multiple reports that popular reseller NetBuddy is canceling automatic payments along with some reports of service no longer working.
NetBuddy has thus far not returned our inquiries, but they did launch a new opportunity to purchase one of their surplus Iines of service for $200 to take over a $34.99/month grandfathered unlimited tablet plan, but that option now appears out of stock. Their standard $65/month unlimited option is also listed as out of stock.
Should it become available again, we recommend against purchasing a line for $200 as these lines could be terminated by AT&T if used in a hotspot or router.
OTR Mobile - Ok For Now
Thus far we have not heard of any issues related to the tablet plan retirement with popular reseller OTR Mobile. They have returned our inquiries, and have reassured us that their plans are good for the time being.
They are, however, not accepting new customers at the present time.
Additionally, OTR is teasing a new option on their website for new customers that is expected to come out soon. They promised to let us know the details as soon as they are available.
Postpaid Unlimited Tablet Options
If you qualify for postpaid service with AT&T (or any of the other carriers), you can still get an unlimited data tablet plan.
Most carriers do not offer them as stand-alone plans, however, but instead offer them as an additional line to an existing unlimited smartphone plan. The cost is usually $10-20 per month plus taxes. These plans typically include unlimited on-device data, just subject to network management, and usually come with 10-30 GB of high-speed mobile hotspot data depending on the plan.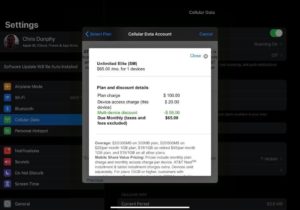 However, it appears AT&T still allows the postpaid unlimited tablet plan to be activated as a stand-alone plan. Some customers have found AT&T reps who still know how to add on an older retired $20/month unlimited line of service on its own, which is based on the Unlimited Plus Plan (network management at 22GB and 15GB of hotspot data).
Additionally, at the time of this publishing, it appears possible to activate the current Unlimited Elite plan directly on a tablet as a single line of service. It even gets the multi-line discount pricing - just $65/month for on-device unlimited data subject to network management after 100GB of usage and 15 or 30GB of hotspot data.
The check-out screen for this plan, however, is full of outdated references to retired plans and the pricing doesn't align - so we're not sure if this is an actual offering or a mistake in AT&T's system.
Use in Hotspots NOT Recommended
While AT&T prepaid and postpaid tablet plans still currently 'just work' when placed in routers and mobile hotspots, it seems AT&T is also actively shutting down this unauthorized practice on postpaid lines.
And with postpaid plans, there are additional risks as your identity is tied to your account - and the carrier could change your plan to match your device, which can result in massive overage charges.
Unlimited On-Device Tablet Data - A Workable Option
With AT&T closing the door on utilizing unlimited tablet plans in unauthorized devices, unlimited tablet plans can still be a great and affordable option when used as intended in a tablet.
Even with the on-device data restriction, there is a lot one can do on a tablet as part of a mobile internet arsenal - such as video streaming (even using screencasting to a larger screen), video conferencing, gaming and general web surfing.
And with an external keyboard, a tablet can easily be used for many computing tasks.
Summary
Compared to the previous unlimited data plan at $34.99/month, the new tiered data plans are, quite frankly, not overly attractive and will be a major disappointment for anyone looking for unlimited data that can be used as a mobile hotspot or router.
The new plans are not even a great value for use in a tablet compared to postpaid tablet options, but they could be an easy and flexible option for those seeking a tablet plan who don't need unlimited data.
Some customers have been able to retain the now-retired unlimited prepaid tablet plan and they should be grandfathered as long as they keep their account in good standing and follow AT&T's terms of service.
It's unfortunate this option is no longer available to new customers.
Even when restricted to use in a tablet, this plan is still a good value and a good addition to a mobile internet arsenal.
Related News:
Related Guides: