Key Points:
AT&T Prepaid increased the price on their largest available prepaid data-only plan
Even with the price increase, this remains one of the better options available direct from AT&T
AT&T has increased the price of their 100GB prepaid data plan that can be used in data-only devices like hotspots and routers.
The price increase is significant, going from $50 with autopay ($55 without) to $90/mo. The new plans also do not include an option for an autopay discount.
AT&T Prepaid Hotspot Plan Video
Plan History
This plan was originally introduced in early 2021 as the "Great Deal" plan, and only included 25GB of data for $50.
A couple of months after the plan debuted, AT&T made some plan changes - increasing the data limit to a whopping 100GB, and the price to $55.
This move followed the introduction of a 100GB data plan from T-Mobile at the end of 2020.
In addition to making this change on AT&T Prepaid, AT&T also followed suit with their prepaid subsidiary Cricket, by changing their largest data plan to 100GB/$55.
Shortly after the plan was introduced, we added it to our lineup of Top Pick Plans.
June 2022 Price Change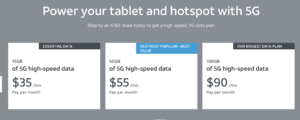 On June 21, 2022, AT&T changed the price of this 100GB data plan from $55 to $90 per month. They have also dropped auto-pay discounts for prepaid hotspot plans.
It still includes 100GB of high speed data, but the name of the plan has changed from "Great Deal" to "Biggest."
At press time, there are no other changes to the terms of the plan. And a $55/month option does remain but now only includes 50GB of high speed data.
At press time, the 100GB data plan on Cricket's website remains $55/mo.
Existing Plan Customers
AT&T has a history of grandfathering in prepaid terms for existing customers, so hopefully those who had the 100GB for $55/mo rate will continue to keep it as long as they keep their plan active.
If you do have this plan, we recommend taking care to not let your plan lapse, as it may be difficult to reinstate now that it is no longer a currently available plan.
Comparison to Other Direct Carrier Options
A quick comparison of the current biggest bucket data-only options across the major carriers shows that ATT Prepaid's 100GB plan is now one of the most expensive one available. Whereas previously it was one of the best deals out there.
These are listed in price per GB from most to least expensive:
Summary
Even though this price increase now makes this plan one of the most expensive across all of the carriers, it's still the largest data plan available direct from AT&T for consumers.
At this time it will remain on our list of Top Pick Plans.
Additional Resources
Related News Stories:
Further Reading and Related Guides: