Key Points:
AT&T is shutting down all session-based DataConnect Pass prepaid plans
These plans were already closed to new activations as of April 2022
Affected customers can transition to standard AT&T Prepaid plans and get a free month of service and SIM card
AT&T sent out notices to all customers that utilize prepaid plans acquired through its DataConnect Pass prepaid portal that all DataConnect Pass plans will be completely retired and no longer available for use. AT&T is shutting down the portal and billing system that supports these plans.
Automatic billing for existing plans will end on February 9th, and the plans will shut down for good on March 14th.
The DataConnect Pass plans had not been available for new activations since April 14, 2022. However, customers who signed up for these plans prior to that were able to continue using them and pay for them each month. But with this announcment, these plans are now completely going away for good.
AT&T is likely making this move to consolidate its prepaid offerings and eliminate the separate billing system that these plans used.
AT&T DataConnect Pass Plan Video
What Are DataConnect Pass Plans?
DataConnect Pass plans were prepaid plans offered and managed through a special "Buyasession" portal, and were separate offerings to AT&T's standard prepaid plans. The portal has been around for many years and, at times, offered very compelling plan options, including a very popular unlimited tablet plan for $34.99.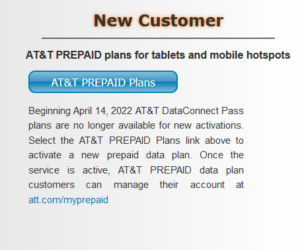 In addition to the dedicated portal website, the DataConnect Pass plans used a different billing and management system inside AT&T, which is separate from AT&T's regular prepaid and postpaid systems.
AT&T is taking this action to consolidate its billing and management systems. Shutting down these systems means that existing plans that were grandfathered will no longer be available at all.
AT&T is offering options for former DataConnect Plus customers move to one of their other Prepaid plan offerings. But, unfortunately, the Prepaid plans that are currently available are not exactly equivalent to the ones that are going away.
Alternatives To Consider
AT&T is offering affected customers a free SIM card and a free month of service to switch to one of AT&T's standard prepaid plans. Existing customers received a notification with instructions for getting the SIM card and activating a new AT&T Prepaid plan. But there are some conditions and restrictions to the free month of service:
Customers must change their plan by April 30th, 2023.
Customers must switch to a monthly plan that costs a minimum of $35/month. Annual plans are NOT eligible.
Customers must pay for the first month of service - the second month will be free.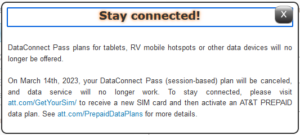 Additionally, former DataConnect Pass customers on the $34.99 Unlimited Data plan will get a $20/month discount if they switch to the $55/month 50GB prepaid data plan. That would bring that plan down to $35/month, but with only 50GB of data. Still, 50GB of data for $35/month is a solid value.
For data-only plans, here are AT&T's current prepaid offerings:
Biggest: 100GB - $90/month
Best Value: 50GB - $55/month
Essential Data: 15GB - $35/month
Built in Savings Plan: $300 for 12 months - 20GB/month ($25/month)
These are not available for direct purchase online, but can be acquired in an AT&T store or by activating a new SIM card on AT&T's prepaid website.
Unlimited Tablet Plan Alternatives
Those who are losing the $34.99/month DataConnect Pass Unlimited Tablet plan and want an alternative tablet plan might consider these options:
Those who might not need unlimited data or want to explore other options can also check out our Top Pick data plans.
Concluding Thoughts
AT&T has long had legacy systems like the DataConnect Pass portal and a confusing lineup of prepaid plan options depending on which AT&T website a customer went to. While it's understandable that AT&T would want to consolidate its plan offerings and billing systems, it's unfortunate that some of the sweet legacy plans will get axed in this transition, and we're disappointed that AT&T is not offering comparable prepaid options as a replacement.
Further Reading
Related News: