AT&T sent out notices to existing customers of AT&T's standalone business unlimited tablet plan that the price would be increasing by $10/month from $20 to $30, effective February 15th, 2023.
The affected plans are legacy "Access for iPad" and "Access for Tablet" plans as well as the current standalone version of the plan. Here is one notice sent out to customers: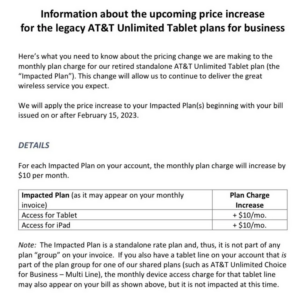 Unlimited tablet plans that are not standalone - in other words, tablet lines added to a business smartphone plan, are not affected by the price change and remain at $20/month.
Additionally, the consumer postpaid versions of the plan also remain at $20/month.
At least for now.
Members - be sure you are logged in for a special tip below:
 Bonus Member Only Content Available!
We go extra for our premium members - who make this resource center possible (did you notice the lack of 3rd Party advertising?). We have included some additional information in this news article just for our members - analysis, guidance and/or insider tips.
If you're not yet a member, please consider joining us. Extra content like this is one of the many perks we offer - in-depth content, guidance, discounts, alerts, classroom and more.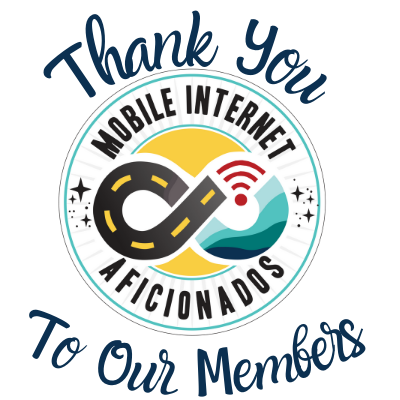 If you are already a member, please log in above to see the special content we have prepared for you.
Key Mobile Internet Related Considerations:
The AT&T Standalone Business Unlimited Tablet Plan - and legacy versions - are increasing in price from $20 to $30/month.
The standalone consumer version and business unlimited tablet lines added to a smartphone account are not affected.
Related Content at the Mobile Internet Resource Center:
Related Updates: