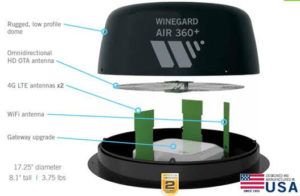 Pretty much every new RV comes with a TV antenna.
And antenna manufacturer Winegard has long been one of the leading suppliers of this key component to the RV industry.
Over the past few years, Winegard has branched out to also offer long rang Wi-Fi and roof-mounted cellular via its ConnecT and ConnecT 2.0 products, but RV manufacturers have been hesitant to add yet another major component to already crowded RV roofs.
So why not combine things - and hide the cellular and Wi-Fi antennas under the same dome as the TV antenna?
That is the core idea behind Winegard's Air 360+, a new product designed to offer a great amplified TV antenna for RV manufacturers to build onto new RVs - but with an easy "Gateway" upgrade path to allow RV owners to simply add cellular and Wi-Fi connectivity as well, without needing to drill any additional holes or pull additional wires to tap into the antennas already pre-installed on the roof.
And of course - even if your RV did not come with an Air 360+ pre-installed, Winegard is happy to offer this package as an option to anyone looking to replace their current RV television antenna with something a bit more multi-functional.
But while the Air 360+ has a lot to offer, it does have some limitations that are very important to fully understand.
---
Video Version
Subscribe to our YouTube Channel
Outdoors: The Air 360+ Dome
On the roof Winegard's Air 360+ dome conceals an amplified omnidirectional HDTV/FM antenna that Winegard claims is one of its best designs ever, able to tune into TV stations up to 55 miles away without needing to be aimed.
Tucked under the TV antenna is a 2x2 MIMO cellular antenna - the same antenna used the Winegard ConnecT 2.0 (and the Togo Roadlink C2 that is based on the same hardware).
Also lurking is under the dome is a single Wi-Fi antenna - and this is where the Air 360+ differs from its sibling. The ConnecT 2.0 has 3x external Wi-Fi antennas - and Winegard claims that the ConnecT 2.0 is better able to pull in distant Wi-Fi because of this.
Winegard says they anticipate best case Wi-Fi range of 1/3 of a mile for the Air 360+, significantly less than the one mile range of the ConnecT 2.0.
But of course - these Wi-Fi and cellular antennas are dormant... until you add the Gateway router.

Be Sure it is Plus!
In addition to the Air 360+ ($124.99 MSRP) with integrated HDTV/FM, cellular, and Wi-Fi antennas, Winegard also offers the basic Air 360 (no plus) for $89.99 with internal HDTV/AM/FM antennas, and with no upgrade path to cellular and Wi-Fi.
If you are ever contemplating adding the Gateway to upgrade to mobile internet connectivity, make sure that your RV has the Air 360+ and not the Air 360 mounted on the roof.
Interestingly - the Air 360+ does NOT have AM radio support. Perhaps Winegard is assuming that the AM radio crowd just wouldn't be into this new fangled Internet thing...
---
Indoors: The Winegard Gateway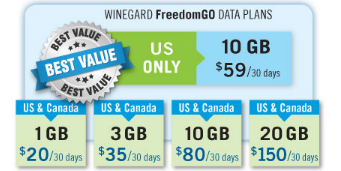 Winegard knows that many RV manufacturers will be hesitant to bundle expensive cellular and Wi-Fi features that not everyone will use with new RVs.
So Winegard is hoping that instead the manufacturers will install the Air 360+ on the roof, and inside the RV on the ceiling there will be a plastic cap covering up a bundle of cables waiting for customers to add on a $299 Winegard Gateway router.
The Gateway is essentially the same core cellular router as the Connect 2.0 - but with the Wi-Fi antennas split between the one pre-installed in the dome on the roof and two inside the Gateway inside. This should give the Gateway somewhat better indoor Wi-Fi performance, but less range and speed when reaching out to share a remote campground Wi-Fi connection.
On the cellular front - the Gateway can take advantage of the MIMO cellular antenna outdoors inside the roof unit, but the SIM card is accessible indoors - making it much easier to change active plans. Verizon and AT&T data plans and SIM cards are officially supported, and Winegard also continues to offer its own pay-as-needed cellular plan (on AT&T's network) that is better suited to those that only need occasional connectivity.
The Gateway is however a very basic cellular router.
On the Wi-Fi front it only support 2.4GHz 802.11n Wi-Fi, not dual-band 2.4GHz / 5GHz 802.11ac.
And on the cellular side - the LTE Cat-4 modem is several generations behind in both peak speeds and LTE bands supported than typical mobile hotspots. This is not going to be any sort of cellular speed demon.
The Gateway also lacks USB cellular tethering support - which prevents you from tapping directly into a mobile hotspot device for better cellular connectivity.
One nice perk of the Gateway however - it does provide a single wired ethernet port, allowing you to set up both a wireless and wired network inside an RV.

---
Is The Air 360+ and Gateway Worth A Closer Look?

If your RV came pre-installed with an Air 360+, the Winegard Gateway router is potentially a compelling simple connectivity upgrade to consider - particularly if you are fine with the relatively lower end cellular and Wi-Fi specifications.
There are a lot of very happy RVers currently staying connected with the ConnecT 2.0 or Togo Roadlink C2 - and the Air 360+ and Gateway should perform similarly.
But if you are starting from scratch and you do NOT need a new TV antenna, you are probably better off looking at the Winegard ConnecT 2.0 instead - which at just $369 will cost less than the combined cost of the Air 360+ and Gateway router, and which should be better suited to capturing distant Wi-Fi too.
For more on the ConnecT 2.0 - see our in-depth review.
Or consider the Togo Roadlink C2, a rebranded ConnecT 2.0 that costs $399 up front - but which gives you access to a truly unlimited AT&T-powered data plan for just $360/year.
Other Options
Winegard isn't the only company bundling together cellular, Wi-Fi, and HDTV.
Also worth a close look is the recently unveiled WiFiRanger Converge product line, which will also be offered both standalone and in ready-to-be-upgraded form from RV manufacturers. WiFiRanger's base products are undercutting Winegard's pricing substantially.
Other companies like Furrion and Magnadyne have also expanded their RV antenna options to include bundled cellular and/or Wi-Fi features as well - and many of these are now showing up as factory options on new RV models too.
And of course, if integrating in HDTV into your mobile internet setup isn't a goal of yours - there's multiple other approaches to utilizing cellular and Wi-Fi also worth exploring.
This is a complex and competitive product category - so be sure to do your homework!
---
Member Exclusives Insights Below:
 Bonus Member Only Content Available!
We go extra for our premium members - who make this resource center possible (did you notice the lack of 3rd Party advertising?). We have included some additional information in this news article just for our members - analysis, guidance and/or insider tips.
If you're not yet a member, please consider joining us. Extra content like this is one of the many perks we offer - in-depth content, guidance, discounts, alerts, classroom and more.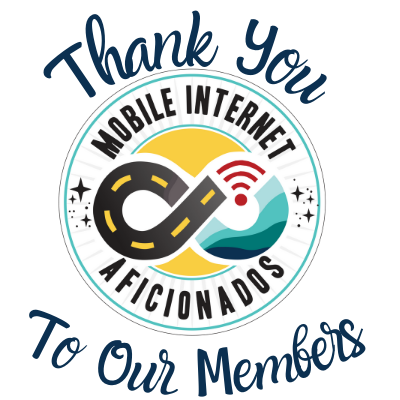 If you are already a member, please log in above to see the special content we have prepared for you.
---
Winegard in the News Updates:
Further Reading: