After teasing a 5G mobile hotspot since late 2018, Verizon today (Thursday, July 18th) finally released its first 5G-capable mobile hotspot - the Inseego 5G MiFi M1000.
In the "race to 5G" Verizon is the third carrier to release a 5G data-only device after AT&T's Nighthawk 5G (for business customers only) and Sprint's HTC Hub.
At $650, this first-generation 5G mobile hotspot provides support for Verizon's nascent 5G millimeter-wave network, as well as robust support for Verizon's 4G LTE network.
Video Version of this Story
Subscribe to our YouTube Channel
MiFi M1000 Hardware - 1st Generation 5G
The Inseego MiFi M1000 represents a bridge between 4G/LTE and 5G - it provides support for Verizon's first-generation 5G ultra-wideband service, but it is not "future-proofed" for other 5G bands expected to come next year and into 2021.
As a result, the MiFi M1000 5G will come with a shelf-life as Verizon's 5G network expands beyond the ultra-wideband spectrum the M1000 won't support.
At the same time, the M1000 provides very robust support for Verizon's existing 4G/LTE network, including a blazing-fast category 20 modem with a theoretical top download speed of 2Gbps (besting the Verizon 8800L's category 18 modem) and is close to the pinnacle in terms of 4G/LTE technology and performance, at least on paper.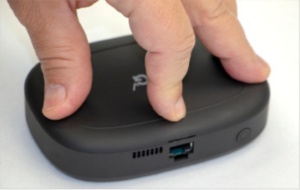 Additionally, the M1000 comes with a new feature for Verizon mobile hotspots - an ethernet port that can share the MiFi's internet connection to an ethernet device or network. This adds some great flexibility giving the M1000 three options for sharing an internet connection: Wi-Fi, USB tethering, or Ethernet.
The Ethernet port does not appear to support "data offloading" - a handy data-saving feature found in the AT&T Nighthawk mobile hotspot.
The M1000 also comes with many features one would expect with any flagship-level mobile hotspot device, including:
USB-C port for tethering/charging
Simultaneous dual-band Wi-Fi support (802.11 b/g/n/a/ac)
Guest Wi-Fi Network
Up to 24 hours of battery usage
But several features are notably missing....
Missing Features
Unfortunately, the MiFi M1000 is missing some features found in other flagship-level mobile hotspots.
No External Antenna Ports
The biggest downside is the lack of any external antenna ports - which will greatly limit the signal enhancing options for this device when used on Verizon's 4G/LTE network.
This omission is likely due to the Qualcomm X50 modem chipset and 5G support - 5G antennas need to be internal and extremely physically close to the modem.
But it is still disappointing considering the hotspot is likely to spend quite a bit of time on the 4G/LTE network. It also makes the hotspot a much less attractive alternative to the current Verizon LTE flagship, the 8800L - especially for RVers, Cruisers, and nomads who will rarely encounter 5G service or for those who might be interested in activating the device on a 4G only plan.
The lack of antenna ports, however, is not a concern for those who plan to use the device exclusively in 5G areas - currently limited to a few areas in five cities.
Other Missing Features:
Limited band support - 4G/LTE support is limited to Verizon's cellular bands (B2/B4/B5/B13/B48/B66), making this device largely incompatible with other carriers. However, it's possible that additional bands could be enabled in the future with a firmware update.
No built-in VPN, unlike the Verizon 8800L
Cannot act as a battery pack to charge other devices
No support for storage devices like USB drives or flashcards
Wi-Fi 6 (802.11ax) - this next-generation Wi-Fi technology was originally slated to be included, but was dropped for some reason.
For the full device specifications, please see our MiFi M1000 Gear Center entry.
Verizon's 5G Data Plan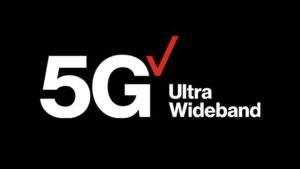 At launch, there is only a single 5G data plan available which costs $90/month and is only available for a "limited time."
Customers can also activate the device on 4G/LTE only plans which do not include any 5G access. This might be an attractive, but pricey, option for some who want to capitalize on the LTE capabilities.
Like other 5G options, this plan comes with different service terms depending on whether the device is connected to the 5G or 4G/LTE networks.
5G Service terms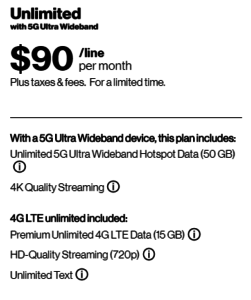 The "limited time" plan includes truly unlimited 5G data for 30 days. After 30 days, 5G data remains unlimited but is subject to a 50GB network management threshold. Once this threshold is passed, speeds may be slowed due to congestion for the rest of the month, but users will always get at least 3Mbps on the 5G network.
This is the first time we've see a specific floor on network managment - typically network management can reduce speeds to almost nothing if congestion is bad enough, but here Verizon is stating that speeds will not drop below 3Mbps.
5G service also includes 4K video streaming when connected to the 5G network.
4G/LTE Service terms
When on the 4G/LTE network, the following terms apply:
15GB of high-speed data a month followed by unlimited data at 600kbps
Video streams capped at 720p resolution
The rest of Verizon's standard terms for mobile hotspots on unlimited 4G/LTE plans apply
5G: Still Worth Waiting
If you really do want to be one of the first to jump on Verizon's 5G network with a mobile hotspot device, and happen to be (or spend significant time) in one of the service areas, then the pricey MiFi M1000 might make some sense
But most everyone should probably wait.
As we've written about frequently, the second wave of 5G hardware will be MUCH better than this first round and the 5G capabilities of the M1000 will likely be obsolete in a year when newer devices come out that will support the coming 5G technologies.
By the end of 2019, there will also be a lot more clarity regarding data plans and coverage areas for 5G, and by this time next year, 5G will be really worth considering as a serious option for RVers, cruisers, and other nomads. But now is too soon for any but hard-core early adopters, who want to be on the leading edge and are willing to pay a premium to do so.
And here is all of our recent 5G internet coverage: