Key Points:
T-Mobile customers on the newest Magenta smartphone plans can now purchase additional personal mobile hotspot data for their smartphone lines
Magenta and Magenta MAX smartphone lines can be increased up to 100GB of mobile hotspot data per month, for an extra fee
Back in February 2021, T-Mobile tweaked its lineup of Magenta smartphone plans, which included a substantial increase to mobile hotspot data and network management thresholds for Magenta and Magenta MAX. The new MAX plan comes with 40GB of mobile hotspot data as standard while the base Magenta plan comes with 5GB.
But today, T-Mobile quietly added the ability for customers to increase the personal hotspot data cap for an extra fee - up to 100GB per month for both Magenta and Magenta Max smartphone lines. This can be done easily via the T-Mobile app.
Video Story
Subscribe to our YouTube Channel
Personal Hotspot Addon Details and Analysis
Here are the options for increasing the personal hotspot caps:
Magenta (Base high-speed mobile hotspot cap is 5GB/month)
40GB high-speed cap (adding 35GB) for $15/month
50GB high-speed cap (adding 45GB) for $25/month
100GB high-speed cap (adding 95GB) for $50/month
Magenta MAX (Base high-speed mobile hotspot cap is 40GB/month)
50GB high-speed cap (adding 10GB) for $10/month
100GB high-speed cap (adding 60GB) for $35/month
These prices are per-line, and on top of the base price for the line.
And just as before, once the mobile hotspot cap is exceeded, mobile hotspot speeds are reduced to 3G (600kbps) for the remainder of the month.
Previously, T-Mobile offered the option to increase high-speed mobile hotspot data for a flat $10/10GB. It's not clear at press time if that option still remains, but the new options that came out today are a much better value in terms of price-per-GB of data.
If you want 40GB (or more) of high speed mobile hotspot use - it's better to just switch your plan from Magenta to Magenta MAX. For that same $15/mo increase you'll get the 40GB hotspot cap, plus no network management and 4K video streaming.
Additionally, T-Mobile still offers the Global Plus 15GB add-on for $50/month that includes unlimited high-speed domestic hotspot data as well as attractive international data usage. For those on the base Magenta plan, the Global Plus 15GB option is a much better value for high-data users considering it's the same price as the new 100GB option introduced today. This option however is not available for adding on to Magenta MAX.
Comparison to Other Carriers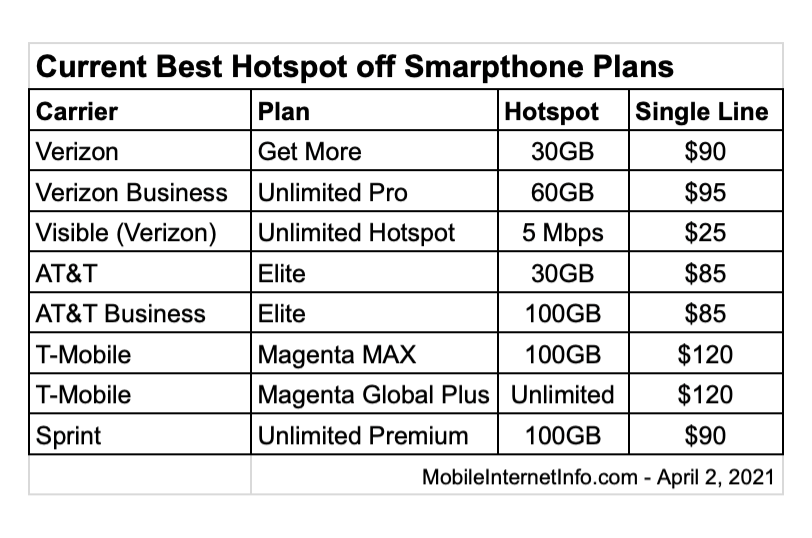 Neither Verizon nor AT&T offers nearly the same amount of smartphone hotspot data to consumers as these new options.
Verizon offers a maximum of 30GB of hotspot data on its top-tier consumer "Get More" plan and even the Verizon business-only "Unlimited Pro" plan is limited to 60GB. And there's also Visible, Verizon's prepaid subsidiary, where you can get a smartphone plan for as low as $25/month with unlimited mobile hotspot use capped at 5 Mbps speeds.
AT&T also offers 30GB on its top-tier consumer "Unlimited Elite" plan, but the business-only version of this plan does come with 100GB of mobile hotspot data for the same price as the consumer version, making it the current best deal for mobile hotspot data on a smartphone plan (and one of our Top Pick plans).
Sprint option are still also available, with their Unlimited Premium offering with 100GB of high speed mobile hotspot use off their smartphone plan.
Summary
These new optional personal hotspot limits for smartphone lines are a great value and provide mobile users a lot of flexibility. Although mobile hotspot data from a smartphone is usually not the primary choice for those looking for a true mobile home internet replacement, it can be a great secondary source of data.
The ability to increase hotspot data up to 100GB for a reasonable extra fee is particularly nice for those who might need extra data in a pinch.
T-Mobile's postpaid data-only plan, however, that offers 100GB of data to a mobile hotspot device or mobile router for $50/month, is a better value for those who don't want to be limited by a smartphone hotspot, or who don't have T-Mobile Magenta smartphone lines.
Either way, T-Mobile is giving customers more data options than ever before as they seek to compete with rivals AT&T and Verizon.
Related News Stories

Related Content