Key Points:
T-Mobile increases mobile hotspot data and network management thresholds for Magenta and Magenta Plus
Magenta Plus will now be Magenta MAX
Pricing will remain the same, with 55+, Military, and First Responder discounts still applicable
T-Mobile announced some changes to their Magenta plan line-up today that will go into effect on February 24, 2021.
Video Story
Subscribe to our YouTube Channel
Current Plan Lineup
T-Mobile's current smartphone plan lineup includes Essentials, Magenta, and Magenta Plus. These new changes will affect the Magenta and Magenta Plus plans - the Essentials Plan, and the add-ons available for the Magenta plan (see below) will remain the same.
Magenta Plus is now Magenta MAX
The current Magenta Plus Plan (previously the +UP add-on) will be called Magenta MAX going forward.
The Magenta MAX plan includes unlimited on-device high-speed data, just as the Magenta Plus plan did. But Magenta Max will not be subject to network management thresholds - all data will be premium data.

Also, the MAX plan will come with 40GB of high-speed mobile hotspot data, and streaming will be provided at up to UHD/4K speeds.
Customers who sign up for one phone line on a MAX plan will receive a subscription to Netflix Basic, and customers who sign up for two or more lines will receive Netflix Standard.
The previous Magenta Plus plan had network management after 50GB, 20GB of high-speed mobile hotspot data, 1080p streaming, and Netflix was only included with family/multi-line plans.
Magenta Plan Changes
The base Magenta plans will also have some changes. After 2/24, they will have a network management threshold of 100GB, and 5GB of mobile hotspot data.
Previously, the Magenta Plans were subject to network management after 50GB, and included 3GB of mobile hotspot data.
There were no changes announces for the entry-level Essentials plan.
Pricing Will Remain the Same
T-Mobile has only specified the pricing for 3-line bundles, but they have stated that the pricing for the MAX and new Magenta plans will remain the same as what they were previously. Magenta MAX will be $85 for a single line of service, and Magenta will be $70 - there are substantial discounts for multi-line accounts.
T-Mobile is also running a promotion on 3-line bundles for a "limited" time along with these plan updates.
Military, 55+, First-Responder Discounts
55+, Military, and First Responder discounts will continue to be applicable to T-Mobile's new line-up of Magenta plans, including Magenta MAX.
55+ Discount Pricing
A single Magenta line with a 55+ discount will be $50, with two lines totaling $70.
Two lines on Magenta MAX 55+ is $90. Single 55+ lines are not available on Magenta MAX.
There is a two-line max with a 55+ discount scheme.
55+ discounted lines now include Netflix - a basic subscription for Magenta, and a standard subscription for two lines on MAX.
Military Discount Pricing & First Responder Discount Pricing
Single Military discounted lines and single First Responder lines on Magenta are priced at $55/line, with a two-line total coming in at $80. Pricing discounts per line continue as you add additional lines up to 5 lines.
You must have at least two lines on an account for Magenta MAX, which is priced at $50/line ($100) for two lines, with discounts per line up to 5 lines. Up to 12 lines can be included on an account).
Military and First Responder discounted lines include a Netflix subscription.
Zero Cost to Switch Deal
T-Mobile is also offering a "Zero Cost to Switch" deal. Customers with 5G phones on AT&T and Verizon plans can get up to $650 per line to pay off their phone, with no additional fees to switch.
Magenta Global Plus 15GB
The Global Plus 15GB add on to Magenta plan, one of our top pick data plans for a $50/month additional cost, adds 15GB of high-speed international data (5GB in Canada & Mexico), unlimited full-speed mobile hotspot data in the US, 50GB network management threshold and 1080p international video streaming.
At this time T-Mobile has not indicated that there are any changes planned for Global Plus.
How to Get the New Plans
These plans are available for new customers, and existing customers can request to switch to them as well.
Summary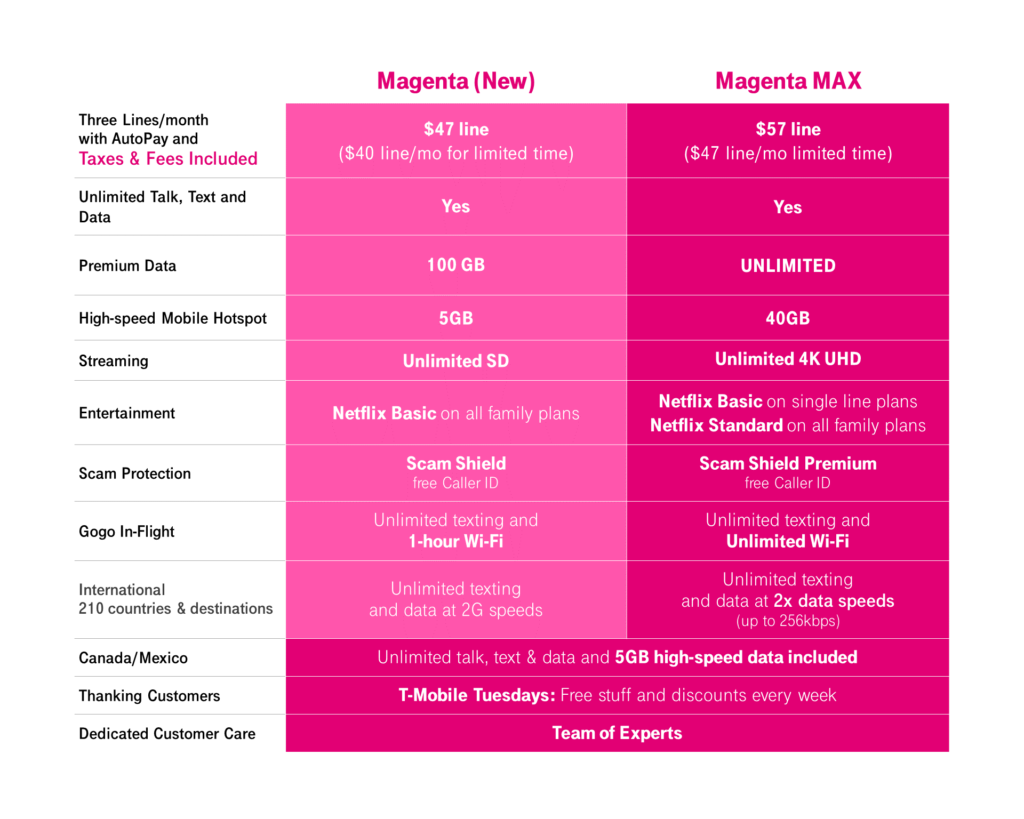 With no price changes, any customer who is currently on these plans will certainly want to switch to them to take advantage of the additional premium and hotspot data.
For customers not on T-Mobile, these plans may be worth considering, but they are smartphone plans and therefore must be used in a smartphone, and the hotspot data is limited to either 40GB or 5GB.
Tablets can be added for just $20/month and include unlimited 3G speed mobile hotspot use.
With the Global Plus 15GB add-on included however, these plans will still be considered a Top Pick due to the unlimited hotspot data that is included.
For anyone desiring a plan for data only devices like hotspots or routers, consider their new Mobile Internet plans offering 100GB of hotspot data for $50/month.
Related News Stories
Related Guides