Key Points:
Peplink's new 8.3 firmware release is loaded up with exciting new features, many of which will make life better for connected RVers and cruisers.
In particular, the new Synergy Mode unleashes flexible new capabilities by making it possible to combine multiple individual Peplink routers into a synergized whole.
The improved SpeedFusion "Dynamic Weighted Bonding" algorithm is much better at combining multiple mobile connections and is now enabled by default. SpeedFusion Connect Protect bonding also now comes with unlimited data.
The popular Balance 20X model also gets a complete software overhaul - turning it into a top pick value-priced router well suited to adding more redundancy to many setups, particularly when integrating in Starlink and other Ethernet & USB internet sources.
Some new features will require an active PrimeCare license, making extending after the free first year appealing to consumers for the first time.
Cellular-connected router manufacturer Peplink today released version 8.3 of the firmware that powers its lineup of connected routers.
We've been experimenting with the various beta releases of 8.3 since November - and it is indeed an extremely impressive update with enough new features that it really could have been worthy of being called 9.0.
Under the hood - the improved Dynamic Weighted Bonding algorithm makes Peplink's SpeedFusion Bonding technology dramatically better at dealing with combining together wildly diverse connections into a more reliable whole.
And the new Synergy Mode takes redundancy even further by making it simple to combine two routers into one - a perfect scenario for people who upgrade to a new 5G device and still want to utilize their old Peplink router.
But those flagship features are just scratching the surface.
What else is new?
Let's dive in!
Peplink 8.3 Firmware Video Overview
Here's our video overviewing the features discussed below:
Our Education & Action partner at MobileMustHave.com also goes over some of the key features in their hands-on tour of the new firmware:
SpeedFusion Connect Protect: Renamed, and Now Unlimited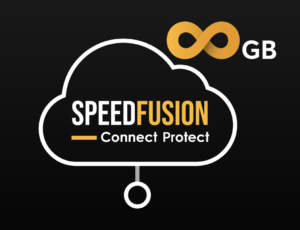 SpeedFusion bonding has always been one of the flagship features of Peplink routers, allowing users to bond multiple connections together for improved performance and reliability.
Originally it was left up to the customer to host their own SpeedFusion bonding server, but in August 2020 Peplink launched SpeedFusion Cloud (our news story) in firmware 8.1 to greatly simplify Speedfusion bonding by letting Peplink manage the servers for you.
And in November 2020, Peplink began including free data allotments (our story) on these cloud servers with all PrimeCare model routers to make it easy for customers to take advantage of SpeedFusion bonding.
In the years since - Peplink renamed SpeedFusion Cloud to SpeedFusion Connect. And now, with the release of 8.3, Peplink is changing the name again to SpeedFusion Connect Protect. The "Protect" is meant to emphasize that this feature also functions as a VPN that protects all your traffic over the bonded connection.
Beyond the renaming - a more significant change in 8.3 is that SpeedFusion Connect Protect data is now unlimited!
But with a catch.
With firmware 8.3 installed you still get assigned a high-speed usage allotment tier based on your router model, and you continue to get free data each year as long as you keep your PrimeCare support contract active.
But now - when your data pool runs out, instead of getting cut off (or feeling forced into buying more data) - you get ongoing unlimited SpeedFusion Connect Protect usage at a throttled 10 Mbps speed.
This is fast enough for many online needs.
If you do need more higher-speed data, you can always buy more for just $40 for a terabyte.
Here is Peplink's revised chart showing the details: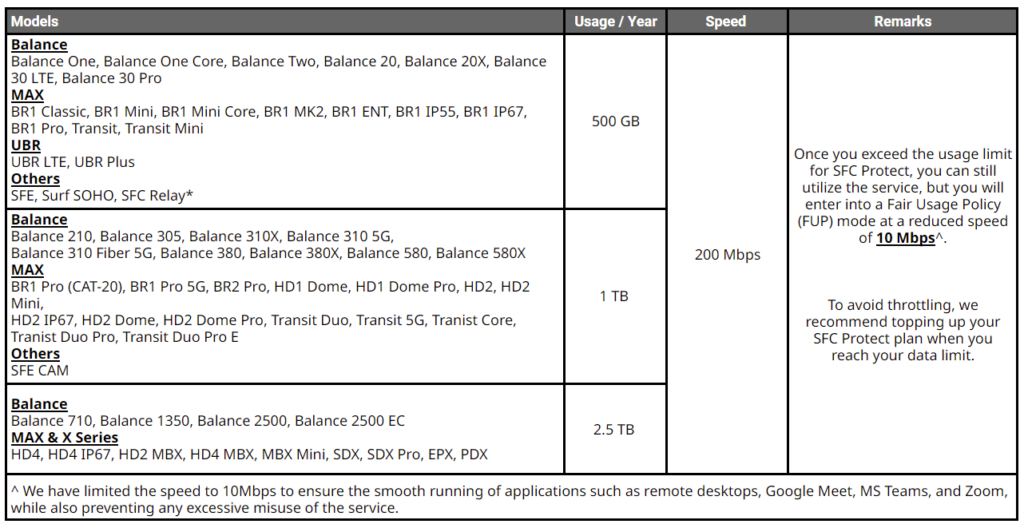 For more on SpeedFusion, dive into our member exclusive guide:
Dynamic Weighted Bonding: SpeedFusion Now "Ready For Anything"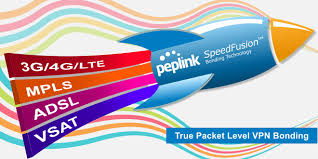 Peplink's SpeedFusion works wonders for increasing connection reliability - letting you combine two or more connections with instant seamless failover and bonding that lets connections combine together to increase overall speed.
But up until now - SpeedFusion always performed best when used to combine connections that had relatively similar performance.
This however was NOT the common scenario for many technomads - with cellular connections varying between awesome and awful depending on signal strength and congestion. Even Starlink can suffer massively from congestion, especially when used near any obstructions.
Getting good SpeedFusion performance often required manual tweaking.
But now in 8.3, the new and improved "Dynamic Weighted Bonding" algorithm is designed specifically for dealing with widely variable cellular and satellite connections and it is now the default for SpeedFusion tunnels.
The new Dynamic Weighted Bonding algorithm is particularly better at dealing with super slow connections, keeping them from dragging down faster connections when they are bonded together.
Also new under the hood is the optional "TCP Ramp Up Mode" that allows bonded connection speeds to ramp up faster under load, a feature that works especially well for combining cellular with Starlink.
In our testing over the past few months - SpeedFusion performs substantially better with a lot less manual tweaking required.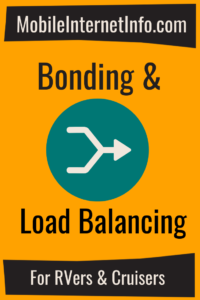 Geek Alert!
Bonding and load balancing are complicated topics - and these techniques are not for everyone!
For a better understanding of the fundamentals, and to understand just what is possible (and what doesn't work at all!) when you combine multiple connections together, see our featured member guide:
Combine Routers With Synergy Mode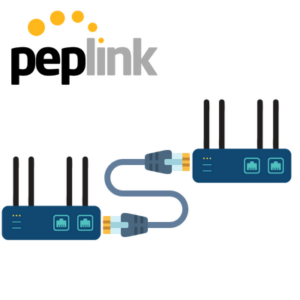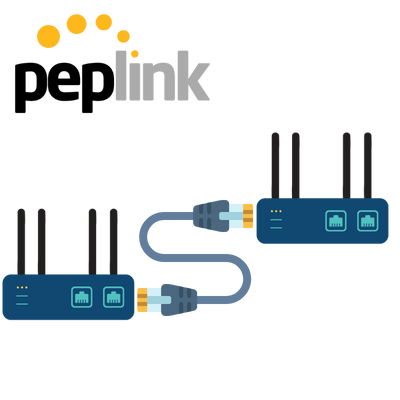 One of the key new features in firmware 8.3 is "Synergy Mode" - which lets a primary router make use of all the WAN ports on any number of secondary routers.
This has the potential to be very useful for people who have more than one Peplink router - perhaps putting an older router to use after an upgrade.
For example - with Synergy, when people upgrade to a new router with 5G (such as the MAX BR1 Pro 5G), they can keep all the WAN options on their older MAX Transit Duo still in the mix.
This is a great way to build a three-or-four WAN solution using cellular alone, or to get more Ethernet WAN ports or Wi-Fi as WAN connections.
We've been testing Synergy extensively - and it is an absolutely wonderful feature that makes building a mobile connectivity arsenal with ample redundancy easier than ever.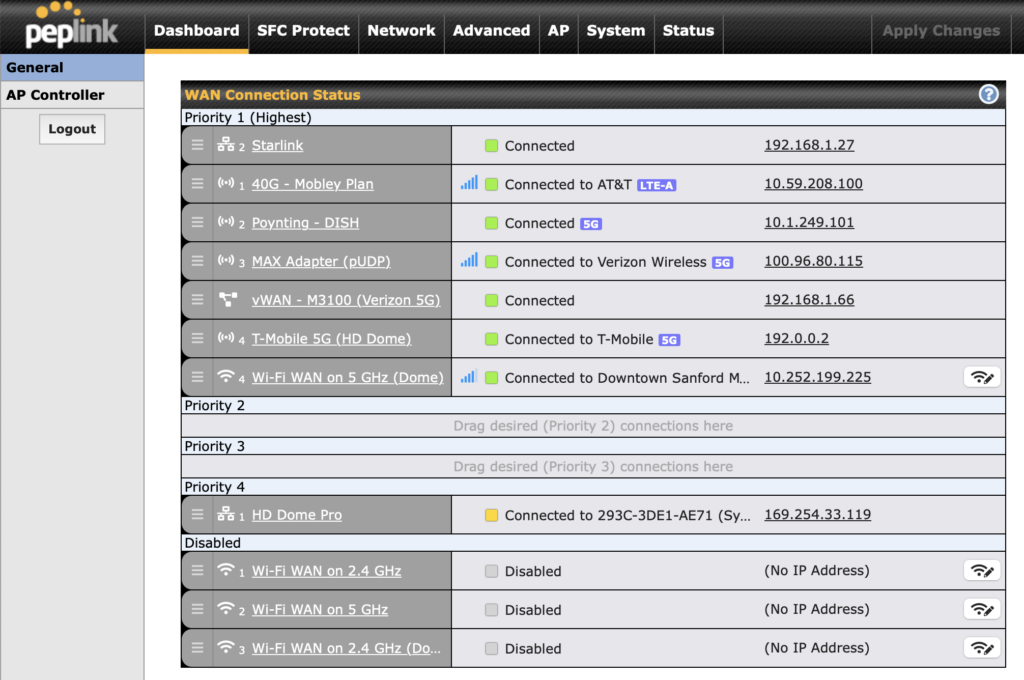 With Synergy enabled - every WAN connection on any secondary Synergized device becomes a full-featured WAN connection that can be managed from the dashboard of the primary router.
Consider adding an old MAX Transit Duo to a new MAX BR1 Pro 5G - a common upgrade.
When they are Synergized together, you get:
Triple Cellular - Two 4G and a 5G connection.
Extra Ethernet - The Ethernet port on the secondary router can be used for Starlink or any other wired WAN source.
Dedicated WiFi-as-WAN - You can have the secondary router hooked up to an outdoor antenna for campground or marina Wi-Fi, without having your indoor Wi-Fi radio doing double duty.
All the WAN ports on a Synergized device become WAN options on the primary - whether they are cellular, USB, Ethernet, or Wi-Fi.
You can failover and bond between the connections, just as if they were local WAN ports.
Plus - you can even synergize multiple secondary routers, assuming you have enough WAN ports on your primary to plug them all in.
Just last week we published a guide and hosted a webinar for our MIA members showing off how to set up Synergy, and various tips and tricks for using it, here:
Synergy PrimeCare Requirement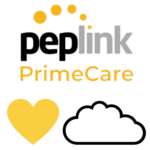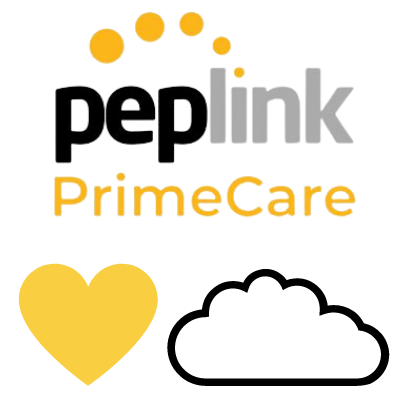 When Synergy was first announced - the feature required that ALL synergized devices needed an active paid-up PrimeCare or Care+ support contract before they could be combined together.
We met with Peplink and made the case that the typical RV or Cruiser was unlikely to see the value in a support contract on both a new router and an older one that they are upgrading from, and yet this scenario is the typical use case for Synergy for our audience.
In response, Peplink actually changed course, revising the release notes to say:
[Synergy Mode] Synergy Mode is included free of charge with any Care plan. Allow a Synergy host (under the Care plan) to support the first Synergized device regardless of its Care plan status.
In other words - if you are combining just two routers, only the primary needs to have PrimeCare. And remember, your first year of PrimeCare is free with most new Peplink routers.
This is an awesome change - and it is great to see that Peplink is willing to listen to the concerns of our audience.
Virtual WAN Enabled: Get Extra Ethernet WAN Ports!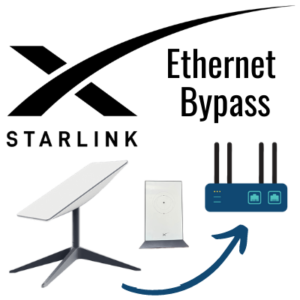 Peplink is moving even further towards unlocking extra features for those who keep PrimeCare support contracts active.
One other new PrimeCare feature debuting in firmware 8.3 is virtual WAN ports, which allow you to assign any spare Ethernet LAN port on your router to be an additional Ethernet WAN port.
And if you have a managed vLAN-capable switch on your LAN - you can instead use one of the remote ports on the switch as an additional Ethernet WAN.
This feature is a great way to get an additional wired Ethernet port for adding in Starlink or connecting a 5G hotspot with Ethernet output.
If you need more than one Virtual WAN port - even more can be added with additional paid licenses, depending on your router model.
Virtual WAN will be the topic of our March MIA Peplink webinar we host monthly with our partners at MobileMustHave.com. The webinar will become part of a new resource center article diving deeper into this topic.
Balance 20X: New Feature Bonanza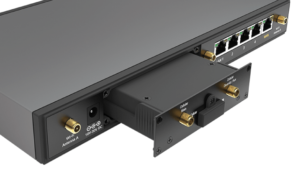 The Peplink Balance 20X router has long been a Top Pick here at the Mobile Internet Resource Center because of how much capability it packs into a small affordable package starting at just $549.
But it also frustrated us - with a user interface that was different and harder to use than most other Peplink routers, and the Balance 20X lacked WiFi-as-WAN capability - preventing it from being used to connect to campground or marina Wi-Fi networks.
The 8.3 firmware completely overhauls to Balance 20X UI to bring it in line with the Peplink MAX routers, and it adds both Virtual WAN and WiFi-as-WAN as PrimeCare unlocked features.
Even with all this new functionality - PrimeCare on the Balance 20X remains just $49/year beyond your initial free first year.
One other bonus for Balance 20X owners - the Ethernet router throughput speed has increased from 900 Mbps to 1 Gbps with 8.3 as well. However, we encourage our members to go to our full review of the Balance 20x to learn about the trade-offs of this router - including an important cellular limitation that caps the max cellular speed.
For more on all the great features that firmware 8.3 unlocks in the Balance 20X, see this video from our partner Erik at MobileMustHave.com:
View our full review of the Balance 20X:
MAX Adapter Finally Gets Good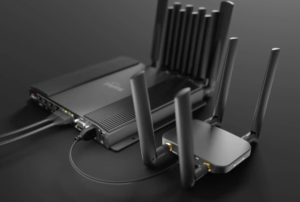 The MAX Adapter is Peplink's USB-connected external cellular modem that can be added to Peplink routers with USB ports (which are few and far between - including the Balance 20X and MAX BR2 5G Pro) to enable an additional cellular connection.
But up until now - the MAX Adapter was treated more like a dumb Ethernet connection than a cellular connection by the router you plugged the MAX Adapter into.
There was no user interface available to manage your cellular connection at all or to enable manual cellular band selection.
Firmware 8.3 changes things - and now when the MAX Adapter is plugged in, it functions just as if it was an additional internal cellular modem.
You can now tweak your connection using the same dashboard and features you are used to - making the MAX Adapter a much more valuable upgrade for anyone seeking an additional cellular connection.
Now if only more Peplink routers offered the USB port necessary to put the MAX Adapter to use.
View our overview of the MAX Adapter:
Two Antenna Mode Eases Antenna Upgrade Pain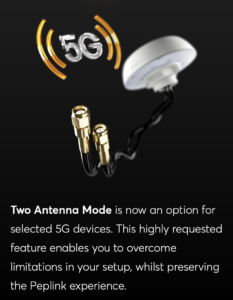 One challenge many users face when upgrading to 5G is that 5G modems require 4x4 MIMO antennas (with four antenna elements, and four cables!), and all Cat-12 and below 4G/LTE modems use 2x2 MIMO antennas.
It is often a lot easier to upgrade a router located indoors on a boat or an RV than it is to install a new antenna on the roof and pull the necessary wires - making the upgrade path to 5G more painful than it should be.
Recognizing that some people might not be able to upgrade their antennas at the same time they upgrade their routers - Peplink firmware 8.3 adds a new "Two Antenna Mode" feature that forces the 5G modem to only use two of the antenna ports available to it.
Cutting off two antenna inputs can and WILL impact peak potential performance - but in many situations, the performance difference will not be too painful.
Of course, you also have the option in decent signal conditions to just use two of the paddle antennas installed directly on the router in addition to a 2x2 roof-mounted antenna - though 4x4 MIMO works best when all four antennas are roughly equivalent. We look forward to more extensive testing of these configuration trade-offs over time, and will be sharing our results in the MIA forums.
Two Antenna Mode is a great way to delay upgrading to a 4x4 MIMO antenna or to put an already installed 2x2 MIMO antenna to good use.
On our boat - we are using Two Antenna Mode on one modem of a dual-5G MAX BR2 Pro so that one 5G modem has a Peplink Maritime 40G 4x4 MIMO antenna, and the other modem uses our older Poynting 2x2 MIMO antenna using Two Antenna Mode.

For more on selecting antennas:
Smarter Ways to Juggle Connections
Firmware 8.3 also introduces some new advanced features that make Peplink's ability to use outbound policies to steer data flow more powerful.
In particular - you can now define "Outbound Policies" by Client Type, so you can (for example) make sure that all your Game Console traffic stays off of your limited cellular connections, or that your Smart TVs only take advantage of connections that support 4K video without throttling.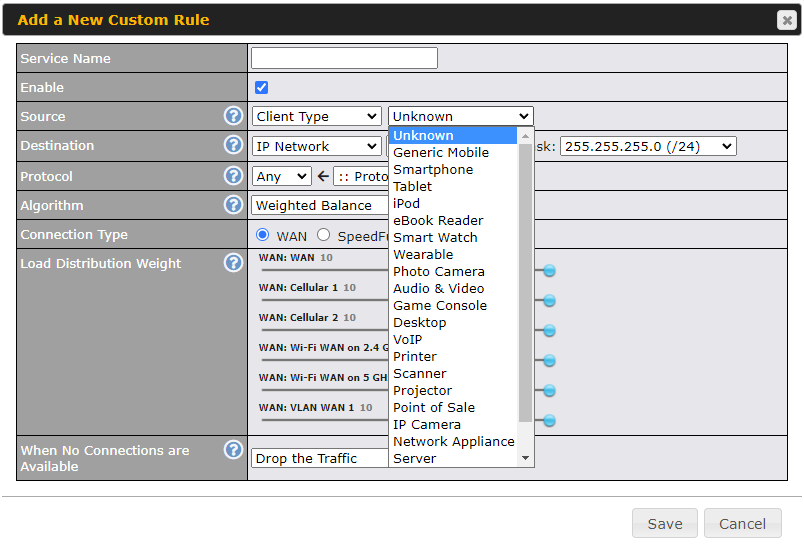 There are also new QoS (Quality of Service) features in firmware 8.3 that make it possible to reserve bandwidth for key users or applications - such as setting aside some bandwidth to be always available and dedicated to critical tasks like Zoom meetings, no matter what other users on your network are up to.
We will be diving deep into how to best use these new capabilities in future members-only webinars, and by further expanding our existing guide:
And More Good Stuff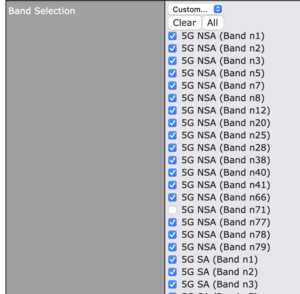 There is a lot more good stuff packed into this firmware release as well.
In addition to a bunch of UI improvements, enterprise-focused features, and bug fixes - here are some other new features of note:
Better Connection Management - You can now set SIM card priorities, and enable 5G Signal Strength Thresholds to better auto-switch between multiple SIM cards in a single modem. And if you are using InControl for remote router management, you can now automate and schedule connection speed tests to keep on top of how all your connections are performing.
SpeedFusion Connect App - Firmware 8.3 lays the groundwork for the evolution of the SpeedFusion Connect app to act as a more consumer-friendly dashboard for many of Peplink's advanced features. Peplink tells us that this app will continue to evolve to become a consumer-focused alternative to the enterprise-focused InControl.
SpeedFusion Connect Relay - Firmware 8.3 enables the upcoming small and affordable ($199) SpeedFusion Connect Relay device that Peplink will soon offer. You can leave the Connect Relay installed on any home network so that you can remotely connect through that relay point with your nomadic network. This is potentially a great way to get around streaming service geo-blocks since you will always appear to be home no matter where you travel.
Docker Integration - The MAX BR2 Pro and MAX Transit Pro (as well as other much higher-end models) are gaining support for Docker modules, allowing simple applications to be hosted securely right on the router. There is already a discussion in the MIA member areas about how to use Docker to host Pi-Hole to integrate malware and ad blocking into your network.
And there is a lot more.
You can read the full geeky release notes and download the firmware files on Peplink's firmware portal.

MIA Exclusive Discounts & MMH Perks
Our MIA members (the awesome folks who provide the primary funding so we can create our advertising free in-depth content) enjoy exclusive discounts from trusted vendors like MobileMustHave, TechnoRV, and Onboard Wireless.
When shopping for high-end Peplink routers - this discount can really add up. Often exceeding the cost of membership!
Our MIAs can visit our member-exclusive discounts page to get their discount codes of up to 10% off.
Our discounts are basically designed to pass along any affiliate kickback these vendors offer to our members. If you prefer to not become a member, you can still support our mission here at MIRC by using the affiliate links for these vendors that are in our Peplink Gear Center entries in the purchasing area.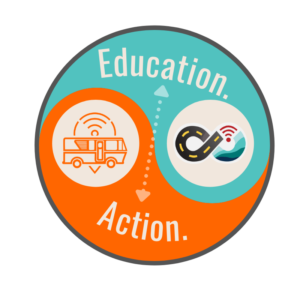 MobileMustHave.com is our exclusive Education & Action partner for our Peplink content.
Aside from collaborating on Peplink content and helping us keep on top of the industry, they offer the following perks to our MIAs:
Co-hosting of our Peplink Resource Center - our growing collection of in-depth guides to the Peplink product line and features.
Advanced Peplink tech support in our forums.
Hosting multiple webinars for MIAs each month. Including our Peplink Topical Series on the 3rd Thursday of each month, and a Peplink 101 Q&A on the 4th Tuesday of each month. See our MIRC Webinars & Events page for the full schedule and broadcast details.
Additionally, they offer their MMH Insider memberships that include membership to MIRC along with other features like free 2-day shipping, hassle-free advanced hardware replacement, exclusive monthly deals, and discounts on MobileMustHave data plans. If you're already a MIRC member, be sure to follow our Upgrade Path to MMH Membership to maximize these benefits and receive a pro-rated membership refund.
Member Exclusives Below:
 Bonus Member Only Content Available!
We go extra for our premium members - who make this resource center possible (did you notice the lack of 3rd Party advertising?). We have included some additional information in this news article just for our members - analysis, guidance and/or insider tips.
If you're not yet a member, please consider joining us. Extra content like this is one of the many perks we offer - in-depth content, guidance, discounts, alerts, classroom and more.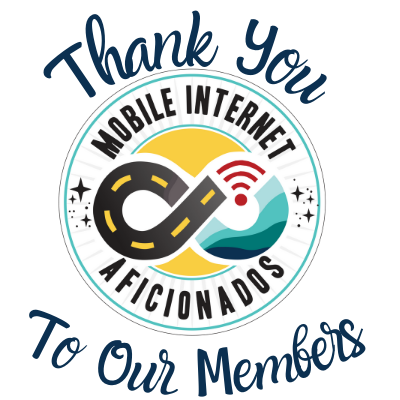 If you are already a member, please log in above to see the special content we have prepared for you.
If you're interested in purchasing any of the routers mentioned in this article, here are affiliate links for the vendors mentioned above. Using these links helps support MIRC's mission:
Balance 20X
MobileMustHave | Onboard Wireless
MAX Transit Duo Pro
MobileMustHave | TechnoRV | Onboard Wireless
MAX BR1 Pro 5G
MobileMustHave | TechnoRV | Onboard Wireless
MAX BR2 Pro 5G
MobileMustHave | TechnoRV | Onboard Wireless
If you're an MIA, please be logged in to use your vendor discounts instead - they pass along our affiliate kickbacks to you!
Concluding Thoughts
Peplink has blown us away with all the good stuff crammed into this new 8.3 release, which has enough features and changes that it could easily justify a 9.0 designation.
And over the past several months of testing - it has proven to be a really solid release.
Features like Synergy are particularly compelling - allowing router hardware to be combined in much more flexible ways than ever before.
For example - you could use Synergy to combine two MAX BR1 Pro 5G routers together to build a bonded dual 5G solution (with some tradeoffs) for less than it would cost to buy a single MAX BR2 Pro with two integrated 5G modems.
We do notice that a lot of the new features do require an active PrimeCare (or another Care contract) contract, but we think that Peplink is striking a good balance so that less demanding users can still feel like they are getting a good value and are not being forced into PrimeCare.
Overall - this is an absolutely fabulous release, and we can only imagine what sort of things we might have to look forward to when 9.0 rolls out somewhere down the line.
Related MIRC Content
Related News Stories