Using Multiple Internet Connections
What if you could utilize multiple upstream internet connections at once - potentially increasing both your overall speeds and reliability?
For those of us who travel with multiple cellular options on board - the thought of being able to automatically combine all the plans in a connectivity arsenal is intoxicating.
But while it seems simple in concept - in practice combining multiple connections with vastly different performance traits can be challenging.
Without careful configuration and an understanding of the potential gotchas lurking, trying to use multiple upstream connections at once can easily prove to be more trouble than it is worth.
But with a bit of understanding - it is indeed possible to set up a mobile router that combines and flows between multiple different carriers with minimal needs for manual intervention.
Imagine - combining AT&T, Verizon, T-Mobile, public Wi-Fi, and more - all at once!
In this guide, we'll go over the advanced networking topics of bonding and load balancing - as well as the simpler concept of failover.
And most importantly - we will explain when these solutions make sense, and when they might cause unexpected issues!
Many of these features are relatively rarely found on most mobile routers. Make sure to seek out compatible hardware options if exploring failover, bonding or load balancing is something that you are interested in.
For more on researching routers with these features: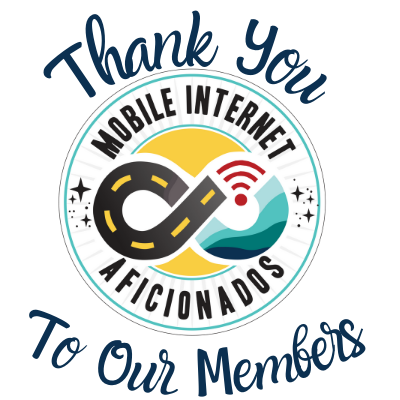 If you're a member, please log in above to access the exclusive portions of our content.
We are honored to be able to present a bunch of our content for free.
Our resource center is brought to you by funding from our premium members. We don't accept 3rd Party Advertising, we're not sponsored and we don't sell stuff.
Our members have exclusive access to in-depth content, classrooms, discounts, alerts, insider info and interactive guidance.
If mobile internet is an important part of your lifestyle, you can help make this possible:
---
Why Combine Sources?
One of the primary benefits of using a router as the heart of a mobile internet setup is that you can configure all your local devices to connect to the router over a private Wi-Fi network, or even via a wired ethernet network. And then you just need to configure the router to select the ideal upstream connection at each new stop - and without any additional configuration work at all, every device on your network will communicate via that chosen path.
But what if it could be even simpler - and you didn't have to manually select an upstream connection at all?

What if your router could automatically decide between the options available - picking the fastest or the cheapest connection automatically?

And why stop with just one connection - what if the router could actually connect to multiple upstream networks at once, and somehow combine them?
Imagine automatically being able to take advantage of Wi-Fi when you dock at a marina or pull into a campground, and cellular when away. And if your cellular signal gets slow and weak - maybe two combined might still be reliable enough, particularly if you have plans on diverse carriers to tap into.
After all - a lot of Verizon weak spots are solid with AT&T, and vice-versa. And in places where the big two are congested, T-Mobile sometimes shines.
Achieving this level of "it just works" automatic simplicity across multiple connections is the dream - and if you have the right hardware and a basic understanding of networking fundamentals it is a worthwhile goal to strive for.
But always remember... automation is not a panacea, and there WILL be times that manual interventions will still be called for.
---
Failover and "Hot Standby"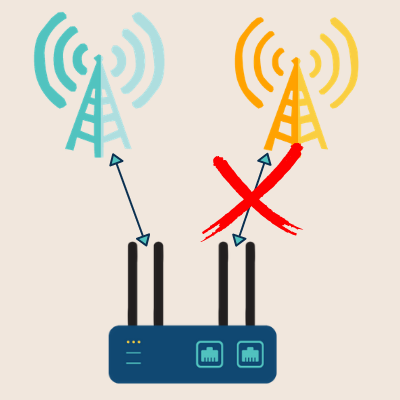 The simplest way to take advantage of multiple connections is to use just one at a time, but to automate switching between them.
This automation is known as "failover" - and it involves ranking your connections in priority order.
When your primary connection fails, the router will try the next highest priority connection - hopefully keeping you online with only a minor hiccup during the transition.
While it sounds simple, there are some important things to understand about failover:
What Actually is Failure? - Failover works great in situations where the connection failure is obvious - like when an ethernet cable gets cut, or a cell tower goes fully offline. But for mobile users, connections tend to get "crappy" long before the "no service" point is reached - and this complicates failover immensely. Routers that support failover have different algorithms you can tweak to try and detect a bad connection, but almost always the humans on board will perceive a marginal connection well before the router kicks into automatic failover. In these cases - taking manual control can often actually prove to be faster.
Will It Switch Back? - If your router switches to your secondary connection, what (if anything?) will cause it to switch back to your primary connection? Some types of connections will take priority again if they come back online, but there are potential situations where the router will not try the primary connection again until the secondary connection experiences a complete failure too.
Every combination of connections and devices has the potential to interact in interesting ways - so it is smart to do some experiments with intentional failures to make sure that you understand how your setup actually works in practice.
Keep in mind - if you failover to an expensive or data-limited plan, will you even notice that this has happened and that you may not have switched back?
Being able to always know what you are connected via is one of the prime perks of keeping manual control.
Ready In An Instant: Hot Standby
Closely related to failover is a feature often referred to as "hot standby".
A connection that supports hot standby can be kept up and ready to take over during a failover situation in an instant, avoiding all but the tiniest hiccup in connectivity. This sure beats waiting up to a minute for a fully disconnected cellular connection to come online.
If hot standby is an option, it usually makes sense to enable it - unless you happen to be using a connection that charges by the minute just for being connected, even if no data is flowing.
Not So Hot: Secondary SIM Slots & Wi-Fi Networks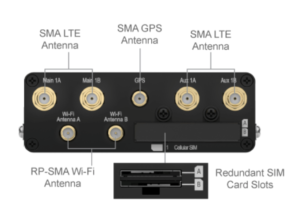 Not every connection will support hot standby, unfortunately.
For example - a router with dual-cellular modems can have one active primary cellular connection, and one waiting in standby already connected to a secondary carrier.
This makes it incredibly quick to switch between the two, whether manually or via failover.
But a router that has just dual SIM slots (and not two independent modems) has to disconnect from one carrier before connecting to another, and this potentially even involves going through a multi-minute automatic reprogramming process to switch in the firmware for the secondary SIM.
If you will be pulling your hair out dealing with a few minutes of unexpected downtime in the middle of a workday, a dual-modem setup could be worth the extra cost!
The situation is similar if you are trying to set up failover between different upstream Wi-Fi networks.
A single Wi-Fi radio can not connect to a secondary network without disconnecting from its currently active network, resulting in unavoidable downtime during the transition. And since the radio then is locked on to the secondary connection - it will not automatically detect if the primary Wi-Fi network comes back on line.
Experimenting with these "hot or not" connections is essential to understanding just how your failover configuration will work.
Member Exclusive Content In This Guide
Has this guide been helpful so far?
Well.. there's a lot more below available to our members. As well as dozens of other guides like this, videos, classrooms, forums, webinars and more. All specifically created for helping keep RVers, cruisers and nomads online.
Consider Becoming a Member
If mobile internet is an important part of your lifestyle, a membership can help keep you connected with these exclusive benefits:
in-depth exclusive content
interactive guidance
vendor discounts
alerts & insider tips
classroom
community
Free Content Like This Made Possible By Our Members!
We are community funded via our premium membership program - allowing us to focus on creating unbiased quality, in-depth, constantly updated content. We don't accept 3rd party advertising, we're not sponsored and we don't sell 'stuff'.
Already a member?
Log in to continue with this guide.
Check out the Topics Covered in the Member Section:
Bonding & Load Balancing
Diving into these two methods of combining connections - how they are similar, and what makes them different. And the options out there.
Frustrations with Bonding & Balancing
While there are a lot of benefits to be had with combining your connections, there are some serious considerations to make around some unintended consequences.
Advanced Concepts
In this section we dive into WAN Smoothing, FEC and Static IP addresses.
Limits & Costs
Exploring the range of setups and costs with different bonding solutions.
Explore the Resource Center
Join our 'Library Desk':
Internet for RVers & Cruisers Facebook Group
We cross post news articles and guides, and can help point you in the right direction to our content here on the resource center.
It is with gratitude to our premium members that we're able to offer our free content - and for that, they also have access our private Q&A areas for more in-depth guidance.
The MIA is our premium membership - designed for those who consider mobile internet an important part of their lifestyle.
In thanks for making content like this possible, we offer a bunch of additional perks. From interactive guidance, in-depth member exclusive content, discounts, alerts, classroom and more.
We totally understand that a membership isn't right for everyone.
However you can still support this content with our supporter level for just $25/year.
With our gratitude, you'll get access to all our free content without the 'nags'.

Stay In the Know
We're constantly tracking the industry and analyzing new developments for mobile travelers. If you'd like to receive updates, we offer several ways: