Key Points:
The AP ONE AX Lite access point also brings another Wi-Fi 6 (802.11ax) option.
The new Puma 421 is a larger and more capable rooftop antenna, with 4x4 MIMO cellular and 2x2 Wi-Fi.
UPDATE: Launch pricing revised on 6/11/21. And revised again on 7/13/21.
We just got clearance to share about some new Peplink hardware that is now available for pre-order, and which is currently slated to begin shipping later this summer.
The completely new Pepwave MAX BR1 Pro 5G in particular is exciting - bringing much faster router performance, 5G, and Wi-Fi 6 (802.11ax) to one of Peplink's most popular models.
Pepwave MAX BR1 Pro 5G
We've been fans of Peplink's Pepwave MAX BR1 cellular integrated router ever since the "universal" multi-carrier version was released in February 2015, and the BR1 became even more versatile when the Mk2 model was released in late 2017 - adding more advanced cellular and Wi-Fi 5 (802.11ac) Wi-Fi.
But the Mk2 has gone unchanged ever since - and as cellular networks have continued to evolve, it has been looking increasingly dated.
The new MAX BR1 Pro 5G is the first major update to the MAX BR1 in years - and it appears to be a complete redesign built on top of a significantly more advanced underlying architecture.

The big new features:
In other words - the new MAX BR1 Pro 5G seems to outclass the current MAX Transit 5G in almost every way.
And the MAX BR1 5G is $100 cheaper than the MAX Transit 5G too, priced at $899 vs $999. We were alerted on June 11th, 2021 that the pricing for the MAX BR1 5G will actually be $999 - the same as the MAX Transit 5G.
And then in early July Pepwave pulled all pre-orders for the MAX BR1 5G Pro due to supply shortages, and confirmed with us that the launch price will be $1,499 as a result.
The MAX Transit 5G however does have the ability to do connection bonding and act as an access point controller, two advanced features which the BR1 line has historically not been capable of. But unless you really need these rather specialized features - if you are craving a single-modem 5G router from Peplink, the MAX BR1 Pro 5G is probably the one to wait for.
Still No USB Port?!?
The MAX BR1 Pro 5G addresses most of our wish-list improvements for the BR1, but Peplink has NOT added a USB port to enable tethering to a second cellular device.
If there had been a USB port, adding a second cellular connection via the Pepwave MAX Adapter or a mobile hotspot would have provided a natural upgrade path towards more capability.
It boggles our mind that Peplink continues to leave USB off the BR1.
Pepwave AP ONE AX Lite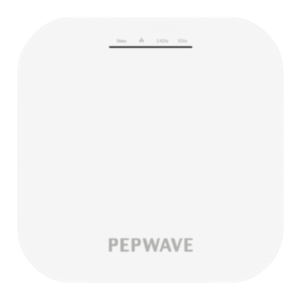 Speaking of that access point controller, Peplink is coming out with a new Access Point that is a significant step up from our current favorite AP One AC Mini.
The AP ONE AX Lite is still small and POE powered, but now has a Wi-Fi 6 802.11ax dual-band radio that should be even faster - capable of local network speeds of up to 574 Mbps on 2.4 GHz, and up to 1200 Mbps on 5 GHz.
When it becomes available this summer, the AP ONE AX Lite will be priced at $299.
The physically larger and even faster full-size AP ONE AX is also getting a big price drop - going from $349 to $199.
NOTE: We initially reported the AP One AX Lite was going to be priced less that the AP ONE AX, but Peplink corrected us and told us the price would be $299. This doesn't seem to make sense - and makes the AX Lite a less compelling product.
Though adding a secondary access point tends to be overkill for most RV installations, if you have a large boat or residential installation - using a router with an AP controller and these devices scattered around in various locations is a great way to spread your local Wi-Fi coverage into more areas than a single router alone is capable of.
Pepwave Puma 421 - 7-in-1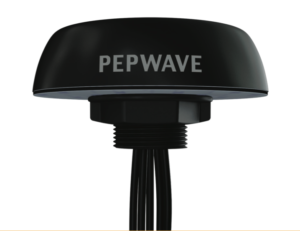 Pepwave is also coming out with a new addition to its line of Puma rooftop antennas - the Puma 421.
The Puma 421 has 4x4 MIMO cellular, GPS, and now 2x2 MIMO Wi-Fi as well - making it a perfect compliment for the MAX BR1 5G and many other Peplink routers.
This new Puma 421 will be priced at $209 $249 (updated 6/11/21) - and is physically larger (8.19" diameter & 2.28" height) than the Puma 401 (5.12" diameter & 1.42" height).
On paper the Puma 421 has higher gain at lower frequencies than the current Puma 401 - and it should deliver improved performance across the board.
Concluding Thoughts
It is great to see Peplink updating more of its product line to embrace modern cellular and Wi-Fi technologies.
The evolution of the Pepwave MAX BR1 is particularly compelling - and we suspect this may be the beginning of Peplink refreshing its entire product line with faster CPUs and Wi-Fi 6 radios.
We are slated to get review units of all of this hardware as soon as it is available, and we will be sharing our hands-on impressions with our site members when we do.
If you are interested in any of these - our friends at MobileMustHave have begun taking pre-orders for all three now (and they offer exclusive MIA discounts too), and we expect other online retailers will have these products listed soon as well.
---
Member Exclusives Below:
Bonus Member Only Content Available!
We go extra for our premium members - who make this resource center possible (did you notice the lack of 3rd Party advertising?). We have included some additional information in this news article just for our members - analysis, guidance and/or insider tips.
If you're not yet a member, please consider joining us. Extra content like this is one of the many perks we offer - in-depth content, guidance, discounts, alerts, classroom and more.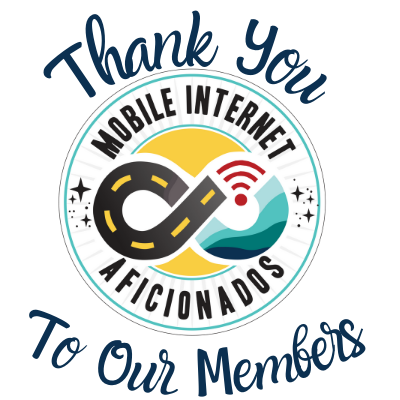 If you are already a member, please log in above to see the special content we have prepared for you.
Related News Stories
Related Guides