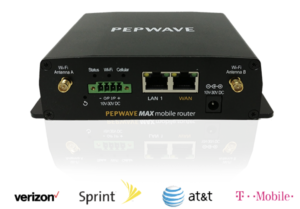 Last week Wednesday evening just before the start of the Thanksgiving holiday, Pepwave at made the long-awaited next generation MAX BR1 MK2 cellular-integrated router official, updating its public website with final details.
This product update is LONG overdue - we had been initially told to expect a next generation BR1 last November, then February, then August, then September.
But at last, it is here!
We've been fans of Pepwave's MAX BR1 ever since the "universal" version was released in February 2015, which for the first time allowed a cellular-integrated router to be easily switched between different cellular carriers. With the dual SIM slot, changing between Verizon and AT&T could be accomplished with just a click, or even automatically when the primary connection went down.
This sort of versatility made the MAX BR1 a favorite for many demanding mobile installations. And over the years, the BR1 has proven to be a reliable workhorse.
But with so much time since the last update, the basic capabilities and technical specs of the BR1 have fallen increasingly behind and out of date.
In particular - the BR1 lacked an LTE-Advanced modem, support for dual-band 802.11ac Wi-Fi, or gigabit ethernet - all features that have become expected.
When Pepwave updated the rest of its product line with LTE-A modems in March 2017, the basic MAX BR1 was left out.
But now at last the MK2 version is officially for sale.
Was it worth waiting for?
---
Here is our unboxing & first impressions video of our evaluation unit:
Enjoy Video? Be sure to Subscribe to our YouTube Channel
---
MAX BR1 MK2: What's New?
Physically, the new MK2 model looks nearly identical to the original MAX BR1 - with the same compact rugged metal housing.
But under the hood, there are some major changes - including a brand new LTE-A cellular modem, way more LTE bands supported, 802.11ac dual-band Wi-Fi, and gigabit ethernet (however, dropping back from 3 ports to 2).
The new MAX BR1 MK2 costs $699, $150 more than the old version.
The original MAX BR1 will remain available as the MAX BR1 "Classic", for $549.
Here is how the LTE modems inside each compare:
Classic
MK2
LTE-Advanced Carrier Aggregation
No
Yes (2x 20Mhz)
Performance Category
Category 3
(Max Theoretical Speed: 100Mbps Down / 50Mbps Up)
Category 6
(Max Theoretical Speed: 300Mbps Down / 50Mbps Up)
Frequency Bands
2, 4, 5, 13, 17, 25
1, 2, 3, 4, 5, 7, 8, 12/17, 13, 20, 25, 26, 29, 30, 41
Wi-Fi
2.4GHz 802.11 b/g/n
Dual Band 802.11 a/c
Ethernet
3x Fast
2x Gigabit
Price
$549
$699
The MK2 is a major step up from the classic, and the new modem supports pretty much every LTE band currently in use by all four major US carriers, including T-Mobile's "Extended Range LTE" on LTE Band 12, and AT&T's newest deployments on LTE Band 30.
But the MK2 does NOT support T-Mobile's newest coverage expansion onto 600MHz LTE Band-71, and it is also lacking in LTE Band-66 support, which may become important in the future.
Another downside of this new advanced modem in the MK2 is that it drops support for Verizon and Sprint 3G CDMA EVDO networks - so if you regularly run into remote legacy areas that have not been upgraded to LTE coverage you may want to keep a backup way online on hand. AT&T and T-Mobile 3G networks however remain supported.
MAX BR1 MK2 Alternatives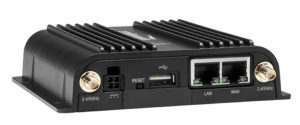 The MAX BR1 would have been a slam dunk choice for many demanding users had it come out on time, but now there are some worthwhile alternatives to consider.
One increasingly popular commercial-grade choice is the Cradlepoint COR IBR900, which costs $200 more ($899) but which also offers up support for USB tethering to external hotspots as well as connecting through its own internal modem.
Or Pepwave's own MAX Transit line is worth considering too, at $999.
And while a Cat-6 LTE modem integrated into a commercial grade router is exciting, the latest standalone consumer hotspots like the Verizon Jetpack 7730 or AT&T Netgear Nighthawk are actually even more advanced under the hood - at least when it comes to peak theoretical LTE performance.
If you don't need a fully integrated router that can switch between cellular carriers, a collection of consumer hotspots is a great way to go - with price points that make upgrading ever year reasonable.
But for those that want cellular and Wi-Fi integrated into a single bullet-proof box, the we are glad to have the MAX BR1 MK2 around as an option. We are hoping that it proves to be as reliable as the "classic" version has been.
Pepwave has sent us a review unit, and we are looking forward to taking a very close look at it when it comes in. We also plan to acquire a Cradlepoint IBR900 too, to put these devices head-to-head. Our field testing results will be shared with our members in our Testing Lab.
Getting a MAX BR1 MK2
Pepwave's retail partner 5GStore is now taking pre-orders for the MK2, with devices slated to ship on December 7th.
Eventually the MAX BR1 MK2 will be available via other online retailer too.
Further Reading:
Related Articles: