August 27, 2016 - Millenicom has dropped their smartphone plans, likely in reaction to the new T-Mobile One plans announced by the carrier. Millenicom says they have not yet decided if they will bring back smartphone plans. For now, all they offer are the data only mobile hotspot plans - which are priced exactly the same as a direct T-Mobile Simple Choice plan (which are still available.).
---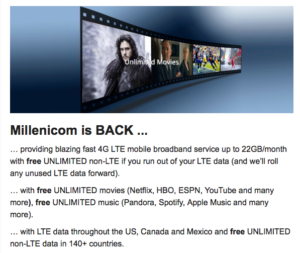 September 8 / August 22 - Millenicom is Back ?!? - Millenicom is starting an e-mail campaign to all of their past customers saying they are back, and officially announcing their new plans. We've been covering these plans since last May when they started test marketing them.
For context, Millenicom used to resell Sprint, Verizon and T-Mobile plans in the past. Most notably was their Verizon 20GB/month plan that many RVers relied on. Verizon abruptly ended their relationship with Millenicom and took over their customers nearly two years ago.
This new plan is NOT a replacement for Millenicom's former Verizon plan. It's on T-Mobile.
For more information on how the carriers stack up for RVers and if T-Mobile might be suitable for you:
As we first reported on in May - old RVer favorite cellular service reseller Millenicom has been gearing up to relaunch, this time reselling plans based upon the T-Mobile network.
The new plans have been available since May for those who knew where to find them - but now Millenicom has finally cleared up the last few details and has officially relaunched its website to begin taking orders.
If you've been considering adding T-Mobile to your connectivity arsenal, this is a very interesting option that has the potential to save you some money over time.
Millenicom's New Plans
Millenicom is selling both phone and data-only plans, but you need to already have a T-Mobile compatible phone, tablet, or hotspot (ideally with LTE Band 12 support) to activate service on.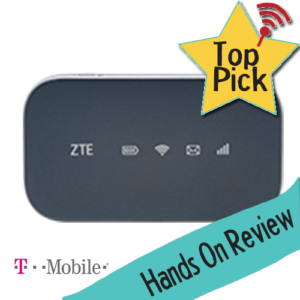 Millenicom is also now selling the ZTE-917 Falcon hotspot for $99 with the data only plan, which is our top pick hotspot for the carrier. Click for our Review of the ZTE-917.
Many Verizon and AT&T devices will also prove easily compatible as well, though AT&T devices may need to be "unlocked" first - which the carrier currently is not supporting. For some tips on putting an existing hotspot to use, check out our member's only guide:
Using a Verizon Jetpack Hotspot on T-Mobile or AT&T
Millenicom Plan Features
These Millenicom plans include classic T-Mobile features like unlimited music streaming, "Binge On" video streaming that does not count against your high-speed data allotment, unlimited 2G-speed international data roaming, and even T-Mobile's Data Stash data rollover feature.
And just like T-Mobile - you can use your plan (including high speed data, voice, and text) in Canada and Mexico!
And like all T-Mobile plans - there are no overage charges. When you reach your high-speed usage limit, speeds drop to a 2G crawl for the remainder of the month - but at least you will never be cut off entirely.
August 19 Update: We have not yet heard how Millenicom's unlimited smartphone plan offerings will be impacted with T-Mobile's recent announcement of their unlimited replacement T-Mobile One plan that changes a lot of the features (including taking free high speed mobile hotspot/tethering away).
So why go with Millenicom?


If Millenicom is offering essentially the same features as T-Mobile, why not go direct?
The primary difference in going with Millenicom is the pricing.
For tablet and hotspot users, Millenicom seems to have identically matched T-Mobile's data plan sizes and prices, but the Millenicom phone plans are running $20/mo less than getting the equivalent directly from T-Mobile (these plans are no longer available.)
And the Millenicom phone plans offer two higher data tiers that T-Mobile does not offer directly. Via Millenicom, you can get unlimited on-phone data and 18GB of hotspot usage for $90/mo, or 22GB for $105/mo.
From T-Mobile directly, the only "unlimited data" phone plan costs $95/mo, and comes with just 14GB of hotspot usage.
Even better - Millenicom's pricing is inclusive of taxes and fees (but so aren't T-Mobile Simple Choice prepaid plans).
The Millenicom CEO explained the advantage of going through his company to us like this:
"You may have noticed we've knocked off the taxes and fees for our customers. Here's another advantage: if a direct T-Mobile customer runs out of their allotted LTE data during the month they are stuck at the slower speeds for the rest of the month without the ability to increase their package, thus requiring the customer to take a guess at how much they'll need and purchase the largest plan to make certain they don't run out. With us, customers can purchase a $35 6GB data package with all of the unlimited movie and music apps that come along with it and, if they happen to require more data mid-month, simply let us know and we add it immediately."
Is This a Smart Deal?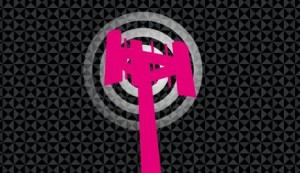 If you want to pick up a secondary voice plan with access to most of the great T-Mobile perks, via Millenicom you can get a Binge On compatible line for $45/mo instead of $65/mo (again, these plans are no longer available through Millenicom).
Over the course of a year, that can add up.
But do be aware that you will be a Millenicom customer, not a T-Mobile customer.
This means you will be giving up access to T-Mobile's support, the T-Mobile Tuesdays promotion, and for better or worse you will be left dealing with Millenicom for any issues that come up in the future. We have already had reports of Millenicom customers not having direct access to their data usage.
In the past Millenicom has had a great reputation for helping out customers, but do keep in mind that you will be dealing with a small company instead of a massive one with stores and kiosks around the country.
Also - Millenicom has had a rocky track record with keeping plans available on the market, and any potential customers should keep in mind that this offer may not be around for the long haul. Millenicom actually had a T-Mobile iPad plan once in the past (in November 2013), and it did not last. And of course Verizon and Sprint both previously backed away from allowing Millenicom to resell service.
Millenicom assures us that the problems of the past are behind it, telling us:
"Not that anyone here wants to revisit the past, but another important difference is that we have a direct agreement with T-Mobile so we don't have to worry about the carrier running off with our customers."
We can only hope that things go smoother this time, and we are wishing Millenicom the best.
If you want to learn more about the new Millenicom plan, you can check out the details here.
Related Articles:
Our Millenicom / T-Mobile Review Page
Bonus Member Only Content Available!
We go extra for our premium members - who make this resource center possible (did you notice the lack of 3rd Party advertising?). We have included some additional information in this news article just for our members - analysis, guidance and/or insider tips.
If you're not yet a member, please consider joining us. Extra content like this is one of the many perks we offer - in-depth content, guidance, discounts, alerts, classroom and more.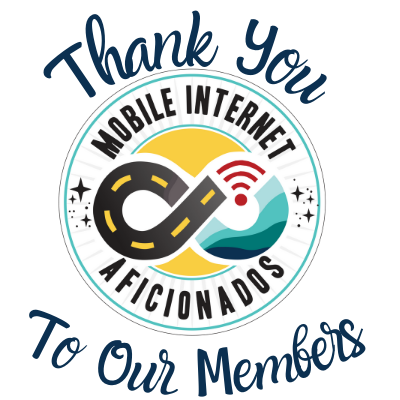 If you are already a member, please log in above to see the special content we have prepared for you.