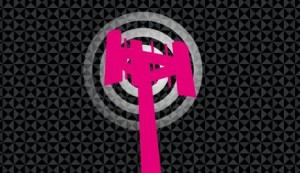 T-Mobile just wrapped up its #uncarrier 11 live stream, announcing it's latest moves to shake up the wireless industry.
This time around, T-Mobile wants it customers to "#GetThanked" with free gifts and prizes every Tuesday that include a completely free pizza every week.
UPDATE: No more pizza! Read the "Update #2" below for the details!
T-Mobile is also giving away a free share of stock in T-Mobile to every account holder, and one hour of free in-flight Wi-Fi on every Gogo-equipped commercial flight.
All just to celebrate being the fastest growing wireless company.
Here are the details of the three initiatives...
T-Mobile Tuesdays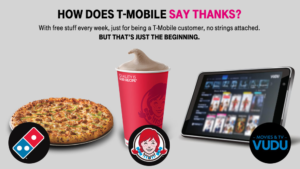 Starting tomorrow, every Tuesday T-Mobile will give (almost) every T-Mobile customer a free medium two-topping carry-out Domino's pizza, a small Wendy's frosty, and a free VUDU streaming movie rental.
All free - every week - no strings attached.
Also every week there will be one additional surprise freebie - as well as a chance to randomly win bigger prizes.
Tomorrow's initial giveaway - T-Mobile customers can claim a free Fandango ticket to the opening weekend of the new Warcraft movie, as well as get a chance at other prizes like props from the movie or a private screening for you and 40 friends.
Next week, it will be something completely different.
To participate and claim the gifts and prizes, T-Mobile customers will need to check the T-Mobile Tuesdays website or the new companion iOS and Android apps between 5AM (Eastern Time) Tuesday and 5AM Wednesday each week.
The free offers seemingly need to be redeemed immediately - you can't stockpile your pizzas to host a big weekend blowout. But if you are a fan of Domino's - this covers dinner and breakfast once a week.
T-Mobile is opening the T-Mobile Tuesdays offer to each line of service (but you must have voice service on the line) - whether prepaid or postpaid - including business lines. Anyone can claim the freebies, but you do have to be a legal US resident to win the randomly awarded bonus prizes.
Interestingly - since sweepstakes are required by law to allow participation with "no purchase necessary" - T-Mobile will even allow non-T-Mobile customers to participate in the random drawings each week by visiting this special site: amoe.T-MobileTuesdays.com
UPDATE: The (Not) Big Catch
T-Mobile's FAQ page initially claimed that the T-Mobile Tuesdays offer is NOT open to those who have data-only lines, indicating that those of us with tablet or hotspots plans are being left out. T-Mobile described it this way in the program FAQ:
T-Mobile Tuesdays is available to all customers on a T-Mobile branded monthly plan with voice service, including consumer and business, postpaid and prepaid plans. Accounts must be active and in good standing. Download the T-Mobile Tuesdays app to confirm eligibility.
We checked in with T-Mobile Media Relations, and it turns out that this is a mistake, and ALL T-Mobile plans can participate. This is the statement they just sent us:
T-Mobile Tuesdays is available to T-Mobile branded customers, including postpaid voice, prepaid voice, and tablet lines. Tablet customers can redeem gifts through the T-Mobile Tuesdays web site at www.t-mobiletuesdays.com
The T-Mobile Tuesday's app requires being able to receive a text message to verify your account, which is impossible for tablet or hotspot plans. But via the website, you can log in with your "My T-Mobile" credentials and still participate.
This means that even the cheapest $20 2GB tablet plan can chow down every week, and the $35/mo 6GB plan remains a prime choice with Binge On video streaming included.
T-Mobile StockUp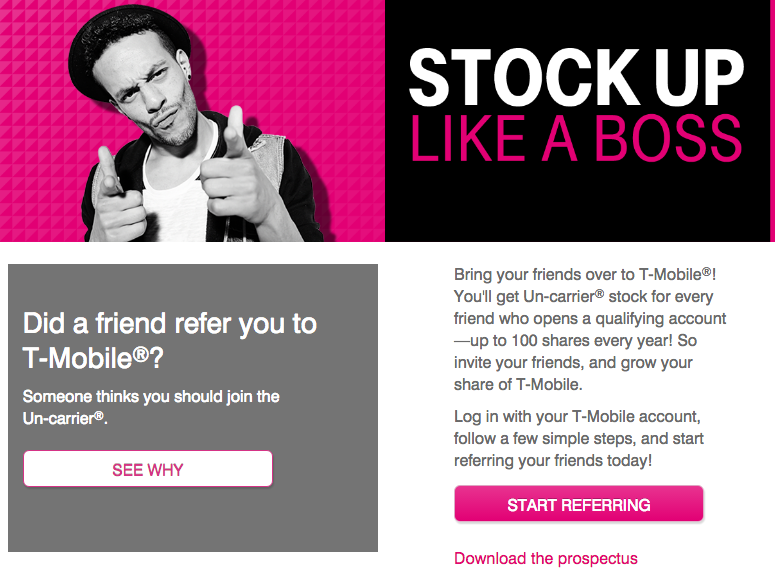 Another interesting giveaway from T-Mobile - over the next two weeks every T-Mobile customer with a postpaid voice line will be able to claim a free share of T-Mobile stock, currently valued at $43.21 - and new customers who sign up after today will be able to claim a share of stock just for signing up too.
And to encourage people to refer their friends to T-Mobile, every T-Mobile customer who has a friend switch a line to T-Mobile will get an additional free share - up to 100 per year.
And if you are a long-time T-Mobile customer who has had an account in good standing for five full years, you will actually be given two shares for every referral.
There are some catches, of course... You have to enter your friend's phone number into T-Mobile's Stock Up referral pages at least 24 hours before they port their number in. And only postpaid voice lines are eligible.
There are certainly hoops to be jumped through - but a share of stock is free money that every qualified T-Mobile customer should go through the effort to claim, even if you are not interested in working the referral angle.
ALERT: Current customers have until June 21st to claim their free share of stock. Don't miss out by waiting too long.
Free Gogo In-Flight Wi-Fi

T-Mobile' has long partnered with inflight Wi-Fi provider Gogo to give T-Mobile customers free texting access on over 67% of US domestic flights. As a final "Thank You" to customers, T-Mobile is extending that partnership to give every T-Mobile smartphone free iMessage, Google Hangouts, WhatsApp, and Viber text messaging access in flight - as well as one hour of free unrestricted Wi-Fi access per flight now too.
This won't help get your laptop online to crank out major work while jetting across the country - but it is certainly a very nice perk for travelers.
More details on T-Mobile's in-flight offerings are here.
AT&T Already Copying T-Mobile?!?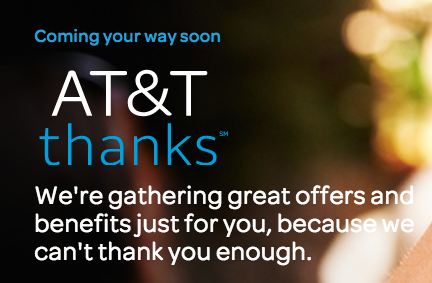 Rumors that T-Mobile was planning to announce a free offer every Tuesday during today's #uncarrier event have been swirling for a while, and last week AT&T announced "AT&T Thanks" as a pre-emptive response.
But AT&T it seems is just trying to steal T-Mobile's thunder - the AT&T program is still "coming soon" with few details about what special customer perks will be available.
The one perk AT&T has revealed is "Ticket Twosdays" in partnership with movietickets.com - which will let AT&T customers purchase buy-one-get-one-free movie tickets for screenings every Tuesday.
A nice perk indeed - and it will be interesting to see what else AT&T offers once it finishes launching its own customer-focused perk program.
T-Mobile Keeps Getting Better....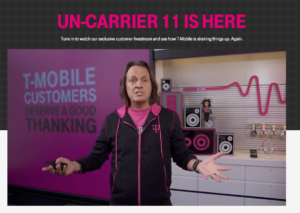 While not as exciting for data-hungry nomads as last November's #uncarrier X introduction of Binge On unlimited video streaming, if you are hungry for binging on food while binging on movies T-Mobile's announcements today are actually a pretty impressive deal.
In fact - if you get a pizza and a movie every week, a basic $50/mo T-Mobile voice plan or $35/mo tablet plan will just about pay for itself.
T-Mobile may still have a long way to go to catch Verizon when it comes to raw network coverage - but you sure can't beat the perks T-Mobile is offering, making the "Uncarrier" the increasingly ideal second carrier to keep on board.
UPDATE: We took advantage of T-Mobile Tuesday's for the first time yesterday (June 14th), and enjoyed the free pizza and VUDU movie. With VUDU - you actually get a $5.50 credit that you have six days to use, which is enough to rent most movies in HD, but you can also use the credit towards buying a movie too - building up your own online movie collection.
The $5.50 credit is enough to fully buy the movies that are on sale each week at VUDU too, with no extra payment needed.
So even if you don't rent a movie each week, you can slowly build up a video library you own that you can watch any time.
Thanks T-Mobile!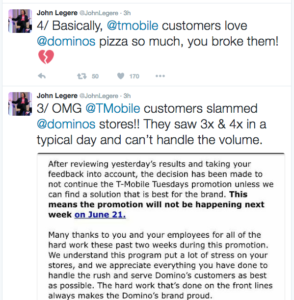 UPDATE #2 (June 15th): T-Mobile CEO John Legere just took to Twitter to announce that over two million people have downloaded the T-Mobile Tuesdays app, and Dominos has let them know that they just can't handle the volume of free pizzas being ordered.
Dominos locations were reporting 3x - 4x the normal Tuesday demand, and even with some stores putting in a 100 coupon limit they just couldn't keep up and Dominos let T-Mobile know today that they needed to step back - withdrawing from the promotion "indefinitely".
John Legere actually stepped out of a board meeting to answer questions on Twitter, Periscope, and Facebook Live this evening as soon as he got the news from Dominos.
Next week Tuesday T-Mobile will be replacing Dominos with a free $15 Lyft ride credit, as well as the scheduled $20 shopping credit at MLB.com (enough for a free basic team T-shirt).
Going ahead, John says he aims to find another "every Tuesday" offering to replace Dominos, if Dominos decides they are indeed unable to handle the weekly surge.