King is a leading provider of both satellite and over-the-air TV antennas designed for RV use, but in late 2018 King entered the mobile Wi-Fi market as well with the uniquely innovative auto-aiming Falcon Wi-Fi antenna.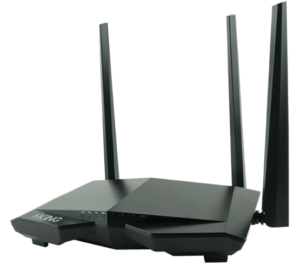 The Falcon is the flagship of King's lineup - which actually consists of three potential configurations based on the same core indoor router:
The Falcon system is the most intriguing. It is designed to automatically aim at whatever Wi-Fi source you choose with the aid of a companion smartphone or tablet app, promising all the benefits of a directional antenna without the need for manual aiming.
King describes it this way:
Using the KING Wi-Fi App, the KING Falcon automatically rotates and scans 360 degrees and shows you all the available networks. Then, you simply tap the network you want, and the Falcon automatically aims itself to get the best performance from that Wi-Fi source.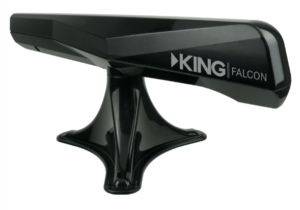 The Falcon antenna is connected to the indoor router through a coaxial cable that also provides power to the antenna, so the installation of the rooftop unit only requires routing a single coax cable to the interior.
King claims the directional antenna is 10x more powerful than the competition (which use omnidirectional antennas).
However, the exterior directional antenna is only able to pick up 2.4GHz Wi-Fi sources, meaning that the faster 5GHz Wi-Fi offerings found at many RV parks and marinas will be unusable.
The inside router does provide both 2.4 and 5GHz connections for the private Wi-Fi network, and the router also comes with three LAN ethernet ports.
---
Specifications
Falcon Wi-Fi Antenna:

Antenna Type: Yagi (enclosed, roof-mounted)
Gain: 15 dBi
Dimensions (inches): 10.95W x 22.65D x 9.18H (Head unit swings through a 24" diameter circle when scanning)
Powered: Yes, via power-over-coax.
Frequency / Wi-Fi Standard: 2.4GHz / 802.11b/g/n

WiFiMax & WiFiMax Pro Wi-Fi Router:

Wi-Fi Standard: Wi-Fi 5 (802.11ac) - Simultaneous 2.4 GHz & 5 GHz)
Max Theoretical Wi-Fi Speed: 1167 Mbps
Wi-Fi Antennas: 4x 5dB (3x if an outdoor antenna option is used)
Exterior Antenna: Can pair with King Falcon or Swift via coax cable to one of the router's antenna ports.
Wi-Fi as WAN: Yes
Claimed Wi-Fi Range: Not specified
Guest Wi-Fi Network: Not specified
Default Control Panel Address: http://mykingwifi.com
USB Tethering Support: No
Ethernet Ports: 4x Fast Ethernet - 3x LAN, 1x WAN
Integrated Cellular Modem: No
Power Source: 110v AC
Dimensions (inches): 11W x 7D x 8.75H

Falcon Package Retail Price: $699.99
Other Models & Variations
In addition to the full Falcon bundle, the WiFiMax router can be purchased separately be bundled with a "Swift" omnidirectional exterior Wi-Fi antenna.
---
News, Videos & Status
We were sent the full lineup of King gear in March 2019.
We have been testing the King Falcon in a range of situations since then, and have shared our hands-on experience and analysis, as well as a video review showing the Falcon in use, in the member area below.
Some of our raw field testing data can also be found in this member lab report:
Here is our video overview and first impressions:
Related News:
---
---
Member Exclusive Content Below
Deep Dive

Hardware & Installation
Video Review
Wishlist for a Falcon 2.0
Marine Falcon
---
Purchasing Options
The King Falcon and WiFiMax combo is available direct from King or from online retailers: