Key Points:
Insty Connect has announced and launched several new products over the weekend, including two new antenna designs and a new POE-powered 5G modem module, featuring a Qualcomm X62 modem chipset.
The new POE module can be used with any router with an Ethernet WAN port, not just the Insty router. This makes it a potentially great way to add an additional 5G input to any existing setup.
Insty Connect now also offers cellular data plans that utilize the T-Mobile network.
Insty Connect is a small family-run company that offers unique cellular connectivity solutions specifically designed for the RV market.
The Insty Connect Explorer has long been one of our Top Picks for its design, performance, and overall ease of use.
We have always loved how Insty Connect integrates the cellular modem directly into an outdoor antenna - eliminating antenna cable loss to maximize performance.
This past weekend, Insty Connect launched new products that take this design concept further in novel ways - with two new outdoor antenna designs and a new modem module option that connects to an indoor router over Ethernet instead of USB.
Additionally, Insty Connect also announced it would now directly offer its own cellular data plans for customers of its products.
Let's dig into the details!
Insty Connect First Look Video
New Antenna Design - Insty Squared
The first new product is called "Insty2" or"Insty Squared."
This new antenna design gets its name from its square (actually, slightly rectangular) design - which is different from the "Cloud Wings" design that came out in 2022.
Although the new Insty Squared antenna is a panel design that resembles some directional antennas, it is actually an omnidirectional antenna with four internal antenna elements to support 4x4 MIMO connectivity.
Insty says this antenna and the new Switchblade (see below) are specifically tuned to enhance long-range frequencies, particularly band 71/n71, which are critical for T-Mobile.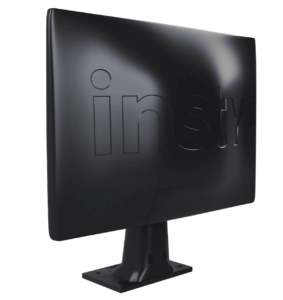 Like Insty's previous designs, there is a slot inside the antenna case to hold an Insty Connect modem module - and this supports both the existing USB module and the new POE module. One improvement with this new design over the previous generations is that it is sealed, with no exposed cables that could potentially snag on a tree branch.
At press time, we do not have any official specs for the new antenna, but Insty Connect tells us that this offers much better performance across the board, especially on the longer-range bands like T-Mobile's n71.
The new antenna comes with a mounting bracket designed for RV ladders, or it can also be used with an extending pole or even a painter's stick for extra altitude.
There is also an optional roof mount adapter available, which is the same as what was included with the previous Cloud Wings models. So, if an existing customer already has an Insty roof mount installed on their RV, they should be able to drop the new Insty Squared model on it for an easy upgrade.
The new Insty Squared antenna is $100 more than the Cloud Wings bundle when ordering an Insty Connect system.
New Antenna Design - Insty Switchblade
The other new antenna is called the "Switchblade," a new 4x4 directional MIMO antenna that can be folded to be much more compact for storage than comparable directional antennas.
Insty says that the Switchblade should have slightly worse performance than the current "Binoculars" 4x4 MIMO system, but the Switchblade is much smaller than the gigantic binoculars - making it more practical for many space-constrained RVers.
Overall, the Switchblade looks like something out of the Star Wars universe.
The Insty Switchblade install guide notes two ways to configure the switchblade - one is optimized for T-Mobile and Insty Online (more on that below), and the other is optimized for AT&T and Verizon.
This type of directional antenna system can provide very high gain, allowing for very long-range connections - but the downside is that they must be set up and aimed at each stop, and then stored during travel.
The Switchblade should make storage and transport easier for those who want an advanced, directional system in their arsenal.
For mounting options, the Switchblade has a standard threaded hole for a painter's stick or broom handle. It also has a flange for pole mounting using zip ties or hose clamps.
Insty Power Over Ethernet 5G X62 Modem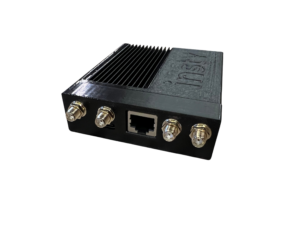 The key distinguishing feature of Insty Connect has always been that the cellular modem module is integrated into the outdoor antenna, instead of into the indoor router.
This eliminates any potential for signal loss over long antenna cable runs - and it avoids the awkwardness of trying to route four antenna cables (needed for a 4x4 MIMO 5G modem) into the interior of an RV.
The current Insty Connect modem connects to the Insty indoor router over a long USB cable, but the USB standard results in limitations in both cable length and data speed.
Going forward - Insty Connect will also offer a version of its modem module that connects over Power-Over-Ethernet (POE) instead of USB, providing many advantages.
Perhaps the biggest advantage - the Insty Connect modem will no longer be dependent on the indoor Insty Connect router, allowing the modem to be connected to and controlled by any indoor router of your choosing.
The POE version of the Insty Connect modem has special firmware embedded in the modem module itself, allowing a user to adjust settings via a browser-based UI without relying on an Insty router at all.
So, for example, an Insty antenna with the POE module could connect directly to a Peplink router via the router's Ethernet WAN port to provide another 5G cellular WAN connection - giving the advantages of an integrated rooftop modem and antenna system with essentially zero cable loss.
This is a very similar design concept to the Invisagig (our news story / our review), which is based on the same Qualcomm X62-based Quectel RM520N-GL modem module as Insty Connect. The Invisagig, however, comes in an indoor enclosure and is unsuitable for outdoor installation.
Additional Ethernet Advantages
Another big advantage of switching to POE is that Ethernet provides higher data rates and supports longer cable runs compared to USB.
The Insty Connect POE module will come with a Gigabit Ethernet port - enabling peak theoretical speeds over twice as fast as the USB version, which caps out at 480 Mbps.
It's getting increasingly common to see real-world sub-6GHz 5G speeds exceeding 500 Mbps, and the POE Insty module will be better able to take full advantage of these speeds when you find them.
And for those looking to install the antenna further away from the router - the Ethernet cabling should allow the antenna and router to be several hundred feet apart with no cable loss.
One thing to note is that the new enclosure for the POE version is a different physical size to the USB version, and it will work with the new Insty Squared antenna but not the earlier Cloud Wing antenna versions.
The POE version comes with a special POE injector for power, which Insty recommends using, even with routers that have POE Ethernet ports built in.
This new POE model is available for preorder now and will start shipping on December 1st. When building your bundle, it costs $100 more than the USB version.
Note that you can order the POE version without the router by deselecting the router in the store. This saves $200 if you don't want or need the Insty router.
5G Module Remains Qualcomm X62 Based
Other than offering a POE option, the new Insty Connect modem module has identical specifications to the USB version.
Both are based on the Qualcomm X62 chipset, which has several potential advantages over first-generation 5G routers based on the Qualcomm X55.
For more on the theoretical advantages of the X62 versus the X55, see our recent news story:
Next Generation Qualcomm X62 Modems Coming to Peplink Routers, At Last!
Insty Connect Availability and Pricing
With the new models launching, Insty Connect is running a launch promotion through mid-January 2024 of $100/off the new models MSRP.
Here are the MSRP prices:
Cloudwings antenna with USB modem: $699 ($200 off normal price)
Insty Squared antenna & router with USB modem: $899
Insty Squared antenna & router with POE modem: $999
Insty Squared antenna (no router) with POE modem: $799
Addons:
SwitchBlade Binoculars antenna: $399
Standard 5G Binoculars: $449
Purchase at: Insty Connect Systems (affiliate)
Members, be sure to use your Insty Connect Discount Code when purchasing!
Upgrade Options
Existing customers with older Insty Connect models can log into their Insty Connect dashboard to see available upgrade options. Insty also still has an exchange program for those with older LTE and X55 modems.
New Billing System
With the various changes, Insty Connect also utilizes a new billing system for new customers that began on November 1st, and any new purchases will use the new billing system.
The billing system change was necessary to implement service for Insty Connects data plans, which brings us to...
Insty Online Data Plans

Insty Connect now directly offers data plans branded as "Insty Online." These plans are only available for customers of Insty Connect products.
Insty Connect will provide SIM cards with all new Insty Connect systems to allow customers to activate Insty Online plans easily through the Insty Connect dashboard. Each SIM card will provide 1GB of free data to allow customers to try the service.
Insty Online plans utilize T-Mobile towers.
The following plan options are currently offered:
Essential Plan: $100/month

Unlimited data, but speed is capped at 10 Mbps.
Streaming is at 720p.
Additionally, after 200GB of usage, speeds will slow to 1-3 Mbps for the rest of the month

Premium Plan: $130/month

Unlimited data, but speed is capped at 25 Mbps.
Streaming is at 1080p.
Additionally, after 300GB of usage, speeds will slow to 1-3 Mbps for the rest of the month

Business Plan: $150/month

300GB of high-speed data with no speed or streaming throttles.
After the 300GB is used, speeds drop to 1 Mbps.
Also, Insty says in a video that more data plan options will be coming and that these initial plans are intended to be entry-level options.
Insty says the Essential and Premium plans come with "Data BURST Technology," which is described this way on the website:
Data bursting gives you short, speedy boosts when loading web pages, ensuring everything feels snappy and responsive.

Think of it as a turbo charge for your browsing, making sure you get that fast and fluid feel, even while we're keeping things in check with a speed cap.
These plans can be directly managed through the Insty Connect dashboard to make changes to the service to include the option to pause, stop, and start service.
The ability to pause service is an especially nice feature for part-time RVers who only need occasional connectivity.
Insty Connect hardware is not tied to the Insty Online data plans - you can still bring your own SIM card and plan from any carrier.
Member Exclusive Analysis
 Bonus Member Only Content Available!
We go extra for our premium members - who make this resource center possible (did you notice the lack of 3rd Party advertising?). We have included some additional information in this news article just for our members - analysis, guidance and/or insider tips.
If you're not yet a member, please consider joining us. Extra content like this is one of the many perks we offer - in-depth content, guidance, discounts, alerts, classroom and more.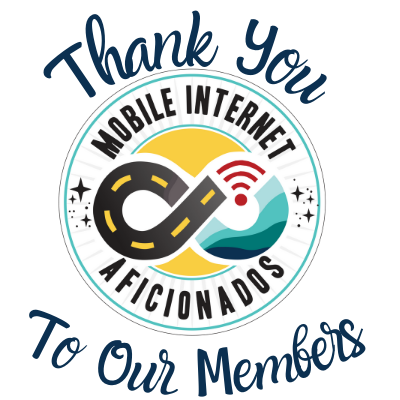 If you are already a member, please log in above to see the special content we have prepared for you.
Final Thoughts and Conclusion
We've always been impressed with how Insty Connect, as a small, family-run company, can quickly innovate to provide unique and compelling solutions in the RV connectivity market.
As a result, we've had the Insty Connect system as one of our Top Pick options for a while.
These new products are potentially substantial improvements, making Insty Connect even more compelling.
We are especially excited about the new POE modem module - and we are eager to see how seamlessly it can integrate into a more advanced connectivity arsenal centered around a Peplink router and SpeedFusion bonding.
Adding an Insty Connect to a Peplink over Ethernet could be a great way to add an additional fast 5G connection to anyone who needs more redundancy in an existing arsenal.
We will be getting the latest Insty Connect module in for hands-on testing soon, and once we get the gear into testing, our MIAs can follow along in our forums, and our members will have access to our conclusions and results in our full review.
Stay tuned!
For more information:
Related MIRC Content
Related News Stories: