Key Points:
The Insty Connect Explorer bundles combine an indoor 802.11ac Wi-Fi router with an outdoor cellular modem that is mounted into the same enclosure as the cellular antennas.
The 5G model, the Insty Connect Explorer 5G20, is now shipping - with a new 4x4 MIMO "MEGA Angel Wings" antenna.
The company behind Insty Connect was founded by a fellow RVer.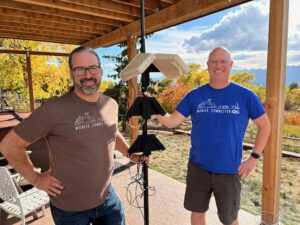 We've had our eye on the Insty Connect Explorer since the first version of this unique cellular connectivity solution launched in February.
The Insty Connect Explorer was designed by part-time RVer Nick of the YouTube channel We Can Explore It in response to his frustrations with the limitations of his prior cellular-enabled routers.
The Insty Connect Explorer combines an indoor 802.11ac (aka WiFi 5) router, coupled via USB with an outdoor cellular modem module that is tightly integrated into a custom 3D printed "Angel Wing" MIMO antenna enclosure.
Layered on top of the hardware is a custom mobile-friendly software interface that aims to make the Insty Connect easy to manage, and to even allow it to lock to particular cellular bands and cell towers.
Recently shipping - the Insty Connect Explorer 5G20 model upgrades the modem in the original Insty Connect from a Cat-12 4G/LTE modem and 2x2 MIMO Angle Wing antenna to a Cat-20 4G / Sub-6GHz 5G modem and 4x4 MIMO "MEGA Angle Wings" that is capable of much higher peak potential performance.
The original Insty Connect Explorer 4G12 remains available for $549. The new Insty Connect Explorer 5G20 is now shipping in limited quantities for $999.
We received one of the first Explorer 5G20's to ship, and have our hands-on first look here.
First Look: Insty Connect Explore 5G20 & Insty Connect Binoculars
Subscribe to our YouTube Channel
Insty Connect Explorer: What Makes This Interesting?
It absolutely makes sense to have a cellular modem and antennas closely integrated and outdoors.
We've long advocated this type of design that optimizes getting the best signal while minimizing signal loss over an antenna cable.
The Insty Connect Explorer 5G20 is the first product we've seen that applies this design philosophy to 5G.
The outdoor omnidirectional "MEGA Angel Wing" is essentially a doubling up of the 2x2 MIMO Angel Wing antenna from the original Insty Connect - with a larger modem module slot designed to accommodate a 5G modem module and twice the number of omnidirectional cellular antennas.
A 15' outdoor-rated USB-A to USB-C cable is included with the bundle, connecting to the indoor Wi-Fi router that hosts your own local network. The indoor router is exactly the same as what was included with the Insty Connect Explorer 4G12.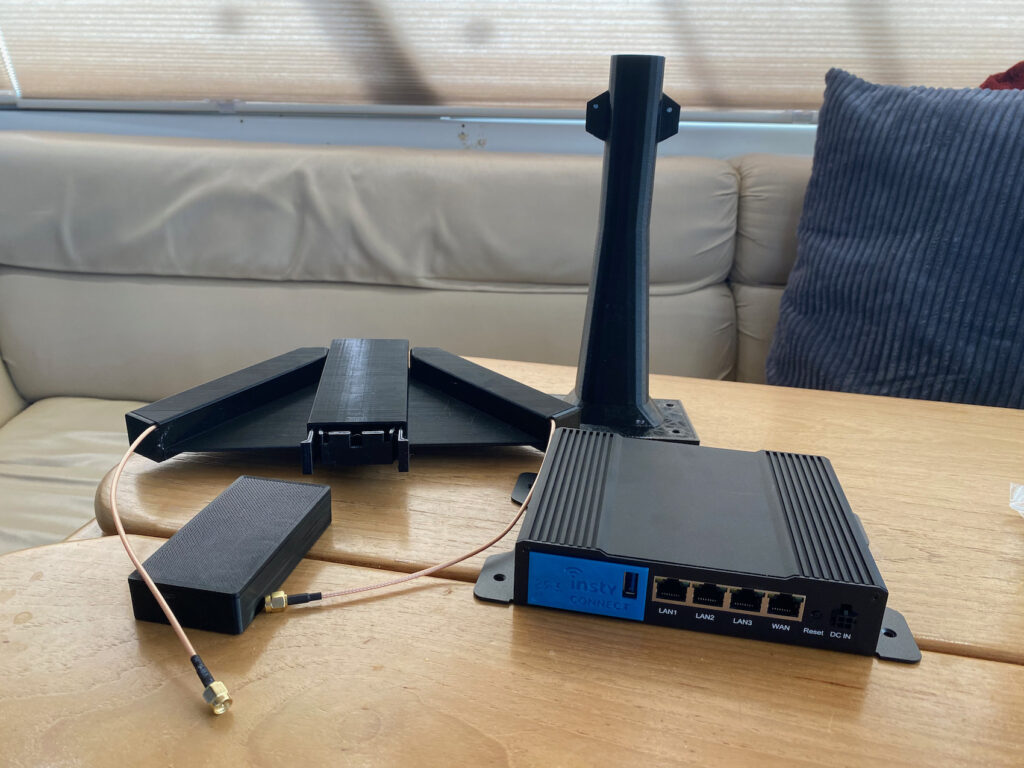 The cellular modem shipping with the Insty Connect Explorer 5G20 is a Category 20 4G/LTE and Sub-6GHz 5G Qualcomm X55 based device capable of 7x carrier aggregation, and peak 5G theoretical speeds of 5.0 Gbps down and 650 Mbps up, and 4G theoretical speeds of 2.0 Gbps down and 200 Mbps up.
The modem supports all the key bands currently in use in the USA:
5G NSA (Non-Standalone): n1, n2, n3, n5, n7, n8, n12, n20, n25, n28, n38, n40, n41, n48, n66, n71, n77, n78, n79
5G SA (Standalone): n1, n2, n3, n5, n7, n8, n12, n20, n25, n28, n38, n40, n41, n48, n66, n71, n77, n78, n79
4G/LTE: B1, B2, B3, B4, B5, B7, B8, B12/17, B13, B14, B18, B19, B20, B25, B26, B28, B29, B30, B32, B34, B38, B29, B40, B41, B42, B43, B46(LAA), B48, B66, B71
This modem (even in 4G mode) is a huge jump up in raw technology and peak performance from the Cat-12 modem included in the Insty Connect 4G12.
Assuming you can find locations where the cellular network has been upgraded enough to let 5G technology really shine, that is.
But there is one significant regression - the 4G12 modem module featured two SIM slots and you could switch between them in software, making it easy to try different carriers without needing to climb a ladder to swap SIM cards on your RV roof.
The Insty 5G20 only has a single working SIM slot - eliminating this handy feature.
Insty Connect "Binoculars"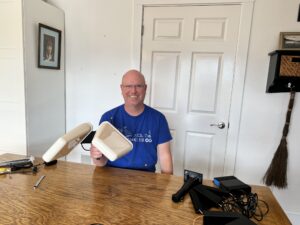 Also new from Insty Connect since our first article is the "Binoculars" directional MIMO antennas add-on option.
The binoculars have a modem cartridge slot like the Angel Wings, so you will be able to transplant the modem from one antenna to another - giving you a powerful directional tool to use in locations where an omnidirectional antenna is not sufficient.
To set up the Binoculars, you need to climb up on your RV roof, remove the modem cartridge from the Angel Wings, install the modem into the Binoculars, connect the USB extension cable from the indoor router, and then mount and aim the Binoculars on a mast.
In most locations, this will not be worth the effort, and will often not result in much improvement.
But in some remote locations (especially in the wide-open west) - a MIMO directional antenna like this can work wonders, and we expect the Binoculars will work great for those who have the space to store them and who understand when they are appropriate to put into use.
The current 2x2 MIMO binoculars ($249) are designed to be used with the Explorer 4G12 modem module. There is a version of the binoculars featuring a 4x4 MIMO antenna array designed for the Explorer 5G20 that is in development, but we do not have final details or pricing on it yet.
Concluding Thoughts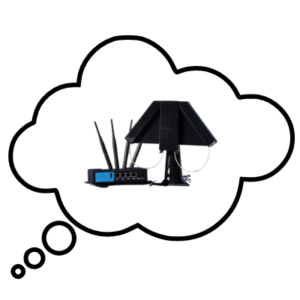 The Insty Connect Explorer 5G20 is an interesting combination of a high-end cellular modem, integrated antenna system, solidly specced indoor router, and a user interface distilled down to be focused on the basic needs of mobile users focused on cellular data.
All at a rather attractive package price - especially when compared to other 5G gear.
But anyone considering Insty Connect should keep in mind that it is a very specialized product - focused on a particular cellular-centric usage case.
The Insty Connect explorer only has minimal WiFi-as-WAN capabilities, does not support USB tethering to other hotspots or smartphones, and lacks many more advanced features (such as bonding or load balancing) found on higher-end cellular routers such as the Pepwave MAX Transit Duo or MAX BR1 Pro 5G.
Now that we have an Insty Connect Explorer 5G20 on hand, we will be getting more experience with it - and will be sharing our more in-depth thoughts and comparative analysis with other similar products with our MIA members.
We share further hands-on observations and further thoughts with our members below.
 Bonus Member Only Content Available!
We go extra for our premium members - who make this resource center possible (did you notice the lack of 3rd Party advertising?). We have included some additional information in this news article just for our members - analysis, guidance and/or insider tips.
If you're not yet a member, please consider joining us. Extra content like this is one of the many perks we offer - in-depth content, guidance, discounts, alerts, classroom and more.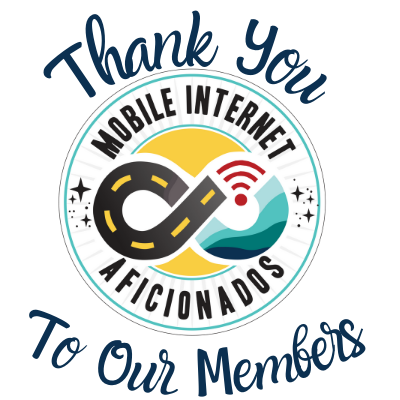 If you are already a member, please log in above to see the special content we have prepared for you.
Related News Stories

Related Guides & Info