Canadian router manufacturer MoFi originally launched the MoFi 4500 line in August of 2015, with an optional integrated cellular radio.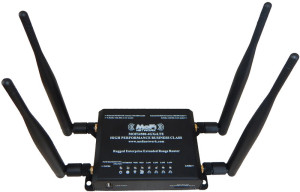 MoFi routers provide a local Wi-Fi and Ethernet LAN network, and support tethering to a cellular hotspot or USB modem to share your cellular connection.
MoFi also supports direct USB tethering to Android phones and was the first router to support direct iOS smartphone tethering (a feature now matched by WiFiRanger).
With an integrated cellular radio included with many MoFi versions, the tiny MoFi box can do away with the need for a separate cellular hotspot entirely.
This packs a ton of capability into a small metal shell for the price point.
The basic Mofi router has remained essentially the same since 2015, but Mofi has upgraded the integrated cellular radio over time. The most recent version, as of February 2020, is the SIM7 version - supporting T-Mobile Band 71 and AT&T Band 14.
While MoFi looks great on paper - the actual hands-on experience is, at best, challenging.
Specifications
Model: MoFi4500-4GXeLTE (SIM4 / SIM7)
Base Technology: MoFi 4500
Router Specs:


# of Connected Devices: Not specified
Wi-Fi Router:

2.4GHz Wi-Fi: 802.11 b/g/n - 300Mbps Max, 21dBm Transmit Power (125mW)
5GHz Wi-Fi: N/A
Wi-Fi Antenna: 2x RP-SMA/Female Antenna Port, 5dBi Antennas Included
Wi-Fi as WAN: Yes (see details in review below)
Claimed Wi-Fi Range: Not specified
Guest Wi-Fi Network: Yes

Control Panel and Default Password: Not Specified
USB Tethering Support: 1x USB Port
Ethernet Ports: 5x 100Mbps Fast Ethernet (1x WAN / 4x LAN)

Cellular Modem Specs: Yes

Supported Networks and Bands:

SIM7 Combo Version (Verizon, T-Mobile. AT&T Certification is Pending):

LTE Bands: B2, B4, B5, B12/B17, B14, B66, B71
2G/3G: Not Yet Known

SIM4 v2 Version (Verizon, T-Mobile, AT&T, Sprint, Global):

LTE Bands: B1, B2, B3, B4, B5, B7, B8, B12/B17, B20, B25, B26, B30, B41
2G/3G: HSPA+ 850/1900/2100MHz Global roaming supported

LTE-Advanced Carrier Aggregation:

SIM7 Version - No
SIM4 v2 Version - Yes - 2x 20MHz Channels

MIMO Support: 2x2
LTE Performance Category:

SIM 7 Version: Category 4 (Max Theoretical Speed: 150Mbps Down / 50Mbps Up)
SIM 4 v2 Version: Category 6 (Max Theoretical Speed: 300Mbps Down / 50Mbps Up)

Cellular Antenna Ports: 2x SMA/Female Antenna Ports, Basic 5dBi Indoor Antennas Included with SIM4 version, premium antennas included with SIM7 version.
SIM Slots: Mini-SIM (2FF)

Dimensions: 4.3" x 3.3" x 1.2"
Other Ports: USB
Power Source: 110v AC Adapter Included (Optional 12V vehicle power supply)
Outdoor Rated: Optional NEMA Housing
Special Features: Data Usage Tracking, Band Locking, Extreme Customization
Retail Price: SIM7 - $284.99 | SIM4 - $299.99
---
Review & Testing Status
MoFi has provided us with both a basic MoFi 4500 and the universal cellular SIM4 model, and we tested them in a range of locations and situations. We have not tested the newer cat 4 SIM7 model that supports Band 14 and 71.
We've shared our in-depth testing notes with our members in more detail below, and in our testing notes:
March 2019 Update: After hearing multiple recent reports of improvements in the MoFi stability and firmware, we put our SIM4 unit back into testing for re-analysis. Our review below remains unchanged.
Related News Center Articles
An Overview of T-Mobile LTE Band 71 and Compatible LTE Modems & Routers (WiFiRanger, Gli.Net, Mofi, Pepwave, etc.) Posted on: March 13, 2020
2016 RV Mobile Internet Year in Review & Looking Forward Into 2017 Posted on: January 6, 2017
Cradlepoint Embraces LTE-Advanced, Multi-Carrier Radios Posted on: June 1, 2016
MoFi Announces Next Generation "All Providers" MOFI4500-4GXeLTE-SIM4 V2 Cellular Router Posted on: April 13, 2016
A Promising New Cellular Router - Introducing the MoFi 4500 Posted on: August 24, 2015
---
Potential Alternatives to Consider:
For other popular mobile routers on the market we are tracking - here are our featured options:
Learn More About Selecting Mobile Routers
---
This Review Contains Additional Member Exclusive Content

We are honored to be able to present the above overview for free without 3rd party advertising or sponsorships. We are not paid by the manufacturer of this product to provide this listing or review, and nor are we selling this equipment or plan (purchasing links are provided below as a courtesy and some may be affiliates).
Our members have funded this resource center and any extensive hands on time
we have spent with the product to review it.
The in-depth portions of this review are made available to them which might contain: hands on testing notes, field testing data, user interface tour, product analysis, comparison to alternatives, setup tips, video tutorial, insider tips, vendor discounts and fellow member experiences.
If you're a member, please log in to continue with this review.
If you're not a member.. please consider joining us!
Purchasing Options
The guides below have been hand-picked to help further your education about selecting & using mobile routers.