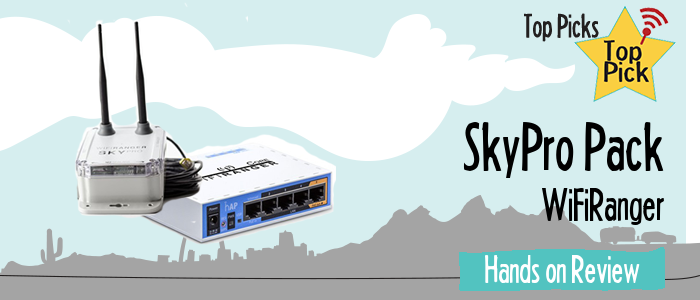 The WiFiRanger variants of the SkyPro pack combine one of WiFiRanger's roof-mounted antenna systems with one of their mobile routers to provide a complete solution sold as a kit.
The base pack comes with the SkyPro roof-mounted unit along with the Core router. However, the following configurations are available. Links point to our reviews of the each product in the pack:
Base SkyPro Pack
SkyPro LTE Pack
SkyPro LTE Pack with GoAC
---
Review & Testing Status
We have conducted extensive testing on the components in these kits. For all the details, please see the following reviews:
This Review Contains Additional Member Exclusive Content!
We are Honored to be Member Funded!
No ads, no sponsors, no selling (but may contain affiliate links)
Our members fund our in-depth independent reviews.
This entry may contain additional member exclusive content such as testing notes, field testing data, user interface tours, comparisons to alternatives, analysis, tips, videos and discounts.
Members also get interactive guidance, alerts, classroom and more.
---
Purchasing Options
WiFiRanger primarily sells direct online and at RV rallies.