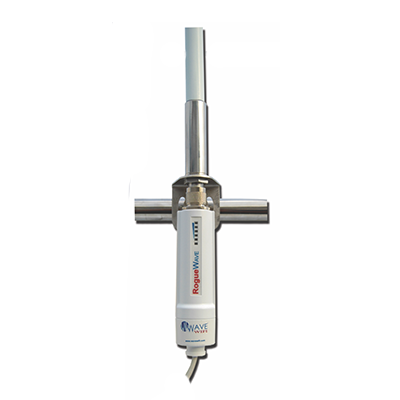 Wave WiFi specializes in packaging together connectivity gear for boats, yachts and even RVs.
In their long range Wi-Fi extending lineup, they offer:
Rogue Wave - Roof-mounted CPE utilizing the Ubiquiti Bullet M2 as the underlying CPE hardware, integrated with a router. Intended for consumer boats & RVs.
Rogue Wave Pro - The same gear as the Wave, but in a ruggedized form factor.
Rogue Reach - Specially designed mounting system for RVs
Wave WiFi repackages a 8.5 dBi omni antenna with a Ubiquiti Bullet, but their firmware is proprietary to make the user experience easier. And their gear comes in a choice of 2.4 Ghz or dual band Wi-Fi. Wave WiFi gear can be used with your existing router or PC.
Specifications - Rogue Wave
Base Technology:

Ubiquiti Bullet M2 Titanium
WiFi Router: No

Power Source:

POE

Dimensions:

20" tall
Includes: 25' Ethernet, POE injector

Outdoor Rated:

Yes

Retail Price:

$400 - Rogue Wave | $470 - Rogue Wave Pro
---
Review & Testing Status
Our contributing author Jack Mayer has an extensive member review below based on a 2014 version, with a direct comparison of this device to the WiFiRanger and Pepwave devices available at the time. Since then, both WiFiRanger and Pepwave has progressed their product lines.
The product overview below includes the following sections:
The Technology (What's in the Box)
Software User Interface
Performance Testing (Comparisons to the WiFiRanger MobileTi and Pepwave SoHo)
Competition
Recommendation Summary
---
Potential Alternatives to Consider:
For other featured Long Range Wi-Fi extending gear on the market we are tracking - here are our featured options:
Learn More About Wi-Fi Extending Gear
---
This Review Contains Additional Member Exclusive Content

We are honored to be able to present the above overview for free without 3rd party advertising or sponsorships. We are not paid by the manufacturer of this product to provide this listing or review, and nor are we selling this equipment or plan (purchasing links are provided below as a courtesy and some may be affiliates).
Our members have funded this resource center and any extensive hands on time
we have spent with the product to review it.
The in-depth portions of this review are made available to them which might contain: hands on testing notes, field testing data, user interface tour, product analysis, comparison to alternatives, setup tips, video tutorial, insider tips, vendor discounts and fellow member experiences.
If you're a member, please log in to continue with this review.
If you're not a member.. please consider joining us!
Purchasing Options

Amazon: Rogue Wave
The guides below have been hand-picked to help further your education about selecting Wi-Fi extending gear - and even if this option makes sense for you.