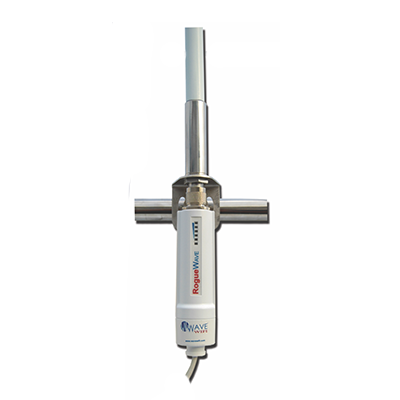 Wave WiFi specializes in packaging together connectivity gear for boats, yachts, and even RVs.
In their long-range Wi-Fi extending lineup, they offer:
Rogue Wave - Roof-mounted CPE utilizing the Ubiquiti Bullet M2 as the underlying CPE hardware, integrated with a router. Intended for consumer boats & RVs.
Rogue Reach - Specially designed for RVs, the Reach can direct connect to any WAN Ethernet-enabled device, router, or switch.
Rogue Pro - The same gear as the Wave, but in a ruggedized form factor with an alternative mounting system.
Rogue Reach DB - Similar to the Rogue Reach but with Dual-Band Wi-Fi
Rogue Pro DB - Similar to the Rogue Pro but with Dual-Band Wi-Fi
Wave WiFi repackages Ubiquiti Bullet hardware but their firmware is proprietary to make the user experience easier. And their gear comes in a choice of 2.4 GHz or dual-band Wi-Fi.
Wave WiFi gear can be used with your existing router or PC.
---
Specifications
Model: Wave, Reach, Reach DB, Pro, Pro DB
Base Technology: Ubiquiti Bullet M2 Titanium
Router Specs:

Wi-Fi Router: No

2.4GHz Wi-Fi: 802.11 b/g/n
5GHz Wi-Fi: 2.4GHz / 5GHz a/b/g/n/ (DB models only)
Wi-Fi Antenna: 1x, 8.5 dBi Antenna Included
Wi-Fi as WAN: Yes
Claimed Wi-Fi Range: Up to 7 miles
Guest Wi-Fi Network: Unknown

Control Panel and Default Password:

Control Panel Address: 192.168.89.1

USB Tethering Support: No

Cellular Modem Specs: N/A
Dimensions: 21" x 1.5"
Other Ports: None
Power Source: POE
Outdoor Rated: Yes
Special Features: None
Retail Price: $395-$761
---
News, Videos, & Status
Our contributing author Jack Mayer wrote an extensive member based on a 2014 version of the hardware, with a direct comparison of this device to the WiFiRanger and Pepwave devices available at the time. Since then, both WiFiRanger and Pepwave has progressed their product lines.
We've updated the original review based on current product lines.
News Stories
Peplink Product Line Update: Major Changes to the MAX Transit Line, MAX BR1 Pro 5G Hands-On, New Maritime Antennas, and More! Posted on: November 10, 2021
onSpot Marina Wi-Fi Service Banning Some Wi-Fi Extenders Posted on: July 8, 2021
New Peplink Hardware Coming Soon: MAX BR1 Pro 5G Router, AP ONE AX Lite Access Point, and Puma 421 7-in-1 Antenna Posted on: May 28, 2021
WiFiRanger Converge Everest: Ready At Last, With Upgraded Modem Options and New Pricing Posted on: April 23, 2021
Wi-Fi Technology Evolves: 6 GHz "Wi-Fi 6E" More Than Doubles Wi-Fi Network Capacity Posted on: April 27, 2020
---
---
Purchasing Options
Affiliate vendor links - using these links helps support MIRC's mission (MIAs, please log in to get special discounts):

Amazon: Rogue Wave
Onboard Wireless: Rogue Reach | Rogue Wave
Other vendors (non-affiliate):
Citimarine: Rogue Reach | Rogue Pro