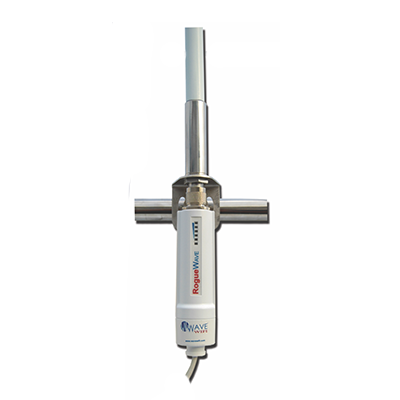 Wave WiFi specializes in packaging together connectivity gear for boats, yachts and even RVs.
In their long range Wi-Fi extending lineup, they offer:
Rogue Wave - Roof-mounted CPE utilizing the Ubiquiti Bullet M2 as the underlying CPE hardware, integrated with a router. Intended for consumer boats & RVs.
Rogue Wave Pro - The same gear as the Wave, but in a ruggedized form factor.
Rogue Reach - Specially designed mounting system for RVs
Wave WiFi repackages a 8.5 dBi omni antenna with a Ubiquiti Bullet, but their firmware is proprietary to make the user experience easier. And their gear comes in a choice of 2.4 Ghz or dual band Wi-Fi. Wave WiFi gear can be used with your existing router or PC.
Specifications - Rogue Wave
Base Technology:

Ubiquiti Bullet M2 Titanium
WiFi Router: No

Power Source:

POE

Dimensions:

20" tall
Includes: 25' Ethernet, POE injector

Outdoor Rated:

Yes

Retail Price:

$400 - Rogue Wave | $500 - Rogue Wave Pro
Testing Status: Our contributing author Jack Mayer has an extensive member review below based on a 2014 version, with a direct comparison of this device to the WiFiRanger and Pepwave devices available at the time. Since then, both WiFiRanger and Pepwave has progressed their product lines.
The product overview below includes the following sections:
The Technology (What's in the Box)
Software User Interface
Performance Testing (Comparisons to the WiFiRanger MobileTi and Pepwave SoHo)
Competition
Recommendation Summary
The Rest of this Review is:
Member Only Content
We are thrilled & honored to be primarily member & reader funded - allowing us to present unbiased content. The in-depth review section of this product listing is part of the premium membership benefits of joining. Members can also leave their own reviews on products.
If you're a member, please log in above to read the in-depth review for this product and/or leave your own review. If you've not joined yet, learn more about membership at:
Purchasing Options

Amazon: Rogue Wave
Rogue Wave Ratings
Hardware

User Interface

Customer Service

Overall Performance
Quick Take
A simple WiFi repeating device.
Comments Rating
( reviews)