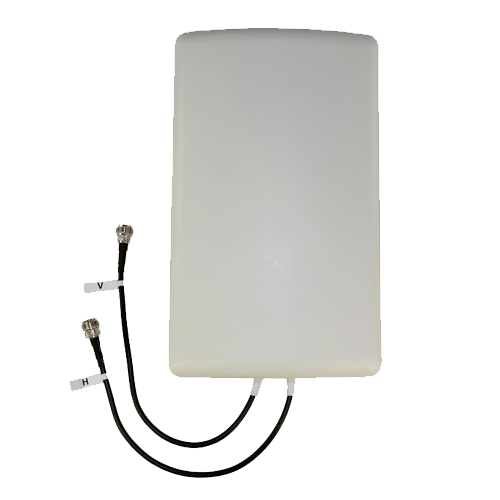 Proxicast's fixed location MIMO antenna with 2 female-N connectors works for signal enhancing a cellular device with two antenna ports. It is a directional antenna, meaning it will require pointing at each stop.
MIMO (Multiple In Multiple Out) is the use of more than one antenna to increase signal performance. All LTE devices internally have at least two antennas to take advantage of this technology. This antenna is designed with two antennas inside it's panel case, and then had two plugs that can go directly into a device with TS-9 ports (typically used on mobile hotspots like JetPacks and MiFis).
The antenna incorporates two separately fed ultra wideband elements in a single housing which focus radio energy into a 75 degree beam. The elements are set at 45 degree angles to provide cross-polarized MIMO connectivity for LTE radio equipment.
The antenna's compact, light-weight rugged housing, heavy duty mounting hardware and corrosion-resistant materials make it ideal for outdoor applications. It can be pole or wall mounted.
With appropriate adapter cables (not included), this antenna is compatible with cellular modems, hotspots and routers.
Specifications
Model:

ANT-129-001
# of Antennas: 2x2 MIMO

Direction:

Directional
Frequency Range: 698-960/1710-2170 MHz
Impedence: 50 ohms

Cable Type & Length:

12 in (300mm) RG58U low-loss coax (not included)

Connector:

2x N Female
Internal Ground Plane: No

Dimensions:

11.8 x 7.2 x 2.75 in
Weight: 1.4 pounds

Mounting:

Pole or Wall
Outdoor Rated: Yes

Frequency / Gain:

7 - 10 dBi


Retail Price:

$99.95
---
News, Videos, & Status
We are not currently testing this antenna.
---
---
Purchasing
Amazon (affiliate link) | Proxicast