The Puck series of low-profile combination antennas by Poynting offer MIMO cellular and dual-band WiFi support as well as GPS/GLONASS coverage in a small form-factor. This style of antenna is a dome antenna with the cables routed through the base of the antenna. More information on installing these antennas can be found in the Antenna Installation - Low Profile Roof Mounts.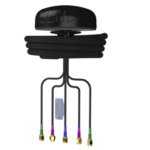 The series comes in several variants but the Puck 5 (5-in-1) appears to be the only model easily available in North America.
All options come in the same low-profile housing designed for transportation and IoT. The antenna comes with a wide variety of mounting options:
Spigot Mount
Vertical Pole mount
Horizontal Pole Mount
Magnetic Mount
Surface Mount (Double Sided Tape)
Wall Mount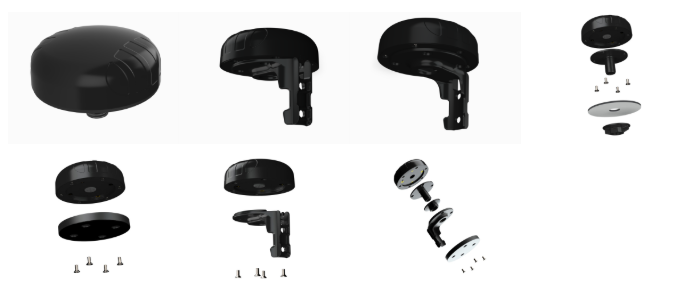 Poynting is a South African-based manufacturer of antennas for wireless high-speed data applications for a variety of uses. They offer a diverse product lineup focusing on residential 4G LTE, GSM, IoT (Internet of Things) and M2M (Machine to Machine) use cases. Some of the antennas can be used for mobile applications.
---
Specifications
Model:

Puck 1, 2, 3, 4, 5, 7, 8, 12

Type:

Omnidirectional

Impedance:

50 Ohms
Configuration Options:

Cable Type & Length:

Cellular: RTK-031, 2m (~6ft)
WiFi: RTK-031, 2m (~6ft)
GPS: RTK-031, 2m (~6ft)
Cable Extender Available

Connector:

SMA Male (all connectors), includes RP-SMA adaptors
Frequency / Gain:

LTE: 690- 960 MHz: -1dBi, 1710 - 2170 MHz & 3200-3800MHz: 6dBi
W-iFi: 2.4-2.5 & 50-6.0 GHz, 7.5 dBi
GPS: 1575.42MHz/1600MHz, 21 +/- 2dBi

Internal Ground Plane:

Yes

Dimensions:

4" (round) by 1.4"
Outdoor Rated: Yes

Retail Price:

$78-$140
---
News, Videos, & Status
We are not currently testing this antenna.
---
---
---
Purchasing Options