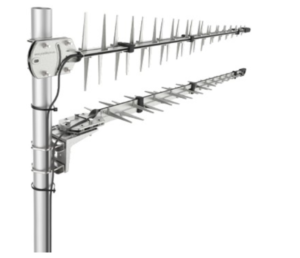 Poynting's Wideband Log-Periodic Dipole Array Antenna is a high-gain wideband directional antenna that can be coupled with a second matching antenna and dipole mount for 2x2 MIMO compatibility. The antenna is compatible with 4G, 3G and 2G frequencies, as well as some limited 5G support.
This antenna can be single mounted, or, as mentioned above, dual mounted for a 2x2 MIMO experience.
This weather-tested device is ideal for mast mounting.
Specifications
Model:

LPDA-92

# of Antennas:

1x1, or 2x2 MIMO
Direction: Directional
Frequency Range: 690-960 MHz; 1710-2700 MHz; 3200-3800 MHz

Impedance:

50 ohms

Cable Type & Length:

Coax - 7 meters

Connector:

SMA/Male or N-Type
Internal Ground Plane:

Dimensions:

44'' x 8'' x 2''
Weight: 3.6 pounds

Mounting:

Pole Bracket or 45 degree bracet options
Outdoor Rated: Yes - IP65
Frequency / Gain: 10.8 dBi @ 698-960 MHz, 11 dBi @ 1710-2700 MHz, 2.3 dBi @ 3400-3800 MHz

Retail Price:

$109
---
Review & Testing Status
We do not have this unit in for testing.
---
Potential Alternatives to Consider:
For other popular cellular antennas on the market we are tracking - here are our featured options:
Learn More About Selecting Cellular Antennas
---
This Review Contains Additional Member Exclusive Content!
We are Honored to be Member Funded!
No ads, no sponsors, no selling (but may contain affiliate links)
Our members fund our in-depth independent reviews.
This entry may contain additional member exclusive content such as testing notes, field testing data, user interface tours, comparisons to alternatives, analysis, tips, videos and discounts.
Members also get interactive guidance, alerts, classroom and more.
Purchasing Options
The guides below have been hand-picked to help further your education about selecting & using cellular antennas.