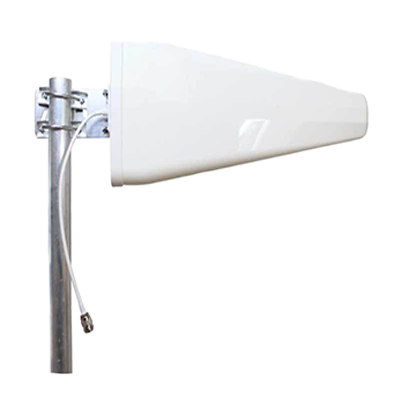 The 4G Rural Cellular Log Periodic Yagi Antenna is a directional antenna designed to enhance LTE signals on AT&T, Verizon, and T-Mobile. It's designed by Antenna World and distributed by Technical Antennas.
Specifications
Model:

LP12F
# of Antennas: Single
Direction: Directional
Frequency Range: 698-2700 MHz

Impedance:

50 ohms

Cable Type & Length:

RG-58, 4 inches

Connector:

F, N, or TNC Female (your choice)

Internal Ground Plane:

No

Dimensions:

17.3"x8.2"x2.8"
Weight: 18 ounces

Mounting:

Pole mount
Outdoor Rated: Yes

Frequency/Gain:

12dBi

Retail Price:

$69.00
---
News, Videos, & Status
We have one of these units and have done some testing with it. Results of our testing are available to members in the section below.
During testing, members can follow our testing activity in our forum, where we'll post updates and our latest insights and information.
---
---
Purchasing Options