I remember the day well, the very first iPad was delivered to our RV's doorstep 7 years ago this month. We excitedly unpackaged it, held it in our hands and marveled at this new class of product.
We turned it on, and activated AT&T's month-to-month unlimited data plan for $29.99/month.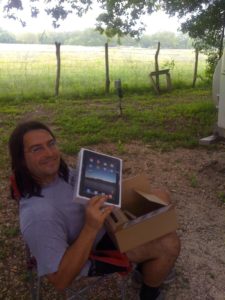 This was a time when unlimited pretty much matched the commonly recognized definition of unlimited. Pay the bill each month, and use all the data you wanted.
No slow downs for using too much.
Just a few weeks later, AT&T stopped offering this sweet unlimited data plan.
Was it a coincidence that the Netflix app also debuted for iPad around that time, bringing home just how much data a consumer could use on a tablet fit for an evening of binging? Even better, get a HDMI out cable, and you could cast the video up to a larger television screen in full HD.
However, any lucky iPad pioneer who had activated the plan and kept paying that monthly bill - was able to keep the plan.
For seven years, many of us did. We held onto them for dear life. Enjoying our Netflix and every other streaming service to launch since.
While these plans never officially included mobile hotspot use, these rare plans became rather valuable. The value climbed as other unlimited options started to become, well, not really unlimited. Just last week, these plans were selling for upwards of $3100 on eBay to transfer on to new owners. And that didn't include an iPad.
AT&T's own original unlimited iPhone plan started being hard throttled after a few GB of usage in a month (and later, they switched to network management after 22GB of usage due to legal action taken).
But the iPad plans remained untouched.
Until now.
Prefer Video? We have a quick video version of this article too:

Customers who had been using their unlimited iPad SIM cards in dedicated mobile hotspot devices (against the terms of service) started getting TXT messages earlier this week. This included those who were renting AT&T unlimited lines based on this plan.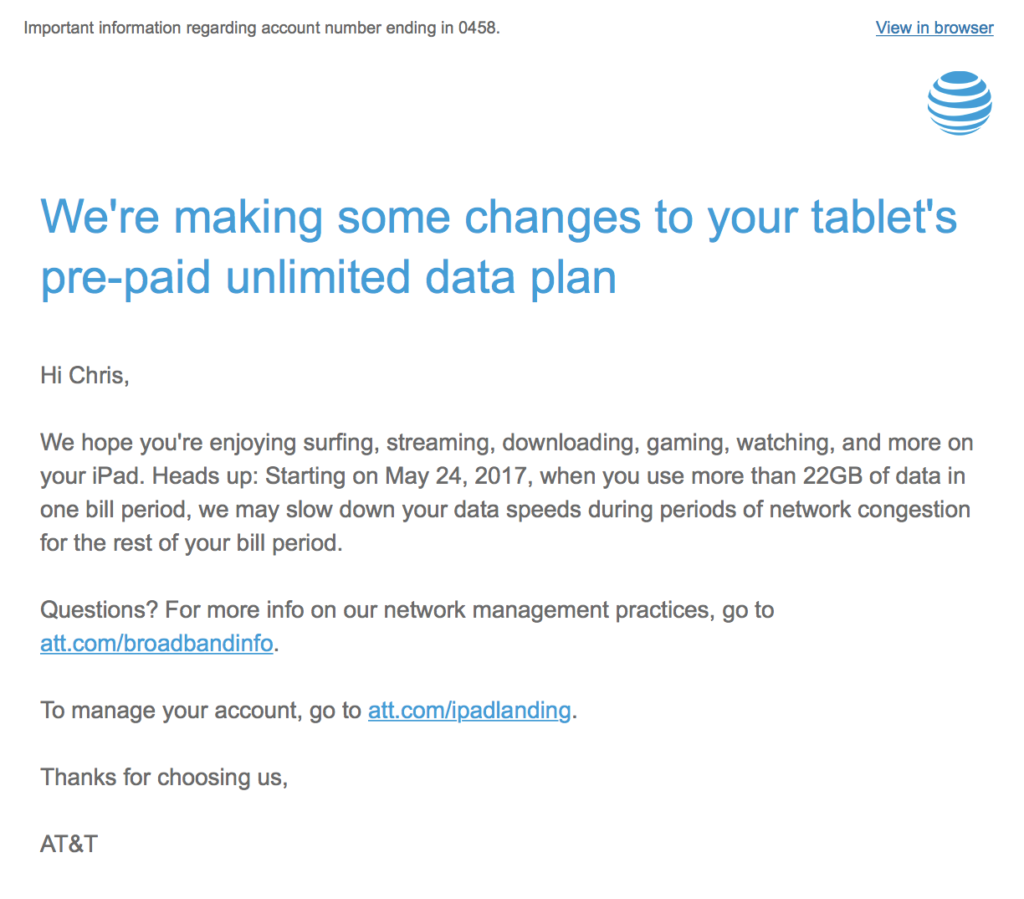 And today, those who have faithfully kept their SIM cards in their iPads as they were intended received the same notice by e-mail - including us.
Effective May 24, these plans will now be subject to network management - just like every other current unlimited data plan on the market.
What this means is after 22GB of usage in a month, customers may experience slower speeds when on congested towers. This is not throttling, which generally refers to speeds always being slowed for the remainder of the billing period.
If you, like us, had held onto one of these plans - they just suddenly became a lot less valuable (and certainly won't be selling for as much on eBay anymore). Here's our advisement going forward:
If already have a new AT&T Unlimited Plus account, you can add your iPad for just $20/month with the same terms, but enabling 10GB of mobile hotspot data.
Those who don't have AT&T Unlimited Plus accounts already, may find that the crazy $20/month stand alone Connected Car unlimited data plan is worthwhile alternative.
And of course, modern iPads are now cross-carrier compatible - so you can also activate service on other carriers, which can be a great way to add carrier diversity to your arsenal.
Aside from some possible business AT&T unlimited data plans remaining, that leaves one plan standing that is still truly unlimited - those legacy Verizon Unlimited Data Plans.
However in the last week we've seen a lot of new turmoil in the marketplace with rental & lease vendors receiving termination notices again and Verizon requesting eBay remove listings of plans for rent or sale.
Now the questions becomes - can Verizon follow suit and apply network management or mobile hotspot caps onto their old legacy plans too?  We addressed this with our members in our webinar earlier this week. The video archive is available below to our members, as well as embedded in our Guide to Legacy Verizon Unlimited Data Plans.
Member Exclusive - Can Verizon Do the Same?
---
Our members have additional exclusive access to our updated guidance to Verizon Unlimited Data Plans.
If you're one of our premium members, please log in to access this special content.
Not a member? Come join us - and support what we do here.   
We would not be able to run this resource center and dedicate so much time to covering stories like these without our member's support!
---
Further Reading:
Related News: