September 19, 2016 ALERT:

Customers using their unlimited data plan in a T1114 home router have begun receiving disconnect letters from Verizon if they don't switch to a 'compatible plan'. This appears to be happening even to folks in contract. We are monitoring this closely, and deep in research to learn more.

We do not yet know how this might impact those using UDP plans in dedicated mobile hotspots (Jetpacks) and cellular routers. Thus far, all data blocks have only impacted the T1114 since July, and we've heard no such cases involving other data only devices.

This just broke, and we are deep in fact gathering to issue updated guidance. Members, please check the 'Special Announcements' thread for further information we are sharing.

September 3, 2016 Update:

We continue to watch this story closely, tracking several forums. Here is the latest now that the August 31 termination date has passed:

Several who received termination letters (which has been reported to be near 1200 out of contract high data users), have reported in that their plans are still active. Best theory is that the terminations will happen at the end of their billing period. September 7 update: We're starting to see some reports of plans being terminated.
Some customers using an unlimited data plan in the T1114 dedicated home router (regardless if in or out of contract) report that even though they are able to get Verizon to clear their data block, the block keeps coming back. We have not heard any reports of this happening on other dedicated data devices (such as routers and mobile hotspots) yet.
The reports of rental/lease vendors being shut down have trickled down. If you were waiting to sign up with one, most public ones seem to have made adjustments to their offerings with clearly stated data caps (ranging from 90-500 GB/month). Our Verizon Unlimited Data Guide includes contact info of vendors who have reported in with us.
It has been reported from multiple sources that IN contract unlimited data plans continue to be the best option. The member section of our guide has a method detailed that has been working for many of our members who have recently gone through it. And all of the data brokers we're in contact with report back continued smooth AOL transactions.
We are tracking a couple of rumors of possible upcoming price increases on plans. We will report back if any are confirmed.
There are continued reports of unreliable data tracking on past history of accounts, and on device reports (such as displayed on a Jetpack). This is of course making it difficult for those trying to stay under a data threshold to track their usage. We advise doing your own data tracking via routers or other tools.

On August 8, we issued a member only video updated guidance on rentals, AOLs, thoughts on usage habits and protecting these plans into the future. At present time, we have no further updates to that guidance - which can be found in the member portion of our Verizon Unlimited Data Guide.
The Original Post:
As we first reported on last week - things have suddenly gotten very uncertain for those with Verizon unlimited data plans.
We've been tracking the news and rumors constantly since, and here is an update on what we know so far.
In summary:
Yes, Verizon is indeed moving to force a "small number" of "extraordinary" data users off of unlimited data plans.
In a completely separate move, Verizon is also cracking down on some Verizon rental line providers, in some cases shutting off lines with no notice.
Some users with UDP lines in hotspots and routers have suddenly (but so far seemingly temporarily) lost their connectivity with a "4G Data Block" placed on their lines.
And now, some deeper detail.
UPDATE (August 1st): We've published some details in our Member Forums sharing how to determine in advance if you are slated to get "the letter" targeting high usage lines. And we've also shared a new way to get lines that are slated to be canceled back under contract - potentially scoring a free new phone in the process.
Purging High Usage Lines
Verizon has confirmed to multiple media sources that they have sent letters out to a "small group" of "extraordinary" heavy data users - giving them until August 31st to switch to a metered-data New Verizon Plan or their lines will be canceled.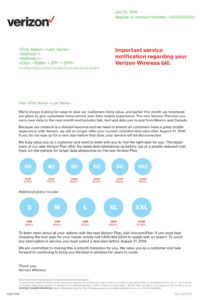 We have now seen several copies of this letter, which says, in part:
"Because our network is a shared resource and we need to ensure all customers have a great mobile experience with Verizon, we will no longer offer your current unlimited data plan after August 31, 2016. If you do not sign up for a new plan before that date, your service will be disconnected.
...
We are committed to making this a smooth transition for you. We value you as a customer and look forward to continuing to bring you the best in wireless for years to come."
The letter then goes on to promote the higher tiers of the new Verizon plan pricing, which ranges from 30GB for $135/mo up through a maximum of 100GB for $450/mo.
For those used to paying well under $100/mo for "unlimited" data - the new very limited plans are sure to cause a severe case of sticker shock.
As far as we are aware, letters were sent out via old fashioned snail mail late last week, and most who are getting the letter should have received it by now.
The letter is not showing up online on the My Verizon web portal for accounts impacted.
This Letter is not a Warning
Customers are not being given any option to decrease their usage to get back in Verizon's good graces.
If you get sent the letter, your unlimited plan is going away on August 31st.
Fortunately only plans out of contract seem to be getting targeted, and most of our premium members who obtained an unlimited data plan using our guide ended up with plans that still have contract terms remaining.
We are continuing to recommend staying in contract being the current best way to protect an unlimited data plan.
We have updated our guide for our members with information on how to extend your contract to better protect your Verizon unlimited plan from unpleasant changes.
We tested the process ourselves - and we were able to extend the contract locking in our Verizon UDP until next July.
If your contract is close to expiring - be on guard, and plan on taking action to extend it ASAP!
Unfortunately, for those already on Verizon's target list it's probably too late to get under contract and save their plan.
UPDATE: We've shared a method in our forums on how to get back under contract, even after having gotten the letter. We will not know for certain until 8/31 whether or not this actually protects the lines from being canceled.
And of course, there is no guarantee that Verizon might not eventually move to target in-contract high data usage customers in the future.
What is Excessive Usage?
Verizon gave a statement to PC Magazine saying:
"The users receiving the notifications have completed the terms of their contracts and are using data amounts hundreds of times more than the average user. While the Verizon plan at 100GB is designed to be shared across multiple users, these users are using significantly more than that on a single device."
During the rollout of the New Verizon Plan earlier this month, Verizon announced that the average Verizon customer now uses 2.7GB/mo.
Doing the math - this means that the targeted customers using "hundreds of times more than the average user" must presumably be using well over 300GB/mo.
A Verizon insider posted that roughly 1,200 customers are being sent the disconnect letter, and that the median usage of those being targeted was 510GB/mo.
Some of the customers receiving letters reported much lower current usage (in the 50-150GB range), but so far all of them we have investigated have also reported very heavy usage at some point in the recent past (with usually at least a month or two having been at 300GB +).
As best we can tell, it seems that Verizon is going 3-6 months back into account history looking for their high usage targets.
There is some potential that this may just be Verizon's first wave, and that future limits on "unlimited" lines may target lesser data users.
Staying under 100GB/mo is probably the safest path forward, especially for those who are out of contract. For those in contract, we are advising keeping usage lower too until firmer guidlines are established.
Crackdown on Rental Line Providers

In addition to targeting individual users, Verizon has also for the first time made moves to crack down on the rental gray-market for Verizon unlimited data lines.
As we've always warned - most of these rental vendors have been intentionally violating their Verizon terms-of-service by stealthily subletting private business account lines to the general public, and Verizon could someday come in and crack down on the practice.
There has always been little risk to the consumer renting the plan, except that their access might be discontinued abruptly if their vendor is caught.
That day seems to have come.
This has always been the risk of using a rental plan provider - you have no direct relationship with Verizon, no contract with anyone, and no recourse if Verizon pulls the plug on your upstream rental provider.
In the past week - that plug has been pulled for several rental providers, with some having all their lines disconnected without warning due to their "contract breach" with Verizon.
Some other rental line providers haven't been shut down (yet?) - but they have issued new maximum usage guidance to their customers to help stay under Verizon's radar.
We have seen rental providers sending out letters calling for customers to keep usage under 500GB/mo, 200GB/mo, or 90GB/mo.
But until the dust settles - it is hard to know what the new guidance will be, and even if any rental plan providers will manage to survive. Verizon is clearly actively hunting down rental vendors, and aggressively shutting them down.
We've heard that Verizon will be contacting additional rental providers over the next month (though August 20th), so if your provider has not been hit yet you might not be fully in the clear.
TIP: If you rely on a rental UDP plan, as always, it makes sense to always have a backup plan to stay connected if the line goes down without notice.
Hotspots Getting a 4G Data Block?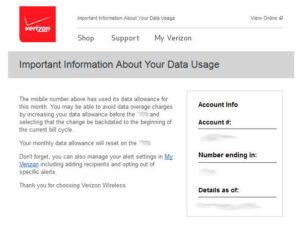 Verizon also seems to be placing an "Internet Block" on some UDP plans that are being used in routers and hotspots - suddenly cutting off data service for those impacted.
This seems to (so far) be particularly prevalent for users of the Novatel T1114 "4G LTE Broadband Router with Voice", but we've seen at least one report of this hitting a customer with a regular Jetpack hotspot as well.
This block has hit people both in and out of active contract.
We've had reports of this block hitting both individual consumer as well as corporate rental lines.
This block has not been widely reported yet, so it is possible it is just a glitch in Verizon's systems.
Or it is possible that some sort of internal audit is underway - and lines that have mismatched service with a phone plan installed in a data-only device (like many UDP lines are) are ending up blocked as a side-effect.
Getting Unblocked
So far, it seems that the block is being treated by Verizon tech support as a mistake, and they have had no problem removing it when people call in or contact Verizon chat support.
BUT - VERY IMPORTANT: Do not contact Verizon tech support until you have moved the UDP SIM back into a Verizon compatible cellphone that you have then activated on the network!
If you try to remove the block while the UDP SIM is still in a data-only device, you will very likely also end up removing the entire unlimited data package from the line. If this happens, Verizon tech support still seems willing (so far) to restore it, but it requires filing a special inactive pricing request appeal, and potentially waiting several days for it to be approved.
Once the block is removed and the phone is working online again, there seems to be no trouble transplanting the SIM back into a router or hotspot.
At least, so far...
This is still a developing story - and we will update here with more details as soon as we get them.
And if you experience this block - please contact us to share the details.
What's Next?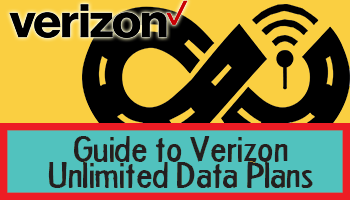 Verizon is clearly continuing to make moves impacting UDP lines, and there is a lot of uncertainty now around what might be next.
To be safe - make sure that your line is under contract, and aim to keep your usage well under 500GB/mo. We're recommending 100GB/mo as being a safer target point for the moment.
Some people are even keeping their UDP line SIM cards in phones instead of hotspots now when they aren't actively using them, just as an extra precaution.
The dust around these moves is just now beginning to settle, and we will continue updating this breaking story with more informations as we get it about any plan changes Verizon starts to push out, and the best ways for RVers to protect their plans.
MIA Members: We are also keeping a forum thread updated in the Special Announcements section of the forum with every update we make to this post, and with some more insider info an tips. Members can subscribe to this thread if you want to get email alerts as soon as any new updates are posted.
And if you are not yet a member and want to follow along or get our more in-depth advice on best protecting your plan, you can join this site here.
As soon as the dust settles a bit further and we have some solid future recommendation to make, we will be hosting a member video chat to share everything we know.
Questions we are actively looking to answer are:
Just what is the safest data usage threshold?
Is it still prudent to start the AOL process to obtain your own unlimited data line now, given this news?
Will contracts continue to protect us? Can those in contract safely use more than 100GB?
We are also keeping our extremely in depth guide to getting (and keeping) a Verizon unlimited data plan constantly updated:
Navigating Verizon Grandfathered Unlimited Data Plans – Assumption of Liability, Buying & Renting
The basic information is freely available - though the in-depth guide and list of still reliable rental and AOL plan vendors are exclusively for the paid supporters of this site.
---
Verizon Usage Tracking Note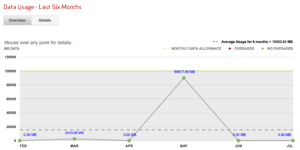 As we mentioned last week, Verizon's usage tracking system seems to be no longer working properly for most people on UDP lines.
This seems to apply to the on-device usage display found on many hotspots, as well as Verizon's online historic account analysis.
Clearly some changes in Verizon's back end systems has taken place that has broken usage reporting - an especially frustrating development in this time of uncertainty when people are eager to learn more about their past usage habits.
Hopefully it will all start working again soon.