AT&T has finally added the option to mix-and-match unlimited smartphone lines on a single account - it is the last carrier to offer this feature.
The mix-and-match option is called "Unlimited Your Way" and simply rolls AT&T's existing unlimited smartphone lineup under this branding umbrella...except AT&T has made a significant change to the terms for tablet lines added to these plans.
Video Version
Subscribe to our YouTube Channel
New Your Way Plans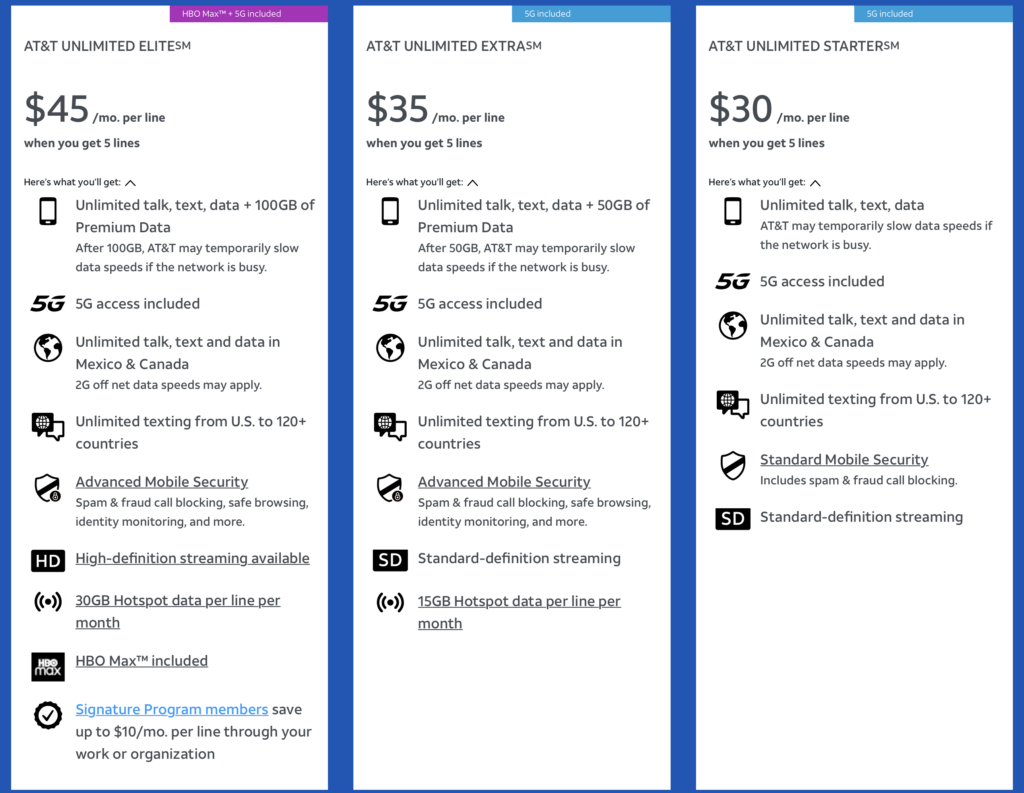 Nothing has changed about the smartphone plans themselves - they are still offered under the names of Unlimited Elite, Unlimited Extra, and Unlimited Starter.
Unlimited Elite ranges in price from $45-85/month depending on how many lines of service and includes 30GB of high-speed mobile hotspot use, 100GB of priority data (available before network management), and 720p video resolution. Unlimited Starter ranges in price from $30-45/month and includes no mobile hotspot, 480p video, and all data is subject to network management.
The only change is that you can have different levels of unlimited smartphone plans on the same account.
And, you can only have a maximum of 10 lines of service - including tablets and wearables. Previously, that restriction only applied to smartphones and you could still add on additional devices ala carte at the lower add-on pricing.
Add-On Tablets Lose Features
But the biggest change with these new plans is how tablets are treated on Unlimited Your Way.
With the continuing scarcity of plans that provide unlimited hotspot data, many mobile internet users turned to tablet lines to fill the gap.
That's because tablets are great for video streaming, come with their own bucket of mobile hotspot data, and can be used for a variety of tasks, all for an inexpensive price. With AT&T customers can add a tablet onto an existing account for $20/month, which is often much cheaper than adding another smartphone line.
Before the "Unlimited Your Way" mix-and-match options were released, all lines on an AT&T postpaid consumer account had the same plan, to include tablet lines. So if a customer had the top-tier Unlimited Elite plan with a tablet line, that tablet line would get the same 100GB network management limit and 30GB of mobile hotspot data with available HD streaming - for only $20 extra.
Unfortunately, with "Unlimited Your Way" all tablets now get the terms for the "Unlimited Starter" plan and there is no option to upgrade. This is a huge downgrade to add-on tablet lines because on Unlimited Starter data is always deprioritized, includes no mobile hotspot data at all, and video streams are capped at 480p.
This is true even if all the phone lines on the account are Unlimited Elite or Unlimited Extra.
This makes add-on tablet lines for AT&T MUCH less attractive for mobile users.
Upgrading to "Unlimited Your Way"
If you already had Unlimited Elite or Unlimited Extra with tablet lines prior to September 25, 2020 - you'll need to carefully consider your options if you want to take advantage of mixing-and-matching lines with AT&T's "Unlimited Your Way" since you could lose the current benefits of your tablet lines.
Standalone Unlimited Tablet Plan Affected?
AT&T also has a standalone tablet option specifically for tablets that includes unlimited on-device data with a 22GB network management threshold.
This little known plan is also $20/month and can be purchased ala carte without other lines of service, which we recently included in our Top Data Plan picks. It's assumed this plan is really there for adding on to accounts that have already reached their 10-line limit - but it still can be activated without other lines of service.
With AT&T now enforcing a strict 10 device limit on Unlimited Your Way, we are presuming that they will also remove this $20/month standalone option.
However, we have not yet seen confirmation that these plans are gone or not.
October 5 2020 Edit: We have seen enough information shared on various forums to feel good that the plan still continues to exist.
Mobile Share Plans Changes
Another change to AT&T's plans is that they have removed their previous 3 and 9GB mobile share plans - where all devices on the plan shared the same pool of data.
Instead, they have introduced a new 4GB data plan option for smartphones. On these new plans, each device gets 4GB of data (no longer shared), and overage charges apply if you exceed the data cap.
Summary
Customers can now choose Unlimited Elite, Extra, or Starter for each line instead of having to choose one level for all smartphone lines on an account under what AT&T calls "Unlimited Your Way." This gives more flexibility for a family with mixed needs for a smartphone data plan.
But in classic cellular carrier fashion, "Your Way" means something completely different when it comes to tablets, which now only get one limited option to "choose" from.
Related News Stories
Related Guides