This device or plan has been discontinued or we consider it obsolete. While current owners of this device or plan may continue to find performance to be adequate for the foreseeable tech-future, we do not recommend upgrading to or purchasing it.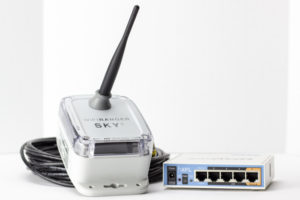 To best bring in distant Wi-Fi, nothing beats having the radio up on the roof.
The WiFiRanger Sky2 (announced May 2015) is WiFiRanger's most basic roof-mounted offering. It consists of a small weather-sealed box with a stubby antenna (total height 8") on top.
In December 2016, WiFiRanger also released the new SkyPro, which is a higher powered version of the Sky2 in a similar low profile form factor - and the EliteAC, which is WiFiRanger's current roof-mounted flagship.
WiFiRanger claims the Sky2 has a maximum range of 2500ft (1/2 mile), the SkyPro's range is 1.5 miles, while the EliteAC has a maximum range of 2 miles.
These range predictions are extremely optimistic, but they should give you a good sense of the relative capabilities on offer.
Specifications
Wi-Fi Router: Yes

2.4GHz Wi-Fi:

802.11 b/g/n - 150Mbps Max

5GHz Wi-Fi

: N/A
Wi-Fi Antenna: Integrated, 5dBi Antenna
Claimed Wi-Fi Range: 2500'
Wi-Fi as WAN: Yes
Guest Wi-Fi Network: Yes

Integrated Cellular Modem: No
Ethernet Ports: No, but can pair with an indoor WiFiRanger for this functionality.

Special Features:

Data Usage Tracking, Auto Faillover

Power Source:

POE (Power Over Ethernet)

Dimensions:

8"x 5.5" x 3"

Outdoor Rated:

Yes

Retail Price:

$199.99 | Paired with Core: $359.99
Other Models & Variations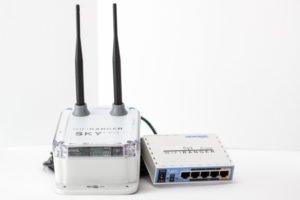 The WiFiRanger Sky2 may look similar to the more advanced SkyPro, but it is significantly less advanced.
The dual-antennas are a dead giveaway that you are looking at the "Pro" model. The Sky2 has just a single antenna coming out the top.
The original WiIFiRanger Sky is also a white roof-mounted box, but it is easily recognized because it does not have any external antennas rising up from it.
---
Review & Testing Status
WiFiRanger sent us a review unit of the Sky2 for evaluation in May 2015.
We have had the Sky2 mounted on our RV roof ever since, and have had it in active head-to-head testing against several other competitors.
We share our more detailed analysis, hands-on thoughts, and an in-depth video guide with our members below.
And members can view our ongoing field testing and range results here:
Mobile Router & Wi-Fi Gear Testing (Winter 2016/2017)
---
Potential Alternatives to Consider:
For other popular mobile routers on the market we are tracking - here are our featured options:
Learn More About Selecting Mobile Routers
---
This Review Contains Additional Member Exclusive Content!
We are Honored to be Member Funded!
No ads, no sponsors, no selling (but may contain affiliate links)
Our members fund our in-depth independent reviews.
This entry may contain additional member exclusive content such as testing notes, field testing data, user interface tours, comparisons to alternatives, analysis, tips, videos and discounts.
Members also get interactive guidance, alerts, classroom and more.
Purchasing Options
WiFiRanger primarily sells direct online and at RV rallies.
The Sky2 is typically sold as part of the Sky2 Pack, bundled with a WiFiRanger Core indoor router for $359.99.
But you can buy the Sky2 standalone if you ask for it, or you can choose to order with the more capable indoor GoAC instead.
Members: Be sure to check the Members Discount page for an exclusive discount code to use when ordering.
Related News Center Articles
Routers can serve as a central conductor of your local area network in your RV and boat. Mobile routers are different from residential routers in that they typically support internet sources like cellular and Wi-Fi, can be powered off of 12v or AC and support external antenna for better receiving signal.
But you might not need a router in your setup. Here's a quick video overview the variety that routers come in:
To learn more, head on over to our guides that cover these topics further: