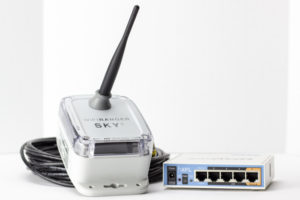 To best bring in distant Wi-Fi, nothing beats having the radio up on the roof.
The WiFiRanger Sky2 (announced May 2015) is WiFiRanger's most basic roof-mounted offering. It consists of a small weather-sealed box with a stubby antenna (total height 8") on top.
In December 2016, WiFiRanger also released the new SkyPro, which is a higher powered version of the Sky2 in a similar low profile form factor - and the EliteAC, which is WiFiRanger's current roof-mounted flagship.
WiFiRanger claims the Sky2 has a maximum range of 2500ft (1/2 mile), the SkyPro's range is 1.5 miles, while the EliteAC has a maximum range of 2 miles.
These range predictions are extremely optimistic, but they should give you a good sense of the relative capabilities on offer.
Specifications
Wi-Fi Router: Yes

2.4GHz Wi-Fi:

802.11 b/g/n - 150Mbps Max

5GHz Wi-Fi

: N/A

Wi-Fi Antenna:

Integrated, 5dBi Antenna
Claimed Wi-Fi Range: 2500'
Wi-Fi as WAN: Yes
Guest Wi-Fi Network: Yes

Integrated Cellular Modem: No
Ethernet Ports: No, but can pair with an indoor WiFiRanger for this functionality.

Special Features:

Data Usage Tracking, Auto Faillover

Power Source:

POE (Power Over Ethernet)

Dimensions:

8"x 5.5" x 3"

Outdoor Rated:

Yes

Retail Price:

$199.99 | Paired with Core: $359.99
Other Models & Variations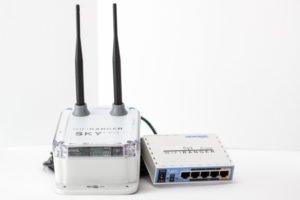 The WiFiRanger Sky2 may look similar to the more advanced SkyPro, but it is significantly less advanced.
The dual-antennas are a dead giveaway that you are looking at the "Pro" model. The Sky2 has just a single antenna coming out the top.
The original WiIFiRanger Sky is also a white roof-mounted box, but it is easily recognized because it does not have any external antennas rising up from it.
---
Review & Testing Status
WiFiRanger sent us a review unit of the Sky2 for evaluation in May 2015.
We have had the Sky2 mounted on our RV roof ever since, and have had it in active head-to-head testing against several other competitors.
We share our more detailed analysis, hands-on thoughts, and an in-depth video guide with our members below.
And members can view our ongoing field testing and range results here:
Mobile Router & Wi-Fi Gear Testing (Winter 2016/2017)
---
---
Purchasing Options
WiFiRanger primarily sells direct online and at RV rallies.
The Sky2 is typically sold as part of the Sky2 Pack, bundled with a WiFiRanger Core indoor router for $359.99.
But you can buy the Sky2 standalone if you ask for it, or you can choose to order with the more capable indoor GoAC instead.
Members: Be sure to check the Members Discount page for an exclusive discount code to use when ordering.
Related News Center Articles