Key Points:
T-Mobile has begun to take advantage of Sprint's valuable mid-band 5G spectrum in Philadelphia, and New York City will go live soon.
Sprint customers nationwide will now automatically roam onto T-Mobile's network - doubling coverage.
Current Sprint 5G customers will be encouraged to trade-in for T-Mobile 5G compatible phones.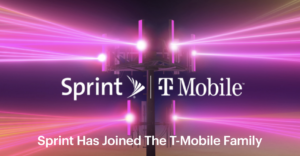 T-Mobile's merger with Sprint closed less than a month ago (our story), and the two companies have been hard at work ever since integrating their systems to become one.
T-Mobile this morning announced the first major fruits of this labor, with a major expansion of 5G speeds and coverage going live in Philadelphia and (soon) New York City thanks to T-Mobile being able to take advantage of Sprint's mid-band 5G spectrum.
And T-Mobile also announced that it has finished turning on roaming onto T-Mobile's 4G network for all Sprint customers - now giving those customers access to "more than double" the number of cell towers than on Sprint's network alone.
This is just the tip of the iceberg, however - and hopefully, just a hint of what is to come as the new T-Mobile continues to implement its 5G vision.
Video Version
Subscribe to our YouTube Channel
T-Mobile's Mid-Band 5G Rollout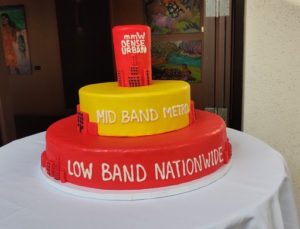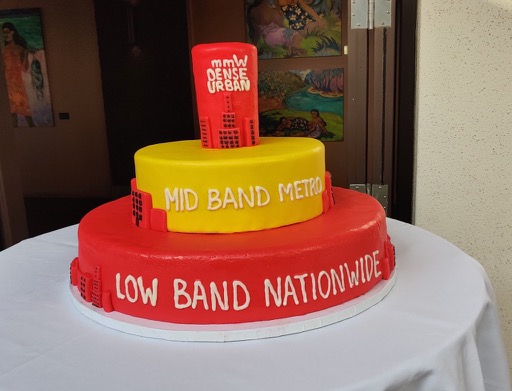 The primary reason Sprint was such a juicy acquisition target wasn't its customers - it was the vast amounts of mid-band cellular spectrum that Sprint owned but had barely utilized.
This nationwide swathe of mid-band spectrum (known as LTE Band 41 in the 4G era) is perfectly suited to deploying 5G upon - striking a balance between the slow and long-range 600MHz low-band spectrum T-Mobile has already deployed nationwide, and the insanely fast but extremely short-range mmWave spectrum that is presently only suitable for dense urban cores.
Now that T-Mobile owns Sprint's mid-band spectrum, it intends to work on shutting down Sprint's nascent mid-band 5G network and eventually Sprint's entire 4G/LTE Band 41 too, devoting all of this spectrum to T-Mobile 5G nationwide.
This is what T-Mobile had to say today:
The 2.5 GHz spectrum T-Mobile acquired through its merger with Sprint is the critical mid-band piece in its multi-band 5G spectrum strategy. It allows the Un-carrier to add much needed depth to its nationwide 5G network, increasing capacity and boosting speeds for customers. While T-Mobile is initially lighting up 2.5 GHz 5G in Philadelphia, boosting speeds for customers with some of the latest smartphones to peaks nearing 600 Mbps, this is just the beginning. The Un-carrier will continue building out 2.5 GHz 5G quickly, lighting it up in New York City next, and won't slow down. The mid-band spectrum will boost average 5G speeds for customers nationwide up to eight times faster than current LTE in just a few years, and 15 times faster than current LTE over the next six years.
Here is the new T-Mobile coverage map for 5G in Philadelphia: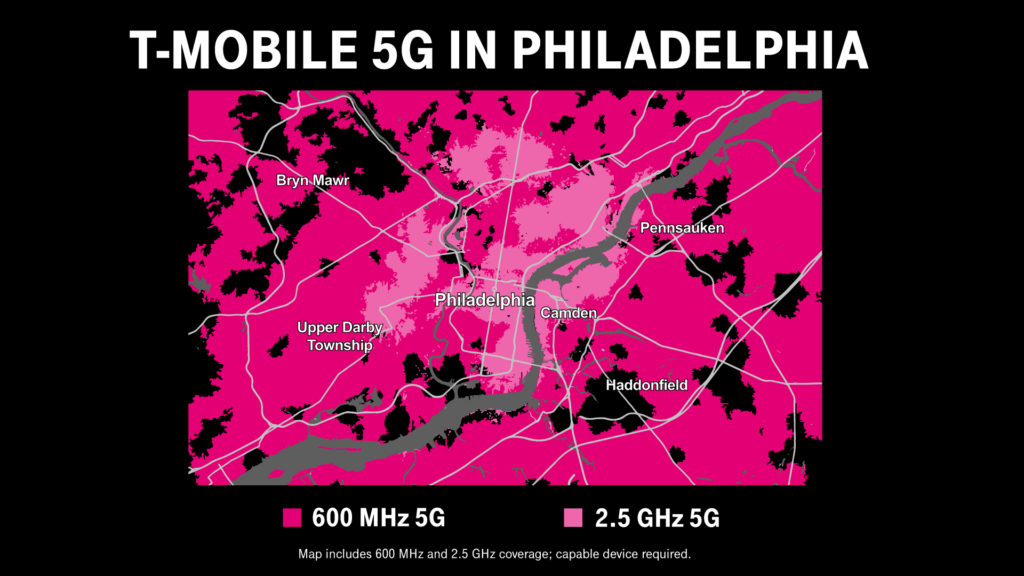 Here is the map showing how T-Mobile will be covering New York City with all three types of 5G spectrum: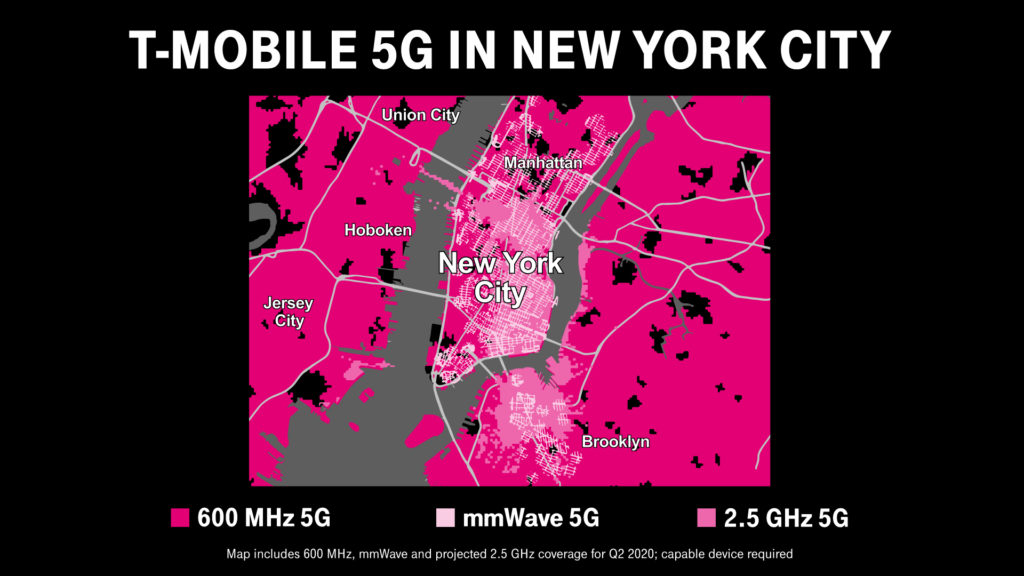 Update For Current Sprint Customers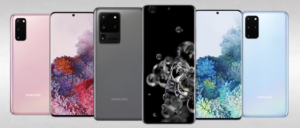 Sprint's existing 4G network will eventually become a part of T-Mobile's - but for now, it still exists and is operated independently.
But T-Mobile has now finished rolling out roaming to all Sprint customers so that Sprint customers out of the range of Sprint towers will now automatically take advantage of T-Mobile towers.
T-Mobile says that this will "more than double" the number of towers that Sprint customers have access too - and Sprint customers with compatible hardware should already be seeing this vast increase in coverage.
NOTE: In order for a Sprint phone to be able to best utilize T-Mobile's network, it needs to support LTE Bands 2, 4, 5, 12 & 71 - in addition to Sprint's bands 25, 26, and 41. A lot of low-end Sprint devices lack support for additional bands, and will not be able to roam on T-Mobile. If in doubt, check your specs - and consider upgrading!
T-Mobile also said that Sprint customers with the Galaxy S20 5G smartphone will automatically be able to take advantage of T-Mobile's 5G network, starting later this month.
All other previous Sprint 5G phones though are NOT compatible with T-Mobile's 5G network, and these customers will be contacted about potentially trading in for a T-Mobile compatible 5G device since Sprint's 5G network will no longer be expanded and will be relatively quickly shutting down.
Concluding Thoughts
T-Mobile waited for years to consummate its merger with Sprint, and it is clearly eager to start taking advantage of the resources Sprint provides.
But two cities is just the start - the real test will be seeing how quickly T-Mobile can move to take advantage of Sprint's mid-band nationwide.
If T-Mobile moves fast - it will potentially have a huge jump on AT&T and Verizon in rolling out truly worthwhile nationwide 5G.
T-Mobile / Sprint Merger News Stories
Related Guides: