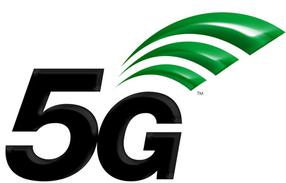 As expected, T-Mobile's nationwide 5G network became available to customers today with the OnePlus 7T Pro 5G McLaren and the Samsung Galaxy Note 10+ 5G going on sale to access it.
And it is not just T-Mobile postpaid customers - even people on the prepaid Metro by T-Mobile network are able to buy the new 5G Galaxy Note 10+ and get in on the 5G action.
But as we covered in our detailed look at the state of 5G last week, these first-generation 5G phones are low-band only and are missing out on mmWave compatibility that will prove to be essential for peak 5G performance in the future.
And while T-Mobile's 5G network that is now live is technically "real 5G" - it is launching with key 5G features yet to be enabled, leading to less range and speed than will be on offer over the same airwaves next year.
This is just a glimpse of the future - and unless you happen to be in a T-Mobile 5G area and are really looking for bragging rights, as we've been saying all along - wait (at least!) until sometime in 2020 before even considering jumping to 5G.
Video Version
Subscribe to our YouTube Channel
T-Mobile's 5G Network: Initial Limitations
T-Mobile's nationwide 5G network is launching on low-band 600MHz spectrum - the same spectrum that T-Mobile has been using for it's longest range LTE Band 71 coverage.
Low frequency spectrum like this offers great range, but limited performance because there just isn't much bandwidth available on these channels.
Across much of the nation T-Mobile controls 30MHz of 600Mhz spectrum that it is dividing up to have 20MHz of 5G capacity, in addition to the 10MHz total of 4G/LTE 600MHz coverage (LTE Band 71) that it already has on offer.
This is NOT a lot of spectrum - and the laws of physics will limit peak speeds over this low-band 5G to be more akin to "really good 4G" than to the gigabit speeds possible over short-range millimeter wave 5G spectrum like Verizon (in particular) has been focusing on.
Analogy Time: Think of what T-Mobile is doing as building a 20 lane highway for 5G, and a 10 lane highway for 4G.

The cars on the 5G highway can drive a bit faster than the cars on Interstate 4G, but overall network speed is determined more by the number of lanes of traffic than by whether it is a 4G or 5G road.

Low-band 5G over 600MHz spectrum will always be at a speed disadvantage compared to the mmWave superhighways which offer the potential for 200+ MHz channels (imagine a 200 lane highway!) for crazy fast speeds.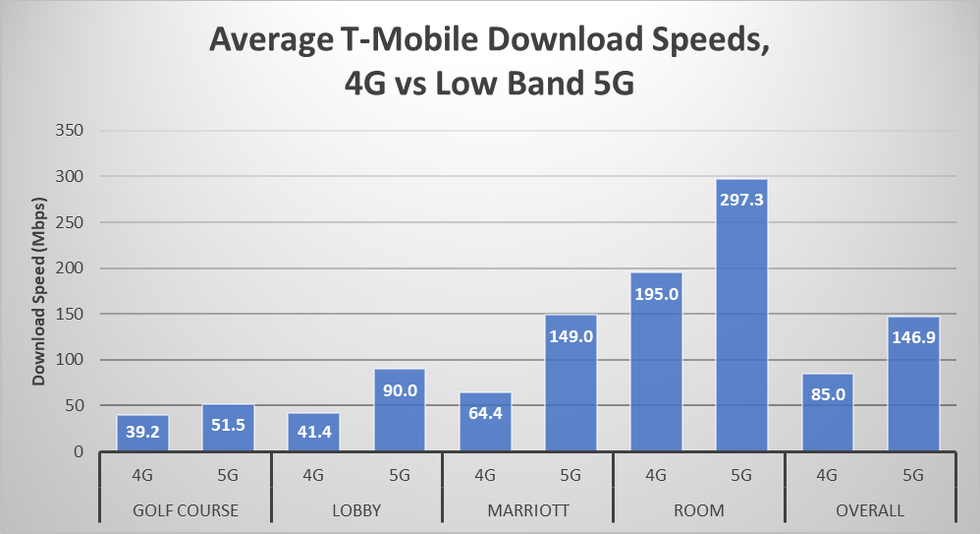 The key advantage of 600MHz spectrum is that it offers great range and it penetrates deep inside of buildings, in sharp contrast to the super-short range of mmWave.
But while T-Mobile's 5G will have great coverage, initially T-Mobile will not be able to fully take advantage of the peak range of 600MHz for 5G and will be instead falling back to 600MHz 4G/LTE when in fringe areas.
This is because the T-Mobile 5G network is operating in "non-standalone mode" and the 5G connections still require 4G for control signals.
Read on to understand why this matters...
Standalone vs Non-Standalone Mode
All 5G networks that have launched so far are just layered on top of existing 4G/LTE, and they actually use carrier aggregation to combine together both 4G and 5G channels to connect.
And at the moment - this layering is still mandatory, and you can not connect via 5G without also having a 4G/LTE connection. This is called "non-standalone mode" since the 5G network can not operate on its own.
Eventually 5G networks will support "standalone mode" where the 5G channels are primary and 4G/LTE is not needed at all.
Because T-Mobile does not yet support standalone 5G, and because the modems can not do 5G and 4G simultaneously over 600MHz, T-Mobile can only offer 5G coverage in places where it has 600MHz 5G and shorter range 4G/LTE Band 2 or 4 coverage overlapping.
This, for now, limits the 5G coverage to the effective range of these shorter range LTE bands - and thus 5G will have less range than 4G.
But sometime in 2020 T-Mobile will switch to "standalone" 5G that does not depend on the legacy 4G network, and once this network upgrade happens T-Mobile 5G will (in most places) equal or exceed the range of T-Mobile's 4G offerings.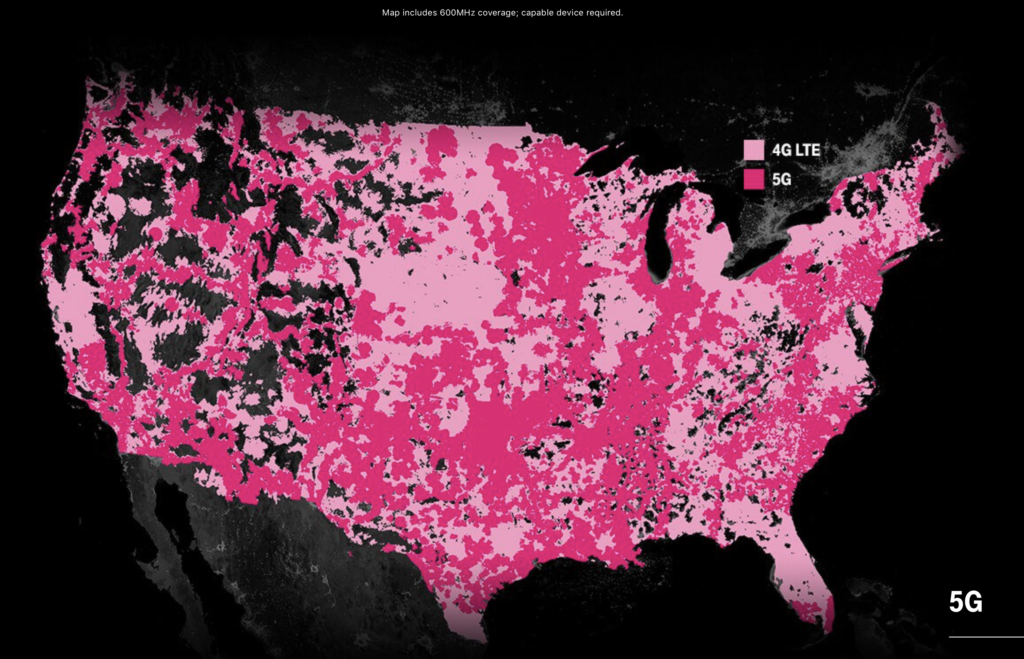 NOTE: This gradual switch to "standalone" 5G sometime in 2020 is not just limited to T-Mobile. All the carriers are launching 5G dependent initially on 4G for control too, with standalone 5G coming later once the necessary tower equipment and upgrades are finalized.
Other 5G Network Improvements Coming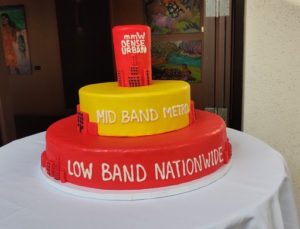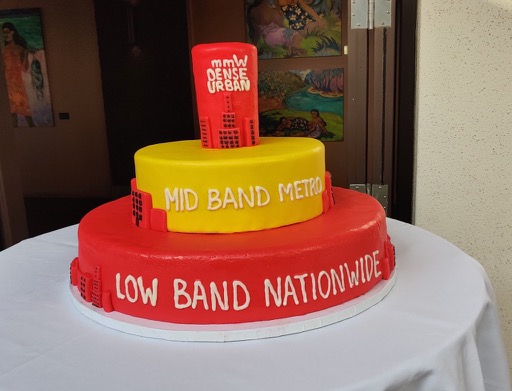 5G cellular is designed to enable much lower network latencies, but at first customers on T-Mobile 5G will not see any change here compared to 4G because the latencies will be limited by the underlying 4G control channel.
Once T-Mobile is able to switch to standalone 5G, expect the network to benefit from vastly lower network latencies too.
Also coming sometime in 2020 - T-Mobile will be able to use "Dynamic Spectrum Sharing" (aka DSS) to allow 5G to be layered on top of existing 4G/LTE networks - meaning that there is no longer a need to split up existing frequency bands to divide service between 4G and 5G.
With DSS, T-Mobile will likely eventually turn on 5G nationwide layered on top of all of its existing 4G/LTE bands - enabling substantially more 5G capacity, coverage, and speed.
And if/when T-Mobile's merger with Sprint goes through, T-Mobile will be able to add in Sprint's vast reserves of mid-band 5G spectrum as well, really unlocking the performance potential that 5G promises.
Lots of 5G Phones Coming in 2020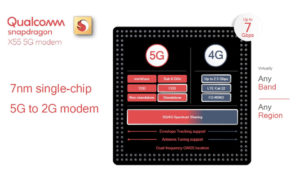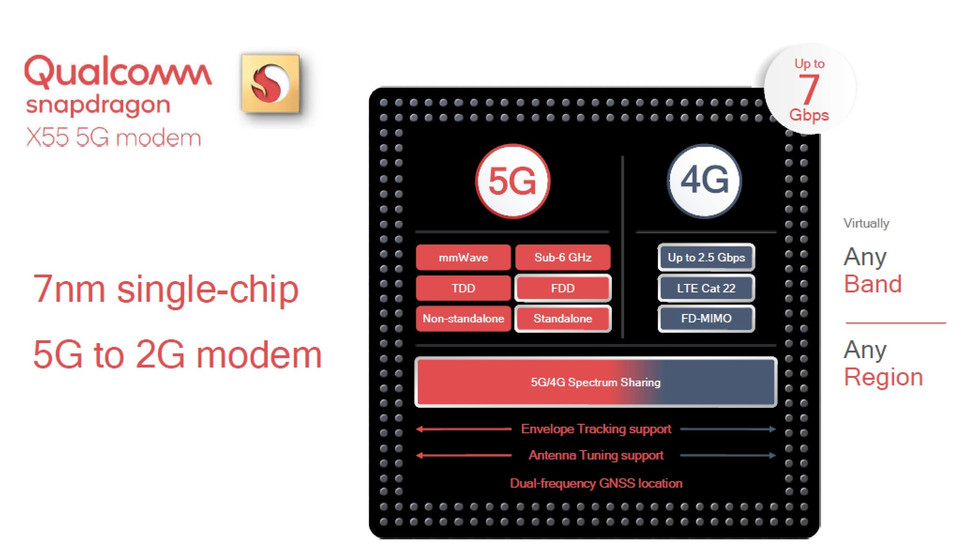 T-Mobile's two launch phones are just a tease of what's to come in 2020 - and T-Mobile has said that it expects to have 15 additional 5G phones on offer next year.
The leading 5G modem supplier Qualcomm this week revealed its CPU and modem roadmap for the year ahead - and it looks like nearly all flagship phones and many mainstream phones coming in 2020 will likely have 5G compatibility.
Look for mainstream Android phones launched in 2020 to be using the new Snapdragon 765 5G CPU, which includes an integrated 5G modem that is compatible with low-band and mid-band 5G spectrum, but not mmWave.
Flagship Android phones next year will use the Snapdragon 865 5G CPU, paired with a companion X55 5G Modem chip that has even more cellular performance potential. This combination will enable the first devices that support both low-band and mmWave 5G - unleashing peak 5G performance and maximum compatibility.
Qualcomm has also disclosed that it is working to build a 5G modem for Apple - and it is almost certain that the 2020 iPhone models will feature some version of the X55 chip and will support 5G cellular, though only the high-end models will likely include the expensive antenna modules necessary for mmWave.
The first new phone with these next generation 5G capabilities is likely to be the Samsung Galaxy S11 - which is expected to be announced sometime in February.
Hopefully mobile hotspots and even cellular routers begin to incorporate this technology soon after.
But that is all coming in 2020.
At the very least - anyone interested in 5G technology should wait until at least February to see what else is on the horizon.
Summary: Keep waiting on 5G!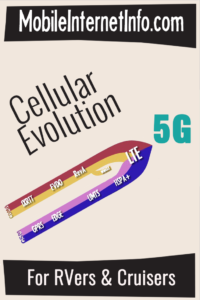 Based on the cellular carrier and modem provider roadmaps that we are seeing - by this time next year 5G devices will be showing up just about everywhere.
And all the 5G devices purchased by early adopters in 2019 - they will be sadly obsolete.
5G will indeed be a big deal.
Just not quite yet.
So as we keep saying - for now, sit back and enjoy watching the race - but don't get caught up in it!
Related News
Related Guides
5G Rollout Update - A look at the state of 5G on all the carriers at the end of 2019.