This device has been discontinued or we consider it obsolete. While current owners of this device may continue to find performance to be adequate for the foreseeable tech-future, we do not recommend upgrading to or purchasing this device.
Potential Current Option: weBoost 4G Sleek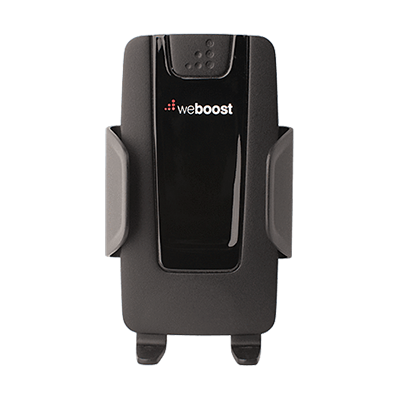 The weBoost Drive 4G-S is a simple and easy cradle-style cellular booster designed for use with just one device at a time. You put an antenna on the roof of your vehicle (if you don't have a metal roof, you will need to provide a ground plane), and run that antenna to the inside cradle that is sized to hold most phones and mobile hotspots.
With the booster plugged into a nearby DC power jack or any 2a USB port, you are then good to go.
Note: Before Wilson Electronics re-branded as weBoost, the weBoost Drive 4G-S was known as the Wilson Electronics Sleek 4G. We've been told by weBoost that other than the slight changes to the external case, the new and old version are identical.
Specifications
Gain: 23dB
# of Devices Boosted: One
LTE Bands Supported: 12 (17), 13, 5, 4, 2, 25
Exterior Antenna: 4" Magnetic Mount - 12.5' Cable
Internal Antenna: Integrated
Range of Interior Coverage: Cradle Only
In Motion Usage: Yes

Power Source:

USB (2A), Comes with 12v Adapter
Warranty: 2 Year
List Price: $179
Testing Status: We've had a the original Wilson Electronics Sleek 4G in our testing arsenal since it was first released, and featured it in our 2015 Booster Analysis.
We currently have the Sleek 4G in testing to compare it to the new Drive Sleek in active testing. Our field testing results can be found here for our members who want to follow along: Cellular Signal & Embedded Router Field Testing – IBR900 | MAX-BR1 | Drive Sleek | MIMO Antennas (1st Quarter 2018)
Once we have adequate data collected, we will update our review below for members.
Related News Articles:
The Rest of this Review is:
Member Only Content
We are thrilled & honored to be primarily member & reader funded - allowing us to present unbiased content. The in-depth review section of this product listing is part of the premium membership benefits of joining. Members can also leave their own reviews on products.
If you're a member, please log in above to read the in-depth review for this product and/or leave your own review. If you've not joined yet, learn more about membership at:
Purchasing Options
Amazon: weBoost Drive 4G-S | Amazon: Refurbished Wilson Sleek 4G
PowerfulSignal | 3GStore | WilsonAmplifiers | RepeaterStore
Deal Alert: The older Wilson Electronics Sleek 4G can often be found at close-out & refurbished prices, and we have been told by weBoost that the current Drive 4G-S is just a rebranded version with a slightly different case but identical internals. If you find the older model - you can save a bundle.
Do be sure to avoid the Sleek 4GV (Verizon) and Sleek 4GA (AT&T) variants though - these were even older versions of the Sleek that only support the LTE bands of the designated carrier.
weBoost Drive 4G-S Ratings
Quick Take
For those not ready to invest in more expensive gear - the weBoost Drive 4G-S is an affordable starter booster.
If / when you are ready to upgrade to something better, the small and portable 4G-S can then be relocated into your toad or tow vehicle.
Comments Rating
( reviews)