This device has been discontinued or we consider it obsolete. While current owners of this device may continue to find performance to be adequate for the foreseeable tech-future, we do not recommend upgrading to or purchasing this device.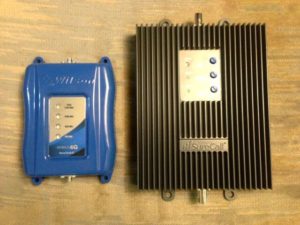 The SureCall TriFlex2Go booster came in three carrier specific versions - with a model specific to Verizon, AT&T, and T-Mobile.
All three boosters support the widely used 800Mhz and 1900Mz 2G/3G bands, but each only supports the LTE bands of the specific carrier it was sold for.
The AT&T version supports LTE Band 17, the Verizon version supports LTE Band 13, and the T-Mobile version supports LTE Band 4.
We tested two of the TriFlex2Go boosters (the AT&T and Verizon versions) in 2014 (provided courtesy of Powerful Signal), and they performed well - but given the carrier specific limitations, higher cost (original list price was $600!), and how physically bulky these units are - we couldn't find any reason to recommend this product line over other better options.
For our original in-depth test of the TriFlex2Go boosters versus the Wilson Mobile 4G:
Booster Testing: Wilson Mobile 4G vs SureCall TriFlex2Go
---
Review & Testing Status
We are not currently testing this product.
---
Potential Alternatives to Consider:
For other booster options on the market worth comparing this model to - here are our featured options:
Learn More About Selecting Cellular Boosters
---
This Review Contains Additional Member Exclusive Content

We are honored to be able to present the above overview for free without 3rd party advertising or sponsorships. We are not paid by the manufacturer of this product to provide this listing or review, and nor are we selling this equipment or plan (purchasing links are provided below as a courtesy and some may be affiliates).
Our members have funded this resource center and any extensive hands on time
we have spent with the product to review it.
The in-depth portions of this review are made available to them which might contain: hands on testing notes, field testing data, user interface tour, product analysis, comparison to alternatives, setup tips, video tutorial, insider tips, vendor discounts and fellow member experiences.
If you're a member, please log in to continue with this review.
If you're not a member.. please consider joining us!
---
Purchasing Options
This booster has reached the end of it's life, and is no longer for sale.
The successor product is the SureCall Fusion2Go, which is a multi-band booster that supports multiple carriers at once.
---
Related News:
The guides below have been hand-picked to help further your education about the complicated topic of signal enhancing and utilizing cellular boosters.