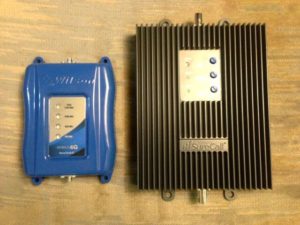 The SureCall TriFlex2Go booster came in three carrier specific versions - with a model specific to Verizon, AT&T, and T-Mobile.
All three boosters support the widely used 800Mhz and 1900Mz 2G/3G bands, but each only supports the LTE bands of the specific carrier it was sold for.
The AT&T version supports LTE Band 17, the Verizon version supports LTE Band 13, and the T-Mobile version supports LTE Band 4.
We tested two of the TriFlex2Go boosters (the AT&T and Verizon versions) in 2014 (provided courtesy of Powerful Signal), and they performed well - but given the carrier specific limitations, higher cost (original list price was $600!), and how physically bulky these units are - we couldn't find any reason to recommend this product line over other better options.
For our original in-depth test of the TriFlex2Go boosters versus the Wilson Mobile 4G:
Booster Testing: Wilson Mobile 4G vs SureCall TriFlex2Go
---
Review & Testing Status
We are not currently testing this product.
---
---
---
Purchasing Options
This booster has reached the end of it's life, and is no longer for sale.
The successor product is the SureCall Fusion2Go, which is a multi-band booster that supports multiple carriers at once.
---
Related News: