The RV IT Guy is a vendor that provides remote technical support services targeted to the RV, cruising, nomad, and related communities. They also offer unlimited data plans in conjunction with their technical support service.
Plan Information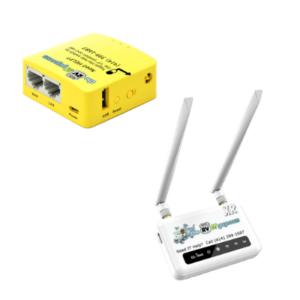 The service includes a pre-configured tech support "beacon" that acts as a Wi-Fi router and contains troubleshooting tools. The beacon allows US-based IT professionals to remotely troubleshoot devices on the customer's network. Customers with problems or technical difficulties can flip the help switch on the beacon, or call The RV IT Guy operations center for remote troubleshooting and assistance.
The service is subscription-based month-to-month service with no contract. The set-up price includes rental of the "beacon" so there is no equipment to purchase. When a customer cancels service, the RV IT Guy will send the customer a shipping label to return the beacon.
Currently Available Plans:
$59/month (+ one-time $75 setup fee): Base service that includes remote IT support and a beacon to use with your existing internet connection.
Plan Specifications:
Carrier Networks Used: T-Mobile or AT&T
Carrier Relationship: Reseller
Plan Types Available: Data Only
Device Types Permitted: Proprietary router
Unlimited: Yes
High Speed Mobile Hotspot Use: Yes
Throttling: None
Network Management: 50GB
Video Streaming Resolution: 480p
5G Access: No
Device Purchase Required: Yes
Plan Period: monthly
International Roaming: 5GB data per billing period in Canada/Mexico
Domestic Roaming: Yes
Data Roll Over: No
Overage Charges: No
Lines permitted per account: One
Extras: None
---
---
News, Videos, & Status
---
Purchasing Options