The Freedom Connect rooftop mobile router from OpenRoad Mobile combines a basic mobile router and antennas into a weatherproof rooftop dome that is designed for RV and marine use. It can provide cellular connectivity or connect to local Wi-Fi to provide an internet connection. Devices connect via Wi-Fi to the rooftop unit directly, or an optional indoor access point can be added.
The device is available as an OEM option on some Tiffin motorhomes and is also be available as an aftermarket kit.
The design and function of the Freedom Connect are similar to other rooftop systems such as the Togo Roadlink 2.0 and Winegard ConnecT 2.0, but the Freedom Connect has the option for an Ethernet connection to an indoor access point, and also uses a much smaller enclosure.
The Freedom Connect hardware is a rebranded version of the Glomex WeBBoat 4G Lite EVO, but comes with its own branded firmware, mobile app, and additional optional accessories.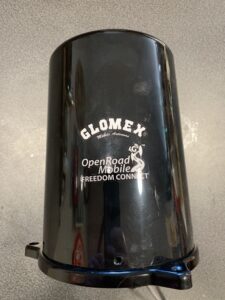 What's unusual about this system is that inside the rooftop dome housing is a Teltonkia RUT240 router, which is the heart of the system, and it is combined with customized firmware and antennas.
OpenRoad Mobile also sells cellular data plans, and can ship the device with an activated SIM.
Specifications
Model: Freedom Connect (IT1104)
Router Specs:

# of Connected Devices: Up to 50
Wi-Fi Router: Yes

Wi-Fi Standard: Wi-Fi 4 (802.11n) - 2.4 GHz
Max Theoretical Wi-Fi Speed: Not specified
Wi-Fi Antennas: 1x
Wi-Fi as WAN: Yes
Claimed Wi-Fi Range: Not specified
Guest Wi-Fi Network: Yes

Default Control Panel Address: 192.168.1.1
USB Tethering Support: No
Ethernet Ports: 2x Fast Ethernet

Cellular Modem Specs:

Cellular Modem: Single 4G
Modem Chipset: Quectel EC25-AF
Supported Networks and Bands: AT&T, T-Mobile, Verizon
LTE Bands: 1, 2, 3, 4, 5, 7, 8, 12, 13, 14, 18, 19, 20, 25, 26, 28, 29, 38, 40, 41, 71
MIMO Support: 2x2
LTE Performance Category: Cat-4 (Max Theoretical Speed: 150 Mbps Down / 50 Mbps Up)
LTE-Advanced Carrier Aggregation: No
Cellular Antennas: 2x integrated
SIM Slots: 1x Mini-SIM

Dimensions:

8 x 5.5 inches
Other Ports: None

Power Source:

Direct 12V power supply

Outdoor Rated:

Yes

Retail Price:

$449.00
News, Videos & Status
We were sent an evaluation unit in late 2021 for review. Our full review is available for members in the member section below.
Related News Center Articles
---
---
Purchasing Options