Key Points:
The Nighthawk M5 5G MR5200 is the unlocked, multi-carrier version of the AT&T Nighthawk 5G Pro MR5100.
The Nighthawk M5 5G supports the cellular bands currently in use by the three major US carriers.
The MR5200 supports sub-6GHz 5G but does not support short range millimeter-wave (mmWave) 5G networks.
Netgear, after launching the AT&T focused Nighthawk 5G Pro almost a year ago, finally released its unbranded and unlocked version called the Nighthawk M5 5G that is available without going through AT&T.
This new version, model number MR5200, has the additional support for cellular bands that make it flexible for use on all three major carriers. But, at $699.99, it's significantly more expensive than the AT&T version.
The Nighthawk M5 5G has been available for pre-order for several months, and is now shipping to customers as of September 1, 2021.
Nighthawk M5 5G Video Overview
Subscribe to our YouTube Channel
Netgear Nighthawk M5 5G Overview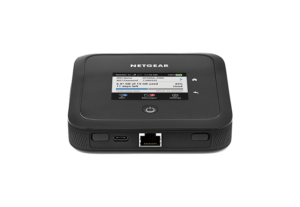 The MR5200 M5 5G uses the same design, same modem, and largely the same firmware as the AT&T MR5100 and Bell Canada MR5100C versions.
All utilize a Qualcomm X55 cellular modem that powers the 5G and LTE capabilities, and offer Wi-Fi 6 (802.11ax) local networking and nomad-friendly features like an Ethernet-out port and TS-9 ports for an external MIMO antenna.
The primary difference between these models is the features and configuration of the Qualcomm X55 cellular modem that are enabled.
The new M5 5G lacks support for short range mmWave 5G, but makes up for it with much better support for longer range sub-6GHz 5G and broader LTE cellular band support.
Here's what bands the new MR5200 model supports:
Sub-6GHz 5G: n2, n5, n25, n41, n66, n71, n77
mmWave 5G: None
4G/LTE: 1, 2, 3, 4, 5, 7, 12, 13, 14, 25, 29, 30, 38, 41, 46, 48, 66, 71
3G: 1, 2, 5, 8
This covers all the major bands for the big-3 US networks, including rarer but important cellular bands such as Band 14 for AT&T and Band-71 & n71 for T-Mobile.
Netgear does not specifically mention Verizon compatibility - and says that the M5 5G works best on AT&T and T-Mobile. However, the hotspot does support all of Verizon's current 4G and 5G cellular bands other than mmWave. Our assumption is that it should work great on Verizon, but those who are interested in Verizon support (especially Verizon 5G compatibility) should wait for confirmation from hands-on testing.
Interestingly, LTE performance on the AT&T MR5100 version is rated at Cat-22 (Max Theoretical Speed: 2.5 Gbps Down / 316 Mbps Up) with 7x carrier aggregation, while this new global MR5200 version is rated at Cat-20 (Max Theoretical Speed: 2.0 Gbps Down / 316 Mbps Up) with 6x carrier aggregation. We're not sure why, but the difference is small enough that it won't be a factor the vast majority of the time.
The lack of mmWave support is also not a huge deal for most of our audience of nomads, since mmWave 5G is extremely short-range and currently only deployed in parts of major cities as well as crowded venues like stadiums and airports. Unless one spends a lot of time in high-density urban areas, mmWave 5G support just isn't that important for RVers and cruisers.
This comparison chart shows the specific differences and some of the common features between the AT&T MR5100 model and the new global MR5200 model:
Summary
What's not to love about an unlocked 5G mobile hotspot device that is filled with advanced features including a speedy 5G modem that should work great on all the major US carriers?
Well, the price is the big downside.
At $699.99, the M5 5G is a whopping $190 more than the AT&T MR5100 version, and $450 more than the original LTE Cat-16 Nighthawk, which is still a solid performer (and Top Pick) today.
That is a LOT of money for a mobile hotspot device.
Additionally, while the Qualcomm X55 is a capable 5G modem, it's only the second generation of 5G modem and will not support everything that 5G has to offer in the years to come. Unless you really desire to jump into 5G early, it's wise to wait for the next generation of 5G modems based on the Qualcomm X60.
The complete details are in our mid-2021 5G Update:
So while we love to see a mobile hotspot that ticks all the boxes we look for, it's very hard to recommend the MR5200 from a value perspective.
However, for those who want to be on the leading edge of 5G, who may have multiple data plans on multiple carriers, and desire a single, high-performance mobile hotspot device to switch between those plans, then the MR5200 might make some sense.
Further Reading
Related News: