Key Points:
The long-awaited next-generation MOFI 5500 cellular integrated router has at last been announced - with pre-orders underway and the first models slated to ship on May 11th.
The new MoFi features faster and more advanced WiFi, gigabit Ethernet ports, and a whole new range of cellular modem options.
A 5G version is slated to ship over the summer.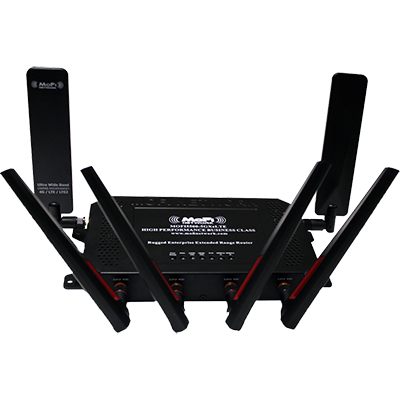 We first covered the cellular integrated MOFI 4500 router (our gear center page) way back in August 2015 - and concluded at the time that the MoFi was an "immense value" (at just $299!), but that it came with some major downsides.
In particular - the MOFI 4500 series of routers had low-end Cat-4 or Cat-6 cellular modems, low-end 2.4 GHz-only Wi-Fi 4 (802.11n) networking, and it even lacked gigabit Ethernet ports.
The hardware limitations and numerous software and user interface issues made it hard to recommend the MOFI at the time - but the low-cost 4500 did earn some fans amongst our MIA members and elsewhere online, many who grew to love the MOFI despite its quirks.
The long-rumored next-generation MOFI 5500 is gearing up to ship in the next few weeks - and the new router addresses many of the hardware limitations of the prior MOFI generation.
The MOFI 4500 is being replaced with a bigger and more powerful descendant - with support for a whole new range of more capable cellular modem options, including even a 5G version slated for release later this summer.
Pre-orders on some of the new MOFI 5500 models have just begun, with the first of the new models scheduled to start shipping in mid-May.
Will this new next-generation MOFI prove to be worth investing in?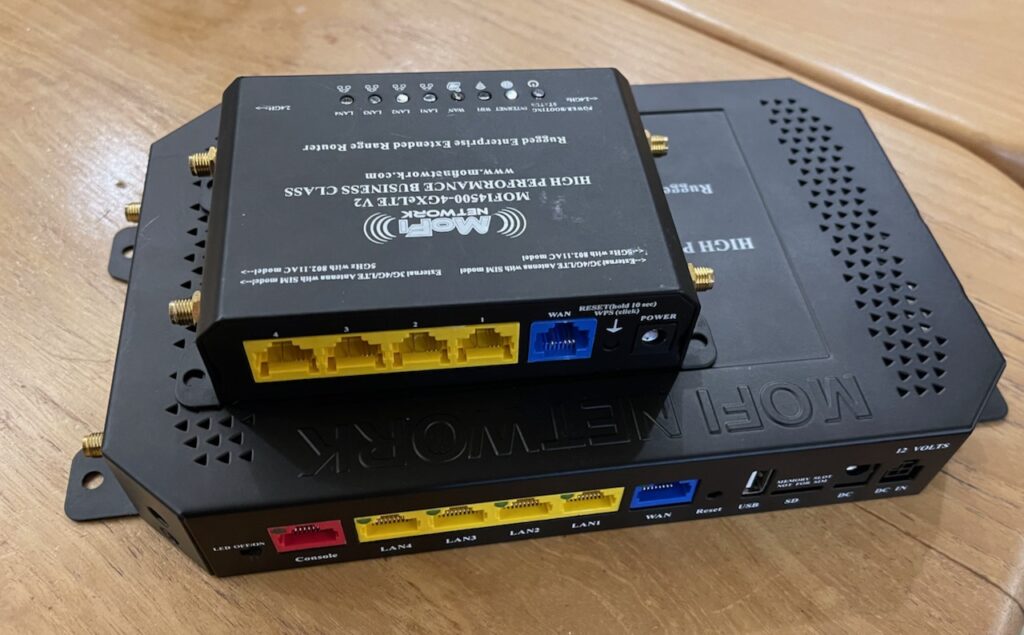 Video First Look
Subscribe to our YouTube Channel
MOFI 5500 - Key Features
The core MOFI router is taking a major leap forward - in both size and functionality.
Here are the key hardware features:
Wi-Fi 5 (802.11ac) - Simultaneous dual-band (2.4 GHz & 5 GHz) Wi-Fi, with 4x4 MIMO Wi-Fi antennas - a major improvement over the 2.4 GHz 802.11n of the MOFI 4500.
Gigabit Ethernet - 1,000 Mbps - 4x LAN, 1x WAN. The 4500 only had 100 Mbps Ethernet.
USB Tethering Port - The MOFI 4500 supported tethering to hotspots and phones and was actually the first router we tested to support tethering to iOS devices. The MOFI 5500 should retain these capabilities.
Advanced Cellular Capabilities - MoFi routers support band locking and TTL adjustments, making some advanced connection tweaks possible. With more bands to work with - these features will be even more important on the MoFi 5500.
Overall Faster Router CPU - The core CPU in the MoFi 5500 is reportedly a lot more powerful than what was available in the MoFi 4500.
The MOFI's hardware looks to be extremely capable of delivering fast local Wi-Fi and Ethernet networking. It's not 802.11ax (aka "Wi-Fi 6") - an even more modern Wi-Fi standard - but no comparable mobile routers on the market yet support this new standard.
As for the cellular capabilities, there will be several versions of the MOFI available - all with identical metal shells and Wi-Fi and Ethernet features, but with different cellular capabilities based upon the modem modules installed inside.
As we expected from MoFi, the pricing is very aggressive for the feature set:
MOFI5500-5GXeLTE - Wi-Fi only, no integrated cellular - $299.99
MOFI5500-5GXeLTE-7411- Single Cat-7 Cellular Modem - $399.99
MOFI5500-5GXeLTE-7411-GPS- Single Cat-7 Cellular Modem, plus GPS for vehicle tracking - $439.99
MOFI5500-5GXeLTE-7411-DUAL- Dual Modem Cat-7 Cellular - $549.99
The single modem Cat-7 model is available for pre-order now, with a target ship date of May 11th. The dual-modem Cat-7 model is also available for pre-order, with a target ship date of May 18th.
But if you want more advanced cellular capability, these additional models will be available for pre-order on May 17th, with a target ship date sometime in "June or July":
MOFI5500-5GXeLTE-7690 - Cat-20 4G Cellular (4x4 MIMO) - $499.99
MOFI5500-5GXeLTE-9191-5G-SUB6 - Cat-20 4G Cellular (4x4 MIMO) and Sub-6GHz 5G - $649.99
A dual cellular router for under $550, and a 5G router for under $650 are relatively groundbreaking prices.
A New Wave of Modem Modules
The MOFI5500 is taking advantage of a new line of interchangeable cellular modem modules from Sierra Wireless.
Here are the specs on the modems that MOFI is using:
AirPrime EM7411 - Category-7 LTE modem, capable of 2x carrier aggregation (like a Cat-6 modem) - but also supports carrier aggregation on uploads too. This modem claims peak theoretical performance of 300 Mbps down, and 150 Mbps up. Being a new design - it supports a lot more critical bands than most older Cat-6 modems, including AT&T's Band 14 and T-Mobile's Band 71. This will be a new value-priced modem option that we hope to see adopted by other router manufacturers.
Bands supported: B2, B4, B5, B7, B12, B13, B14, B25, B26, B41, B42, B43, B48, B66, B71
AirPrime EM7690 - Category-20 LTE-Advanced modem, capable of pushing to the limits of what 4G/LTE is capable of - assuming the towers support all the features and bands. Peak theoretical performance of 2 Gbps down and 211 Mbps up.
Bands supported: B1, B2, B3, B4, B5, B7, B8, B12, B13, B14, B18, B19, B20, B21, B25, B26, B28, B29, B30, B32, B34, B38, B39, B40, B41, B42, B43, B46, B48, B66, B71
AirPrime EM9191 - Based on the Qualcomm X55 5G modem chipset (same as in the iPhone 12), this modem module support all the 4G/LTE capabilities of the EM7690, and also Sub-6GHz 5G (but not mmWave 5G). In 5G mode, the EM9191 is capable of peak theoretical performance of 4.5 Gbps down and 660 Mbps up.
5G Bands supported: n1, n2, n3, n5, n7, n8, n12, n20, n25, n28, n38, n40, n41, n48, n66, n71, n77, n78, n79
On paper at least, these are very capable modem chips - and they have the bands necessary to work with all the major carriers in the United States.
To better understand the different modem categories and specifications, see our in-depth guide:
Understanding Cellular Modem Specifications
MIA Members: Pay particular attention to the members-only section of the guide where we discuss 5G carrier aggregation and the limitations of the Qualcomm X55 modem chipset.
The X60 chipset that will be powering the next wave of 5G router products (potentially still a year off) has some very important future-proofing features around combing 5G bands for better range and performance, and it is certainly worthy of considering what X60 hardware might be like before investing in X55 powered routers this year.
MoFi's Weakness: Software Concerns Remains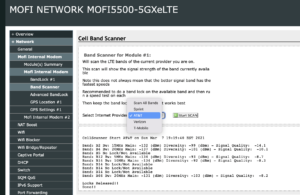 MoFi has always delivered solidly built hardware at a great value price, but our biggest concern has been and remains the quality of the software and the unfriendliness of the user interface.
Advanced geeks with enough patience can make a MoFi do just about anything, but less advanced users can quickly become absolutely lost in the wide range of options that the MOFI interface exposes.
MoFi tells us that they are working frantically to improve the software on the MOFI 5500 before it ships, but only time will tell if the experience gets materially better.
We are holding back on our testing until the router officially ships and the software stabilizes, to give the MOFI a fair shake.
We have spent some time with a pre-release dual-modem Cat-7 MOFI 5500 and will be sharing our further hands-on impressions with our MIA members as we continue to experiment further with it.
Concluding Thoughts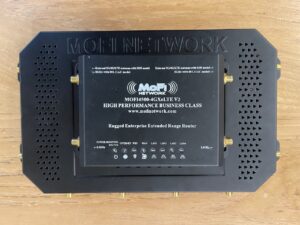 It is great to see the MOFI making such a large leap forward with core technology - embracing a faster foundation, and much improved cellular modules.
This is just the beginning of a new wave of 5G-ready cellular integrated routers, and we are particularly eager to see what the 5G MoFi is like when it is released this summer.
The 5G version of the Pepwave MAX Transit is now out also, and the 5G Insty Connect has already been announced too.
The era of 5G routers seems to be near at hand.
But while 5G is just starting to become viable in routers, 4G/LTE capabilities have gotten better than ever.
New hardware like the MOFI 5500 spans these generations, and you can decide whether you are ready for 5G yet or not.
Other MoFi News:
Further Reading & Related Guides: