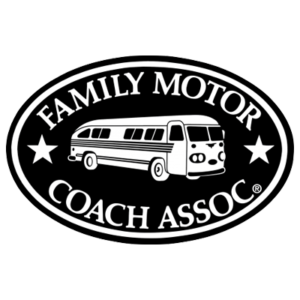 The Family Motorcoach Association offers two data plans to their members that may be of interest to RVers. One is on Verizon and one is on Sprint.
These plans are only available to FMCA members, and membership is limited to owners of self-contained RVs only.
Plans:
Verizon Plan
The FMCA and Verizon have partnered to offer 25GB of LTE speed data, then unlimited but very slow hard throttled data through the end of the month, reported to be at 2G speeds.
The plan includes a 8800L Mobile Hotspot, purchased upfront for a penny.
This member only plan requires a minimum of 2 years remaining on the membership. This qualification is automatically checked before sign-up via their website.
For a new FMCA member, this is an upfront $110 cost to join for two years. Be sure to proceed immediately to sign up for the Verizon plan the same day, or risk no longer meeting the requirements of having 2 years left on your membership.
Existing members who have less than a year of membership left will need to renew for 2-years to qualify, a $95 expense.
Once you meet the FMCA membership qualifications, you then will be handed off to Verizon to setup the plan. They will require a 2-year contract with a $175 pro-rated early termination fee should you cancel before hand.
Testing Status
We do not keep an FMCA Verizon data plan in our arsenal.
Policies & Perks:
Carrier Networks Used: Verizon
Carrier Relation: Directly Partnered MVNO
Plan Types Available: Hotspot
Device Types Permitted: Hotspot
Device Purchase Required: Yes
Mobile Hotspot Use: All
Throttling: 2G speeds after 25GB
Network Management: 22GB
International Roaming: No international usage is included.
Domestic Roaming: Yes
Plan Period: 2 Years
Data Roll Over: No
Overage Charges: No
Streaming: Video streaming is capped at 720p, like all Verizon plans.
Unlimited: Technically, although only 25GB is at high-speed
Lines permitted per account: 1
Additional Info
Full Release Details
FMCA Tries Again: New Verizon "Unlimited" 25GB Plan Announced
Video Story

Other Testing
In March 2018, TheMGRV.com tracked their plan and shared a graph showing the hard throttling immediately after crossing 25GB of usage: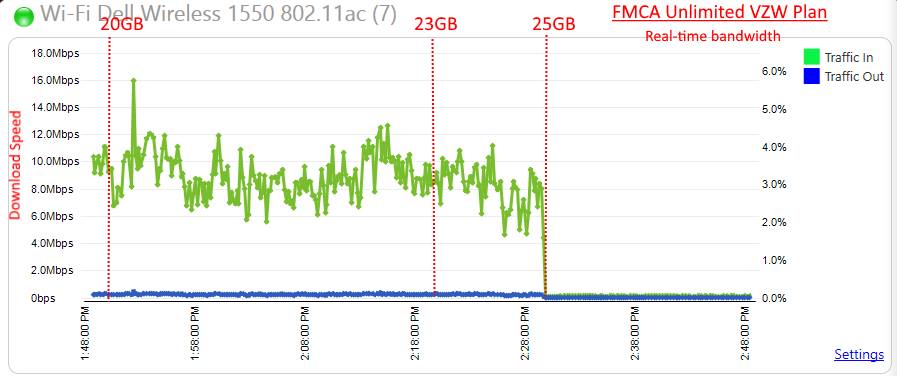 ---
Sprint - FMCA's Tech Connect+ Plan
The Sprint plan is offered as part of the FMCA Tech Connect+ package, which includes discounts to various technology items paired with an unlimited Sprint data plan.
The Sprint plan offers truly unlimited high-speed data, but is always subject to network management.
All fees on this plan are paid directly to the FMCA as part of their Tech Connect+ membership. The plan is administered directly by the FMCA, not Sprint.
This is a no contract plan. The plan is month-to-month and can be cancelled at anytime. To be eligible you must have at least 1 year remaining on a FMCA membership.
This plan currently runs off of a Franklin R910 hotspot, rented for a one-time fee of $39.99, regardless of how long you keep the plan. The hotspot must be returned within 15 days if the plan is cancelled. Failure to return the hotspot results in a $200 administrative fee. There is no option to bring your own device and the SIM cannot be used in another device.
Testing Status
We do not keep an FMCA Tech Connect+ plan in our arsenal.
Policies & Perks
Carrier Networks Used: Sprint
Carrier Relation: Reseller
Plan Types Available: Hotspot
Device Types Permitted: Hotspot
Device Purchase Required: Yes
Mobile Hotspot Use: Yes - all
Throttling: No
Network Management: Always
International Roaming: None
Domestic Roaming: 300MB a month of domestic roaming
Plan Period: Month to month
Data Roll Over: None
Overage Charges: None - unless you don't return the device - then $200
Streaming: Video streaming is capped at 480p resolution.
Unlimited: Yes
Lines permitted per account: 1
Additional Info
Release Article
FMCA Offers New Sprint Unlimited Data Plan with Tech Connect+ Membership
Video version of this story:

A Full Review of this Product is Available to our Members

We are honored to be able to present the above product overview for free without 3rd party advertising.
In thanks for funding this resource center our members have access to the in-depth unbiased review of this product based on our extensive hands-on time and testing.
If you're a member, please log in above to read the review.
Purchasing Options
Getting the Plan
For both plans, you must contact FMCA by calling Member Services at (800) 543-3622 or online at FMCA.com.
For the Verizon plan specifically, after you have confirmed or renewed your FMCA membership, you can proceed to their Verizon Sign Up page - which will direct you to Verizon to set your plan up. Be sure to use the same e-mail address your FMCA membership is under so that you can be verified. You'll then be dealing directly with Verizon at this point, and need to pass their account qualifications - including a credit check.
Any special requests (such as adding the line to an existing account, not purchasing a Jetpack you might not need) should be directed to the carrier.