Key Points:
Cellular integrated routers are finally available, featuring a new generation Qualcomm 5G modems, allowing for a substantially more future-proof investment in hardware. But the X62 modem now found in many routers is two steps forward, one step back from the X55 it is replacing.
Mid-band 5G networks are now regularly delivering truly next-generation performance on T-Mobile and Verizon, while AT&T's 5G continues to evolve - but at a slower pace.
Dish is struggling to emerge as a viable fourth nationwide carrier, but in some places, its 5G-native performance has proven to be a surprisingly useful (and affordable) backup to the big three.
Direct-to-cellular capabilities from satellites are coming, but don't expect too much excitement on this front for at least another year.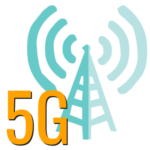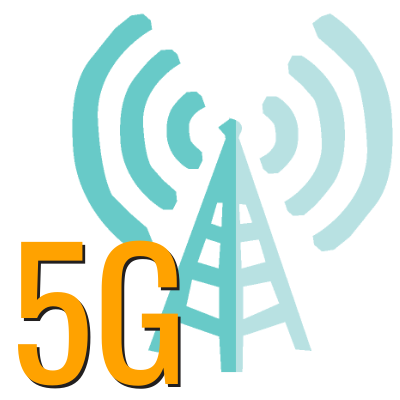 In our 5G industry update in early 2022, we advised our RVing and boating audience "to keep their expectations in check" around the potential for 5G as the core of their mobile internet setup - noting that we were "waiting for more advanced 5G options that are all around better, faster, and cheaper".
In other words - 5G was evolving so rapidly that it wasn't necessarily wise to invest yet if a future-proofed mobile internet setup was the goal. Only later in 2022 (see our Fall 2022 cellular modem update) did we notice next-generation 5G modems finally becoming available in devices other than smartphones - and things improved further in 2023 with advancing 5G networks and second-generation 5G mobile hotspots becoming more widespread.
And now, at last, even cellular integrated routers are also available with a newer generation of 5G cellular hardware.
The time for waiting is over.
As we head into 2024, 5G hardware and cellular networks have matured to the point that they are worth investing in for most RVers and cruisers.
But you still need to invest wisely - not all 5G networks and 5G gear are created equally.
What's the latest in the evolution of 5G? What is coming next?
Let's dive in...
For more on the basics of what makes 5G compelling, see our guide:
5G Cellular Data Fundamentals for Mobile Internet
5G Cellular Industry Analysis for RVers & Boaters Video
5G Modem Technology Update
At the heart of every cellular device is a cellular modem that manages the connection to the cell tower and the carrier's network.
Just like the 4G/LTE era before it, 5G standards are being developed and deployed in phases over time - and device manufacturers need to keep pace to take advantage of the latest capabilities as the modems and cellular networks continue to evolve.
We have reached "Phase 2" of the evolution of 5G, and the pace of evolution is slowing down and stabilizing a bit as 5G goes from an emerging technology to mainstream.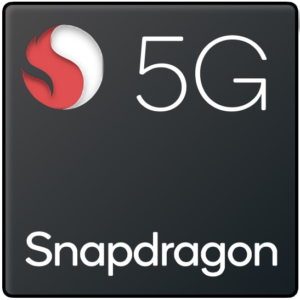 With 5G's evolution reaching a new plateau - most of the latest 5G modems on the market are destined to remain reasonably future-proof for years to come.
New technologies will continue to offer improved performance and features, but the current baseline will likely still offer a relatively compelling and compatible experience for years to come, perhaps all the way into the 2030's and the 6G era.
Chip-making giant Qualcomm is the current 5G modem leader, and most 5G data-centric devices sold in the United States use Qualcomm modems to connect to cellular networks.
This market dominance may change as 5G modems from other manufacturers emerge and gain ground. But for now - almost every phone, hotspot, and cellular router manufacturer is building on top of mostly identical foundations.
Understanding Qualcomm's offerings can help one to understand the capabilities of 5G devices that are coming to market - and can illustrate the reasons to potentially consider waiting for future generations.
Qualcomm's 5G Modem Lineup
Here is the lineup of modems that have been most popular in the mobile market - and which release of the cellular industry 3GPP standards they support:
5G "Phase One" (Release 15) Modems:
Snapdragon X50 (Long Obsolete) - Announced in 2018, this first-generation 5G modem enabled manufacturers to bring out early devices showcasing raw 5G features and performance. But the X50 did NOT support 4G/LTE, which required devices to embrace the expense and complexity of having separate 4G and 5G modems running in parallel. And, the X50 lacked key 5G features like support for overlaying 4G and 5G via dynamic spectrum sharing and running in 5G "standalone" mode. As we repeatedly warned, any device with the X50 was obsolete from the start.
Snapdragon X55 (Phasing Out) - We covered the launch of the Snapdragon X55 in early 2019, and recommended that people ignore the X50 and wait for this first "practical" 5G modem to arrive. And, indeed, the X55 powered most flagship phones and other 5G devices that launched in 2020 - including the iPhone 12, many first-generation 5G mobile hotspots, and nearly all cellular-integrated routers that launched before 2023. The X55 modem supports 2G, 3G, 4G/LTE, and 5G all on one chip - and includes support for standalone mode 5G and dynamic spectrum sharing. However, it lacks a few key features important to the future evolution of 5G networks and support for important future 5G cellular bands.
Snapdragon X60 (Smartphones Only) - The X60 modem powered most of the flagship 5G phones introduced in 2021 - including the Samsung Galaxy S21 and the iPhone 13. The X60 introduces more advanced and flexible 5G carrier aggregation capabilities, enabling improved 5G coverage and speed compared to the X55. However, this chip is still lacking in some critical ways compared to the following generation, and it was never used in data-only devices like hotspots and routers.
5G "Phase Two" (Release 16) Modems:
Snapdragon X62 / X65 (Currently Mainstream) - Announced in early 2021, the X65 powers most flagship 5G smartphones that came to market in 2022, including the Samsung Galaxy S22 and the iPhone 14. This modem generation also powered the first flagship 5G mobile hotspots from Netgear and Inseego and the latest router updates from Peplink, Insty Connect, GL.iNet, MoFi, and more (use our Phase 2 filter in our Cellular Data Devices Gear Center to see the current options) . These modem chips are the first designed to the 3GPP Release 16 specification (aka "5G Phase 2"), they support three-way 5G carrier aggregation and absolutely insane peak theoretical speeds of up to 10 Gbps, all while being more power efficient. New technologies include "Wideband Envelope Tracking" and "AI-Enhanced Signal Boost" that promise to deliver better performance in fringe signal areas, and Qualcomm claims that the X65 will improve sub-6 GHz coverage by up to 40%. The X65 is also available in a lower-cost X62 version with lower peak performance potential but otherwise similar capabilities. (See below for our analysis of the X62 vs X65)
Snapdragon X70 (New in 2023) - The X70 is Qualcomm's flagship modem in 2023, adding 4x 5G carrier aggregation and up to 60% improved power efficiency to allow for better battery life than its predecessors. The biggest connectivity gains come from using even more advanced AI processing hardware inside the modem to help devices stay connected to marginal 5G signals - theoretically improving both speed and coverage. Like previous Qualcomm modems, it debuted in flagship smartphones like the Samsung Galaxy S23 and iPhone 15. This generation once again seems to be smartphone-focused and will likely not feature prominently in routers or hotspots.
5G Advanced (Release 18) Modems:
Snapdragon X72 / X75 - Announced in early 2023 and destined for phones in 2024, perhaps hotspots soon after and likely other categories of devices in 2025. The X75 (and companion lower-cost X72) have been designed to support Release 17 of the 5G standards. However, they promise to be upgradeable to support the 3GPP Release 18 specification (aka "5G Advanced") in the future. These modems claim enhanced uplink performance, they push 5G carrier aggregation even further and can combine 5x sub-6GHz 5G carriers on the X75 and 3x on the mainstream-targeted X72.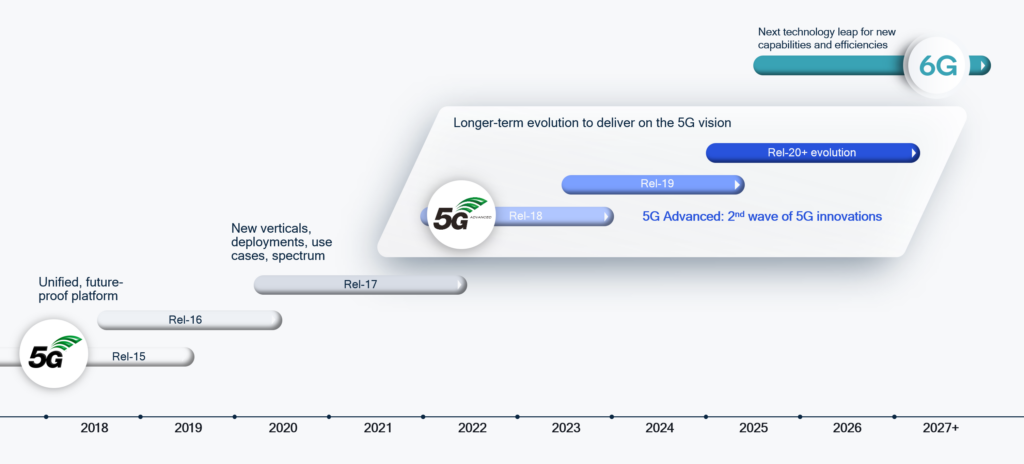 We consider the X62 and X65 and other "Release 16" / "5G Phase 2" devices to be the current sweet spot for 5G data devices - feature-rich enough to be capable performers well into the future as 5G networks continue to evolve.
And always remember that every 5G device is backward compatible with 4G/LTE, so even if you are often in places where 5G networks are not yet deployed, 5G hardware should deliver excellent 4G performance.
Understanding the Qualcomm X55 Modem's Limitations
The X55 was the dominant modem in 5G cellular routers such as Peplink, Cradlepoint, Insty Connect, and MoFi until X62 modem modules started arriving in 2023.
It is a great modem - with a track record of delivering solid performance.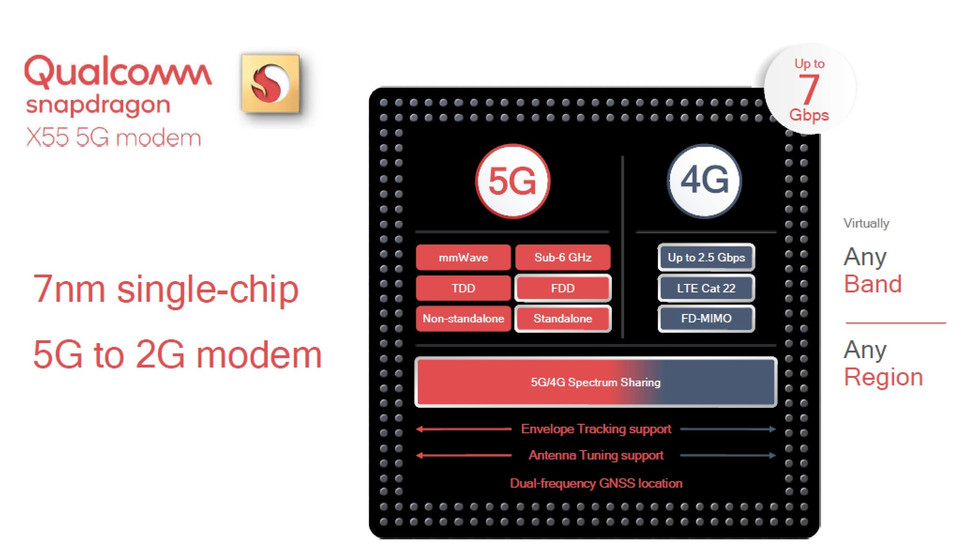 But as we've advised from the start:
"But those who want to invest in the future may want to wait until more advanced and "future-proof" modems arrive in routers in 2023. The X65 generation has some key advancements that should prove to be very worthwhile over time as the cellular networks take advantage of more "5G Phase 2" capabilities."
The major weakness of the X55 is that it is relatively limited in its ability to combine together multiple different 5G bands, often limiting the potential for the modem to use both long-range (better uplink) and fast (better downlink) 5G bands simultaneously.
This has the potential to significantly limit performance in fringe signal areas.
The X55 (and all other Release 15 modems) are also completely incompatible with AT&T's "Andromeda" C-Band n77 spectrum, a core part of AT&T's 5G expansion strategy.
The X62 / X65 generation of modems addresses these limitations and supports substantially more 5G bands overall. The X65 and X62 are also the first modems compatible with "5G Phase 2" (aka release 16) cellular standards.
This means that while these newer modems should have some advantages today - the advantages compared to the X55 will only grow as 5G networks continue to evolve and expand.
This is why we consider the X62/X65 a more solidly future-proof modem chipset.
To focus on finding Phase 2 cellular devices, use our Gear Center filter:
5G Phase 2 Cellular Data Devices
X55 vs X62 - Two Steps Forward, One Back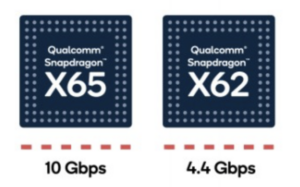 The X55 modem chipset was the flagship of its generation, and the X65 is its true successor - the flagship of the first "5G Phase 2" generation of Qualcomm modems.
The X62 is the mainstream value-priced version of the X65.
It has all the same raw technical capabilities - but it can't process as much data or combine as much cellular spectrum at once.
Comparing the peak performance specs, you might notice that the mainstream X62 (and even the upcoming X72) are in some ways a step backward compared to the earlier generations of 5G flagship modems in terms of theoretical raw performance:
5G "Phase One" (Release 15) Modems - Peak Theoretical Speed:
X50 - 5.0 Gbps Max Theoretical Download Throughput
X55 - 7.5 Gbps Max Theoretical Download Throughput
X60 - 7.5 Gbps Max Theoretical Download Throughput
5G "Phase Two" (Release 16) Modems - Peak Theoretical Speed:
X65 - 10 Gbps Max Theoretical Download Throughput

X62 - 4.4 Gbps Max Theoretical Download Throughput

X70 - 10 Gbps Max Theoretical Download Throughput
5G Advanced (Release 18) Modems - Peak Theoretical Speed:
X75 - 10 Gbps Max Theoretical Download Throughput

X72 - 4.4 Gbps Max Theoretical Download Throughput
These peak theoretical speeds represent an ideal situation in lab conditions (far different from the real world), and are based on using short-range mmWave spectrum. To date, mmWave has been an impractical technology to build into cellular integrated routers that rely on external antennas.
And short-range mmWave signals will rarely be found in the places that matter to RVers and cruisers.
5G spectrum at lower frequencies, called the "sub-6 GHz" frequencies, are much more relevant to nomadic users. Sub-6 GHz includes low-band and mid-band spectrum that modems can combine via carrier aggregation to increase performance.
If you think of spectrum like invisible highways through the sky - visualize carrier aggregation as the number of available lanes on this invisible superhighway.
And this is where we see a significant regression, on paper, from the X55 to the X62.
5G "Phase One" (Release 15) Modems - Sub 6 GHz Bandwidth:
X50 - 100 MHz (no carrier aggregation)
X55 - 200 MHz (limited 2x 5G carrier aggregation)
X60 - 200 MHz (flexible 2x 5G carrier aggregation)
5G "Phase Two" (Release 16) Modems - Sub 6 GHz Bandwidth:
X65 - 300 MHz (flexible 3x 5G carrier aggregation)

X62 - 120 MHz (flexible 3x 5G carrier aggregation)

X70 - 300 MHz (flexible 4x 5G carrier aggregation)
5G Advanced (Release 18) Modems - Sub 6 GHz Bandwidth:
X75 - 300 MHz (flexible 5x 5G carrier aggregation)

X72 - 200 MHz (flexible 3x 5G carrier aggregation)

One advantage of the X55 over the X62 is that it can work with 200 MHz of spectrum at once (a 200-lane highway!), spread over two 5G channels, which is why it has a higher peak theoretical speed.
But the downside is that the X55 is much more limited in what channels it can combine - this means that some of those 200 lanes are often empty.
The X62 supports more 5G bands, can combine three channels instead of two, and is much more flexible in combining them - but it can only work with 120 MHz of spectrum at once.
The result is that in certain strong signal areas where the carriers can combine two mid-band 5G channels to enable over 120 MHz of bandwidth, the X55 might actually have a raw peak speed advantage over the X62.
But we suspect that in the vast majority of more typical cases (especially in weaker signal areas), the X62 will still come up on top.
Especially as carriers migrate from 5G NSA (non-standalone - 5G layered on top of 4G) to 5G SA (standalone native 5G), the relative advantages of the X62 will become even more pronounced.
So in this way, the X62 is a two-steps forward, one step back evolution from the X55. The X65 would have been all forward evolution, however it's not been released in cellular embedded routers.
Why Haven't Routers Gone X65?
So, why didn't manufacturers integrate the flagship X65 instead of the mainstream X62 into routers like the Peplink MAX BR2 Pro, Insty Connect, GL.iNet Spitz and beyond?
There are several very good reasons to go with the X62 that we suspect led to this decision:
The raw processing capability of the X62 is fast enough for most real-world Sub-6 GHz connections, and routers don't utilize mmWave.
The X62 is cheaper than the X65 and is advertised as a "low-cost" version of the X65.
The 120 MHz Sub-6GHz capability of the X62 is usually enough to outrun the max throughput of current router CPUs (for instance, the Peplink MAX BR series is limited to 1 Gbps throughput). Theoretically, faster cellular speeds from a modem would be wasted on the current generation of cellular routers.
And most importantly - the modem modules based on the X62 are FCC and carrier-certified today, and are available now in bulk to router manufacturers. The X65 is not, so waiting for the X65 would mean continuing to offer products with the X55.
Waiting another 6-12 months just to have bigger numbers on the spec sheets for a higher price probably isn't worth it - and an educated market wants next-generation devices now.
As we continue testing the X62 vs the X55 version of the MAX BR2 head-to-head, we'll watch for any places where the X55 vs X62 comparison surprises us.
Will we find places where the X62 is eclipsed by its older relative?
Our MIAs can follow along with our results in our testing in progress forum.
5G Cellular Network Updates: Mid-Band Networks Are Now Spreading Rapidly
When 5G first launched, the carriers focused on delivering just enough widespread 5G coverage so that the bulk of their customers would see a "5G" icon on their fancy new phones.
But all too often, this early 5G was delivering (at best) "really good 4G" caliber performance - with very little actual next-generation capability.
5G was initially so underwhelming because AT&T and Verizon were mostly repurposing a portion of their existing 4G/LTE spectrum for 5G - spectrum that was already in many areas congested to the breaking point.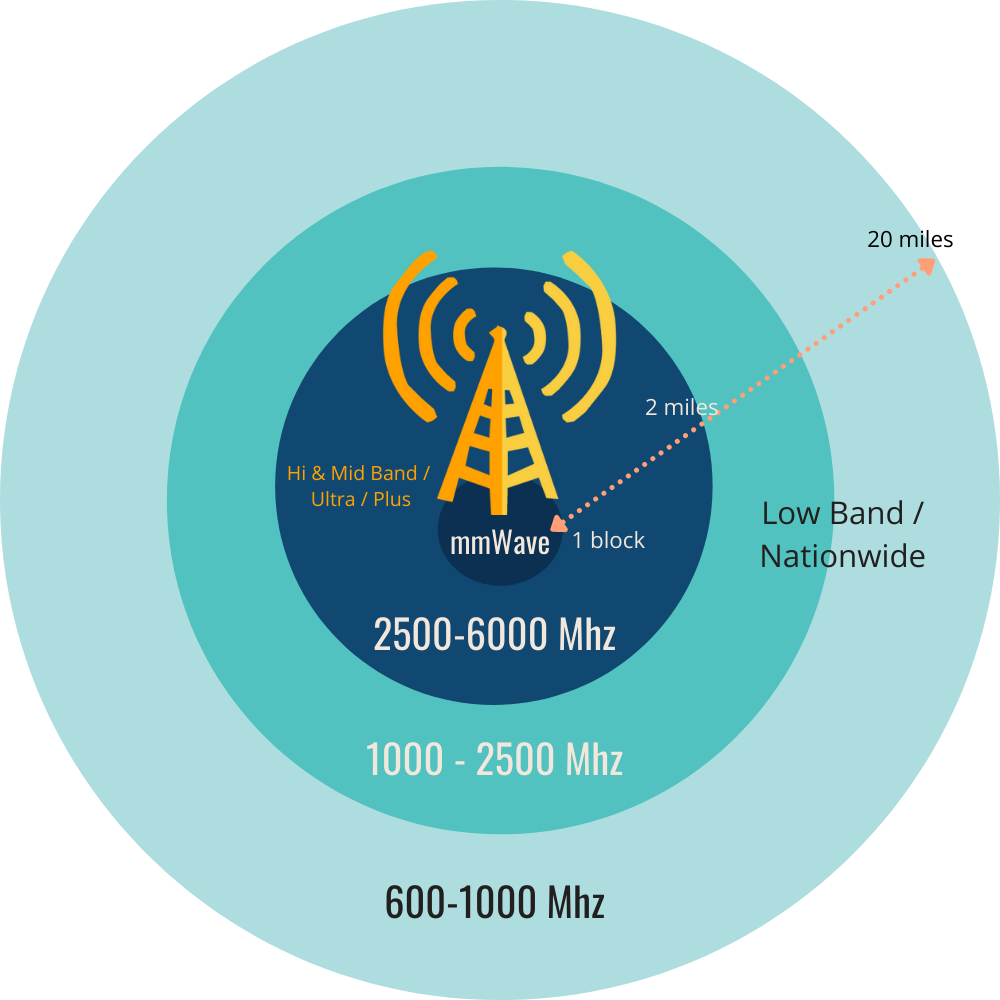 Without new dedicated spectrum to take advantage of 5G technologies, 5G devices were often left essentially running in 4G mode with just a little bit of a 5G veneer.
Only T-Mobile had ample unused spectrum it could dedicate to launching 5G, allowing T-Mobile to pull dramatically ahead in delivering actual next-generation 5G capabilities.
Times are changing, however, and AT&T and especially Verizon are catching up with T-Mobile by deploying new 5G-dedicated mid-band spectrum of their own.
All of this mid-band (especially T-Mobile's band n41 and the C-Band n77 used by AT&T and Verizon) is considered to be the "Goldilocks" spectrum - fast enough to deliver a 5G experience that substantially outperforms even the best 4G but long-range enough to matter in places beyond dense urban areas.
The frequency of spectrum used for cellular connections strongly influences its range and speed. Low-band signals travel great distances but are slower. High-band frequencies - especially mmWave - are extremely fast but extremely short-range. Mid-band spectrum balances speed and range.
Cellular Spectrum Holdings - Fall 2023
The carriers constantly struggle to increase their spectrum holdings to keep their networks from collapsing under the country's seemingly insatiable demand for data. And while it may seem like wireless signals come out of thin air - spectrum, like real estate, is a limited resource. There is only so much of it to go around.
Here is a look at how things stand towards the end of 2023: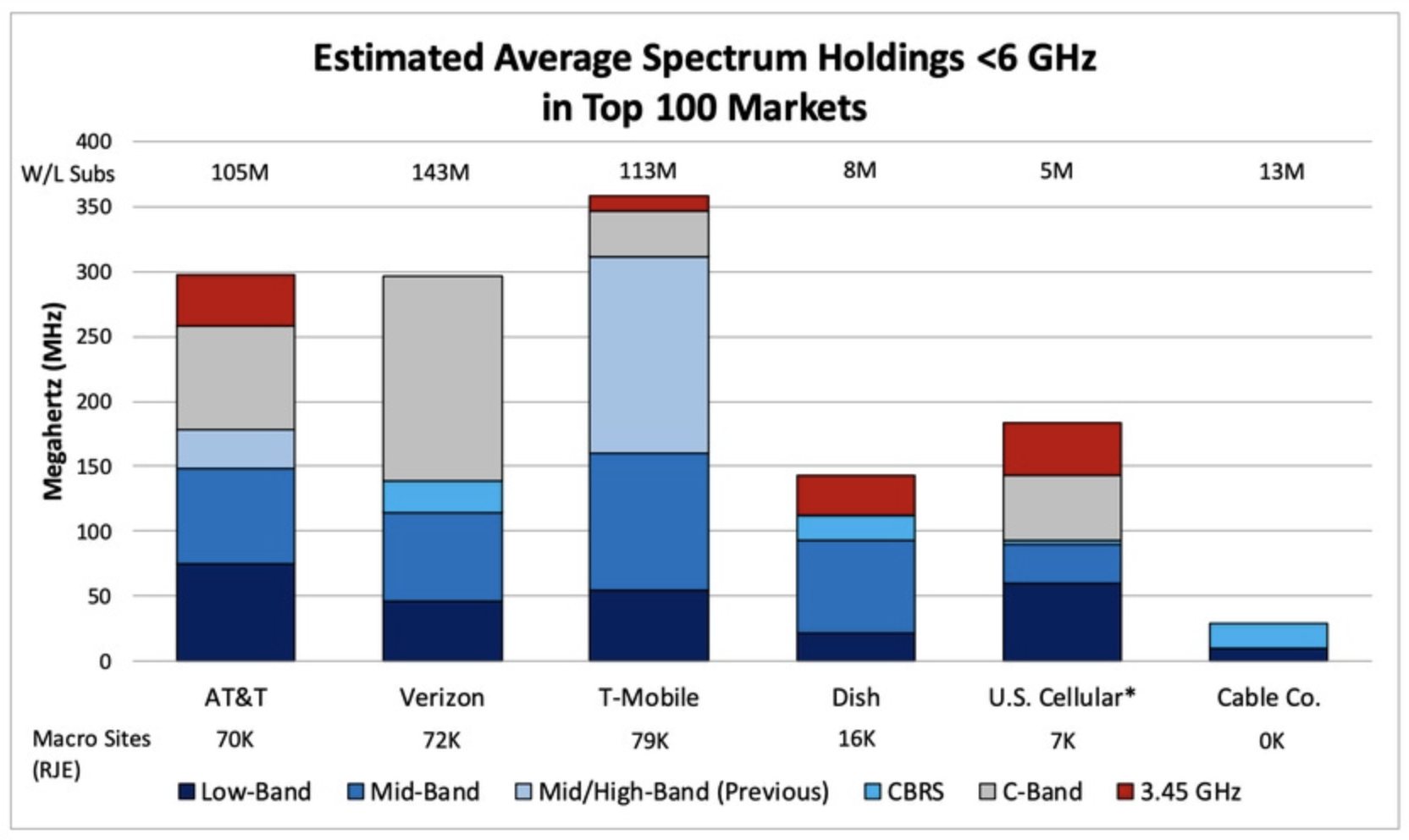 This graphic makes it clear how T-Mobile was able to get so far ahead with 5G - just focus on the height of the blue bars. Because T-Mobile took over Sprint's spectrum holdings, it had immediate access to way more 5G-appropriate spectrum than the other carriers who were stuck waiting for C-Band to become available.
Most C-band cellular spectrum is repurposed from satellite operators, and now that 2023 is ending, those incumbent satellite operators have stopped using the spectrum, allowing Verizon and AT&T to fully deploy their C-Band holding to get onto much a more equal footing with T-Mobile.
But having spectrum rights is one thing - the carriers actually need to build the towers to deploy service that puts all this juicy spectrum to use.
Here's the latest on the state of each carrier's 5G networks.
T-Mobile: The Undisputed 5G Technology Leader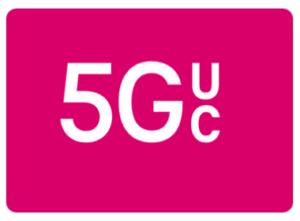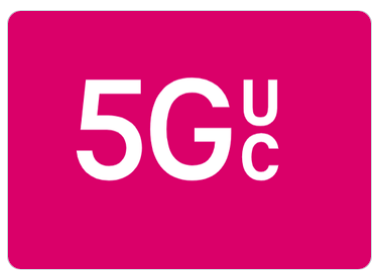 T-Mobile has maintained its place as the 5G leader. This year is became the first to offer 4x 5G carrier aggregation, demonstrating multi-gigabit speeds without relying on short-range mmWave signals.
T-Mobile was also the first carrier in the world to deploy 5G SA (standalone) technology - allowing 5G to function without needing to be layered on top of 4G first, significantly lowering connection latency.
Here are the two flavors of 5G T-Mobile is promoting:
Extended Range 5G - Thanks to having unused 600 MHz spectrum to devote to 5G, T-Mobile has delivered much more nationwide 5G coverage much faster than the other carriers. T-Mobile claims its "Extended Range" 5G now reaches more than 330 million people across 2 million square miles - "more square miles than AT&T and Verizon combined." This is truly impressive, but this network isn't next-generation fast because it is a longer-range spectrum with less capacity.
Ultra Capacity 5G - Using band n41 spectrum acquired from Sprint along with band n2 and n25, T-Mobile's rapidly expanding "Ultra Capacity" 5G networks can deliver "speeds as fast as Wi-Fi" - often a truly next-generation connection. T-Mobile reached its initial goal of covering over 300 million people with Ultra Capacity 5G, which it has been expanding rapidly even into rural areas. In areas with ample excess capacity, T-Mobile is also going after fixed residential customers by offering aggressively priced Home Internet plans.
T-Mobile's biggest ongoing issue is that its backhaul (the connections that join cell towers to the internet) is more congested than the towers themselves, resulting in T-Mobile not being able to fully take advantage of its increasing spectrum lead.
Despite this limitation, 5G hardware has the potential to shine on T-Mobile compared to the other carriers.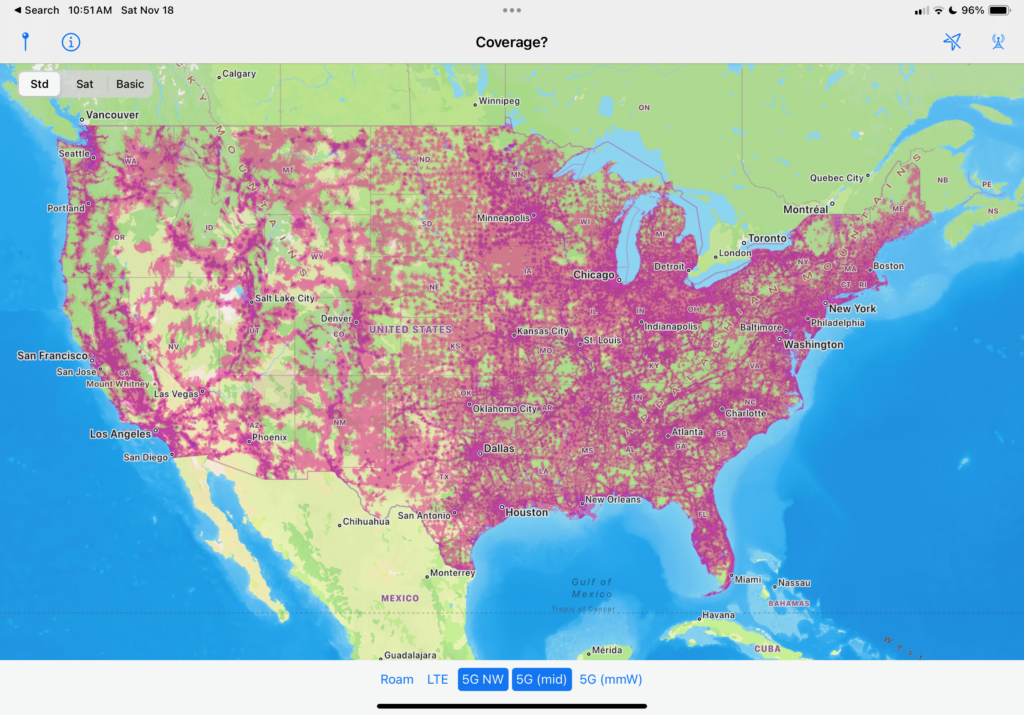 Verizon: Most Improved 5G Network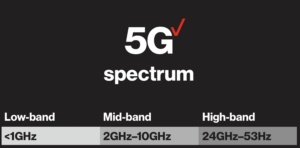 Verizon's initial 5G efforts focused on mmWave technology, which can deliver insane multi-gigabit real-world speeds - if you can find any mmWave coverage.
For wider coverage, Verizon used a technology called Dynamic Spectrum Sharing (DSS) to allow 5G to overlay on top of existing longer-range 4G/LTE bands, but this "5G Nationwide" coverage was underwhelming and had little to offer over 4G in terms of coverage and performance.
But things began to change in early 2022 when Verizon's Ultra Wideband 5G C-Band spectrum began to be deployed - unleashing vastly faster speeds over a much wider area.
However, a lot of Verizon's C-Band spectrum was legally unavailable for use until the second half of 2023, and now that Verizon is gaining the full rights to turn on more C-Band towers they claim that they will be able to "double or in some markets nearly three times the amount of spectrum" devoted to truly fast 5G.
Verizon is also pushing Ultra Wideband coverage out of urban areas and into more suburban and rural areas. Earlier this year, it achieved Ultra Wideband coverage for 222 million people.
Verizon still has a long way to go to match T-Mobile's wide next-generation coverage - but it certainly wins kudos for the most rapidly improving 5G network.
Verizon is on track to begin offering 5G standalone support in 2024, catching up to T-Mobile in that regard.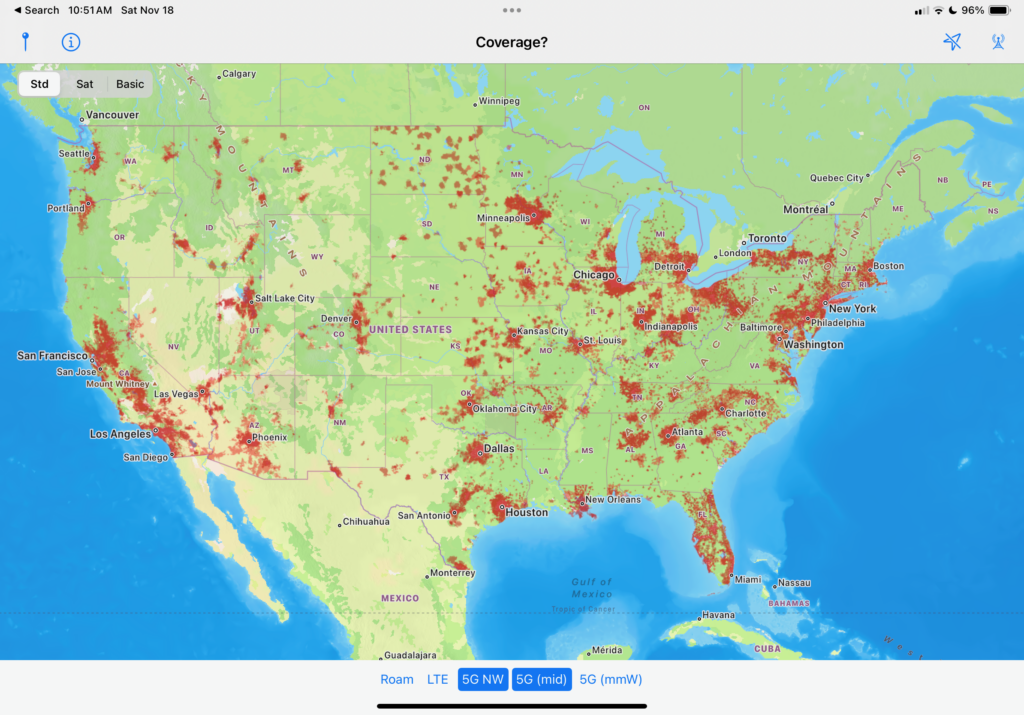 AT&T: Still Dragging Its 5G Feet?
To avoid falling embarrassingly behind in 5G coverage, AT&T initially carved off a chunk of its low-band 850 MHz spectrum holdings for 5G (using band n5) to provide a reasonable amount of "nationwide" 5G coverage.
But this band is just repurposed 4G spectrum and really has no performance advantage at all.
This means that 5G devices connected to AT&T are often mostly LTE, combining a single low-band 5G channel with AT&T's existing 4G bands. This technically counts as being "5G" - but in terms of performance, it is usually (at best) just "really good 4G".
Fortunately for AT&T, its 4G network is indeed "really good" across much of the nation and is often extremely fast and reliable.
Going forward - AT&T's 5G network will rely on new C-Band spectrum, which is currently being deployed.
But unlike Verizon and T-Mobil, cellular industry analysts noticed that AT&T continues to lag in actually rolling out upgraded coverage, though AT&T recently claimed it covers 175 million people with its mid-band spectrum - mostly focused on urban areas.
Because AT&T's mid-band plans revolve around two separate chunks of disconnected C-Band spectrum - AT&T will benefit from 3x 5G carrier aggregation to be able to combine Andromeda (3.45 GHz) spectrum, regular C-Band, and low-band 5G together.
This means that many older 5G devices (like all X55 routers) will be at a perpetual disadvantage on AT&T's network.
In other words, on AT&T, it is worth ensuring you get the absolute latest 5G gear so that you do not end up left behind once AT&T finally begins to live up to its 5G potential.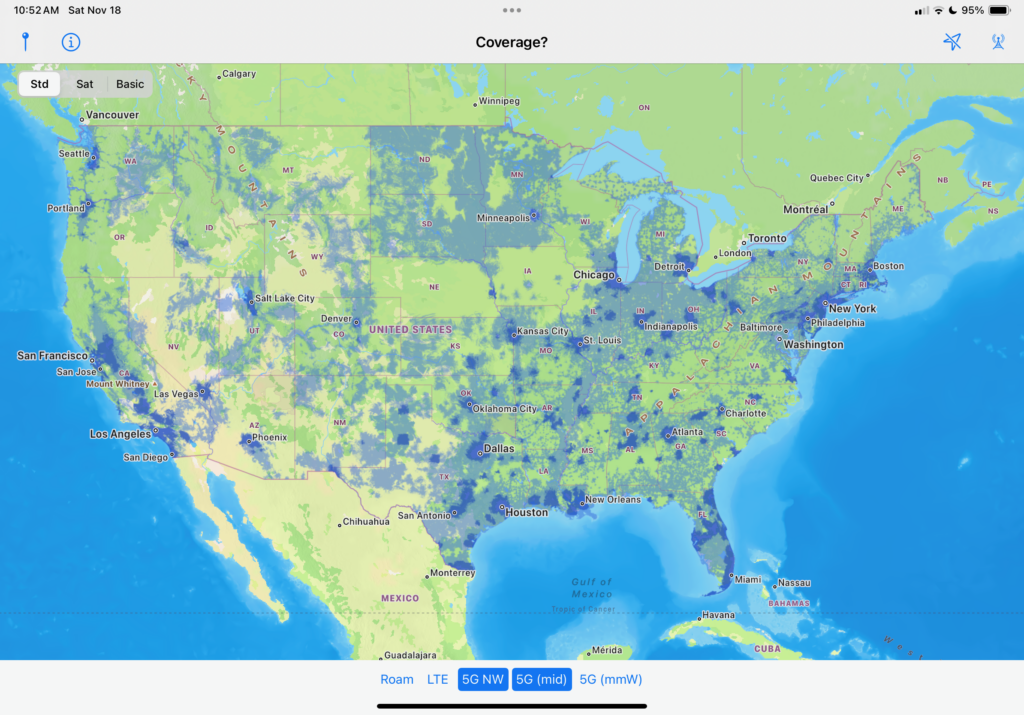 Dish Network: Struggling, But Sometimes Sweet...
As part of the terms imposed in 2019 by the Department of Justice to approve the merger between T-Mobile and Sprint, T-Mobile agreed to give enough cellular spectrum and roaming rights to Dish Network so that Dish would have the resources to launch as a competitive new fourth nationwide cellular carrier.
Dish is building its "Project Genesis" 5G network rapidly, focusing on urban and suburban areas to build out the first 5G native (with no underlying 4G) network in the country.
Though performance often remains inconsistent (there seem to be a lot of growing pains), Dish barely managed to meet its federally mandated deadlines to build out its network coverage to avoid penalties, and Dish has continued to invest in expanding further.
Though Dish has much less spectrum (and network engineering!) resources than the big three carriers, it also has many fewer customers - so when you are in an area with native Dish coverage, we've occasionally seen some extremely impressive performance on the typically not-at-all-congested network.
And when you are in an area without Dish native coverage - Dish continues to roam at full speed (with no throttling!) onto AT&T or T-Mobile.
This makes Dish's affordable plans an incredible value as a secondary plan to go along with one of the more capable carriers.
But unfortunately, Dish stopped offering its $20/mo hotspot plan - leaving only smartphone plans currently available.
Dish's network uses some oddball 5G bands (like n70 and n26), so we expect Dish may bring the unlimited hotspot plan back to the market once fully compatible hotspots are available.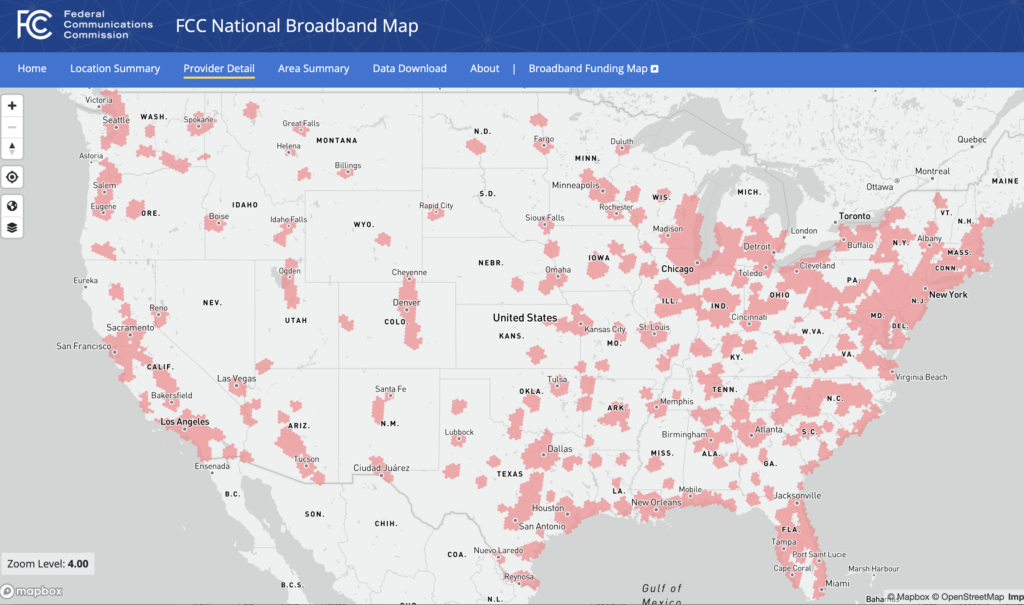 Cable Companies Pulling Back from Cellular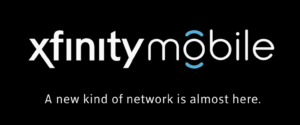 At one point, the big cable companies seemed to be aiming to become big cellular carriers, acquiring spectrum and roaming rights that positioned them to launch their own large networks.
Those ambitions have been dialed back - and the cable companies have actually even begun to sell off spectrum.
With their ambitions in reverse - we don't expect any new competitive nationwide carriers to emerge from the cable world anytime soon.
Instead of moving to compete with cellular carriers, the cable companies are actually ending up on the defense as T-Mobile, Verizon, and AT&T have all begun to offer fixed wireless service to residential customers in locations where they have excess 5G capacity - directly competing with cable internet service.
While these cellular based plans are intended to compete with fixed wired internet options where the carriers have excess mid band capacity - many nomads are successfully using these plans in a mobile fashion as the carriers continue to not enforce their fixed location terms.
Future Forecast: 5G Advanced, 6G, and Satellite to Cellular
The current generation of 5G Phase 2 modems will have a very long lifetime on the market, and we suspect that they will become the foundation of the 5G hardware universe the same way the 4G/LTE Cat-6 modems became the long-lasting baseline in the 4G era.
But technology will continue to evolve - and there will always be exciting new connectivity technology to entice people to upgrade.
Here are some longer-term technologies we have on our radar...
Cellular Evolution: 5G Advanced & 6G
The cellular industry settled on making major generational leaps about once every decade, so if this pattern sticks, then 6G should hit the market roughly around 2030.
Between these major generational shifts, cellular standards continue to evolve and improve, and there are already several major enhancements to 5G in the pipeline before 6G arrives. These improvements are codified in each 3GPP standard. Here are the highlights of 5G standards:
Release 15 (5G Phase One) - The initial foundation for 5G compatibility.
Release 16 (5G Phase Two) - Completes the foundation for long-term 5G capability.
Release 17 - Support for low-power and low-cost internet-of-things (IOT) devices. Support for "non-terrestrial networks," enabling 5G integration with different types of satellite-connected links.
Release 18 (5G Advanced) - Many performance improvements, especially around squeezing more capability from MIMO antennas. New support for 5G smart repeaters that can bring high-performance signals inside buildings or vehicles.
Release 18 is being finalized and will come to market on devices that will likely first ship in 2025.
After release 18, there will be several more 5G Advanced releases before 6G is slated to be defined in Release 21 towards the end of the decade.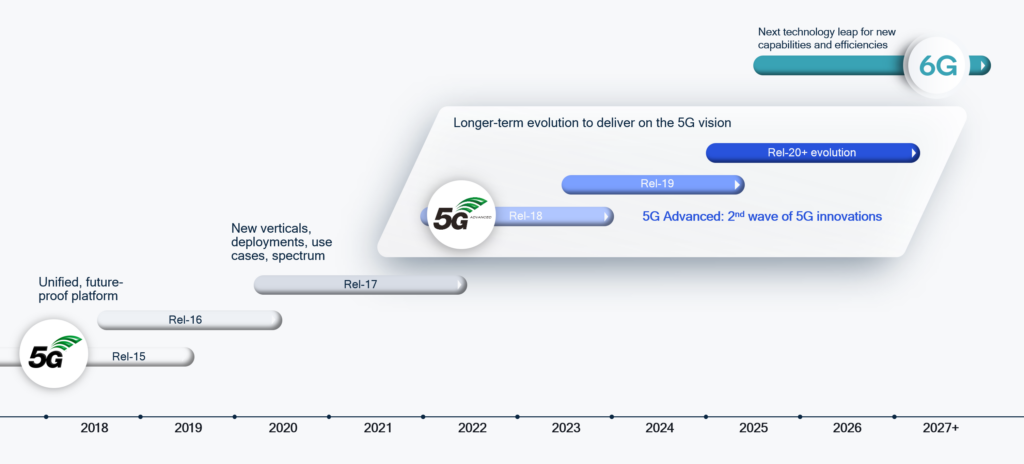 The Goals of 6G
The 5G standard will eventually enable cellular connections that can support peak theoretical speeds of 20 Gbps - while 6G standards will be designed to eventually enable peak theoretical cellular capabilities up to 20x faster, reaching a terabit per second by the time the 7G standard comes around 2040.
This performance should allow 6G networks to have 100x the capacity of 5G networks - delivering end-user connections that range up to 10 Gbps.
Also new in 6G is support for major new chunks of the spectrum, including the upper mid-band range from 7-24 GHz and sub-terahertz frequencies (100-1000GHz) beyond mmWave.
Qualcomm says the goal with 6G is to "more seamlessly merge the physical, digital, and virtual worlds," enabling a range of use cases well beyond what 4G or 5G is capable of.
The engineers working on 6G have to focus on what they estimate will be possible 15-20 years from now, so for now, much of this is science fiction and subject to significant change.
Can mmWave Ever Get More RV / Boat Friendly?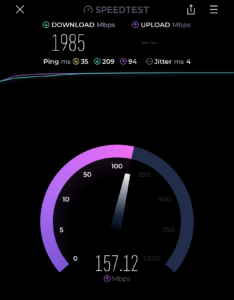 The great thing about mmWave 5G is that it can deliver absolutely amazing speeds that are akin to having a residential fiber connection hooked up to the heart of the internet.
However, the downside is that mmWave signals are extremely short-range, are easily blocked by walls and windows, and have other downsides.

For instance, mmWave modems need to be tightly integrated with mmWave antennas with extremely short cable connections, which means that mmWave is not feasible for cellular-integrated routers using external antennas mounted outdoors on an RV or boat.
But... why not just put everything outside?
We suspect in the future there will eventually be mmWave 5G options for vehicles that combine 5G modems and antennas into outdoor enclosures. But picking up the signal is not enough - technology also needs to evolve to better share a mmWave connection. There will need to be much faster routers and local wired and Wi-Fi networks that can actually take advantage of the multi-gigabit speeds mmWave will provide.
Also in the pipeline in the years ahead are smart repeaters that can take mmWave signals from outdoors and repeat them inside buildings and vehicles, allowing 5G devices inside the capability to connect as if they were outside.
We estimate these evolutionary steps will slowly arrive in a format designed for mobility - giving mmWave networks time to expand beyond urban cores while we wait.
Satellite - Direct to Cellular?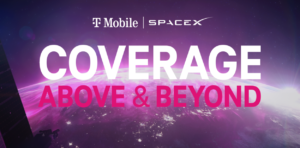 Another exciting technology still a few years away is cellular connections via satellite!
Several companies are developing satellite systems capable of communicating with normal 4G and 5G cellular phones, bringing a signal to anywhere with a clear view of the sky.
This system requires large and complicated orbital antennas - potentially thousands - to deliver 24/7 coverage. And because satellites are so far away compared to a cell tower and share spectrum with all cellular devices beneath them - do not expect broadband performance any time soon.
But this technology holds a very real potential to eliminate outdoor dead zones in the years ahead - allowing basic calling, texting, and modest-speed data (almost) anywhere on Earth.
In the USA, there are already several partnerships:
T-Mobile & Starlink
Verizon & Amazon's Project Kuiper
AT&T and Space Mobile
Space Mobile has already demonstrated its technology, and T-Mobile and Starlink are seeking FCC licenses to launch some test satellites in 2024.
And, of course, Apple has already deployed very limited satellite connectivity to every iPhone 14 & 15 via a partnership with Globalstar.
We'll continue to track these developments and share more details and analysis in our upcoming feature article on the state of satellite internet options in the near future.
How Long will 4G/LTE be Around?
With cellular networks evolving rapidly towards 5G and beyond, many people worry that their 4G devices will eventually become useless if 4G networks get shut down the way the 2G and 3G networks have over the past couple of years.
Rest easy - 4G devices will likely be supported for another 10+ years, if not longer.
5G was designed from the start to be an evolution built on top of 4G, and most 5G networks will likely always retain backward compatibility with 4G devices.
You can think of it like the evolution from VHS (3G) to DVD (4G) to Blu-ray (5G). There is no practical way for Blu-ray players to keep compatibility with VHS - but DVDs (and even music CDs) were designed with future evolution in mind. aBlu-ray players can easily maintain compatibility with these older formats (of course, now most of us stream video content and don't use physical discs).
So even once 5G is everywhere, expect some spectrum to remain set aside to keep 4G devices connected.
They might slow down over time as spectrum gets repurposed from 4G to 5G usage - but at least they will likely continue to connect for a very long time to come.
Concluding Thoughts
5G is now mainstream for mobile data users. If you want to upgrade your system or build a new mobile internet arsenal, there has never been a better time to consider 5G.
The 5G cellular networks are at last (mostly!) delivering a 5G experience that pushes beyond what 4G was capable of, and the coverage areas where you can find this level of next-generation performance is rapidly increasing.
Meanwhile, 5G hardware (including smartphones, hotspots, or routers) has never been more worthwhile.
But if you have already jumped on the 5G train with an X55-era device, don't feel compelled to quickly abandon that investment. There's no need to rush out and upgrade to newer Phase 2 modems immediately, especially if what you have is working for your needs.
After all, technology always keeps getting better, faster, and cheaper, and there will undoubtedly be something even cooler to get excited about next year.
Further Reading
And here is all of our recent 5G related coverage: