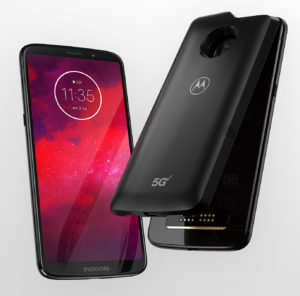 Fifth generation cellular technology is coming, and every carrier is cranking the hype machine up to eleven talking about how this amazing new technology has the potential to usher in dramatic improvements in connectivity - with insanely fast speeds and lower latencies that will usher in a whole range of new applications.
Verizon rushed to be "First On 5G" last October with an extremely limited fixed residential 5G rollout in just four cities. And then in late December AT&T just barely met their long-boasted target of shipping the first Mobile 5G device by then end of 2018, though the real launch to real customers is more likely to be targeting spring time.
And soon the 5G floodgates are expected to open - with a plethora of 5G devices (and plan details!) expected to at last be revealed over the next few months.
But every one of these devices are destined to be technological orphans from nearly day one!
Qualcomm today has announced its second generation 5G modem chipset that makes every 5G device launching in the first half of 2019 instantly obsolete.
As they say, only fools rush in...
The Qualcomm Snapdragon X55: A Practical 5G Chipset
All the first wave of 5G devices coming to market are based on the Qualcomm X50 modem chipset.
The X50 is a 5G-only chipset - meaning that every X50 device needs to have an entirely separate parallel 4G/LTE setup, adding substantial cost and complexity. Because of this, devices built using the X50 are inevitably large and power hungry - and despite this, the X50 only supports 5G technology on a relatively limited set of short-range cellular bands.
The X50 is also not able to operate on 5G-only networks (it always needs 4G/LTE to function at all), and it can not reuse existing 4G spectrum for 5G, meaning that its 5G coverage area will always be limited to dense urban cores where short-range millimeter wave 5G is being deployed.
The X50 may be a technological marvel - but it is best thought of as a very limited proof-of-concept to show what is possible with 5G technologies.
Qualcomm's new Snapdragon X55 modem chipset takes the X50, and aims to make it practical.
The X55 is a universal modem, supporting 2G thru 5G technologies across "virtually any band" allowing device makers to build devices that work across multiple carriers and around the world. It is also smaller and vastly more power efficient than the X50.
And most importantly - the X55 enables carriers to overlay 5G on top of existing 4G spectrum. This will allow carriers to quickly enable 5G across their existing coverage maps, letting the benefits of 5G spread rapidly as spectrum is repurposed from 4G to 5G usage.
And the X55 supports 5G-only networks too - not important for current carriers which already have 4G/LTE deployed, but potentially opening the door for new 5G-only carriers to emerge.
On the 4G/LTE front - the X55 is the first LTE Cat-22 modem, enabling peak theoretical speeds of 2.5 Gbps.
And with 5G technology enabled on the X55, peak theoretical download speeds of 7 Gbps and upload speeds of 3Gpbs are possible!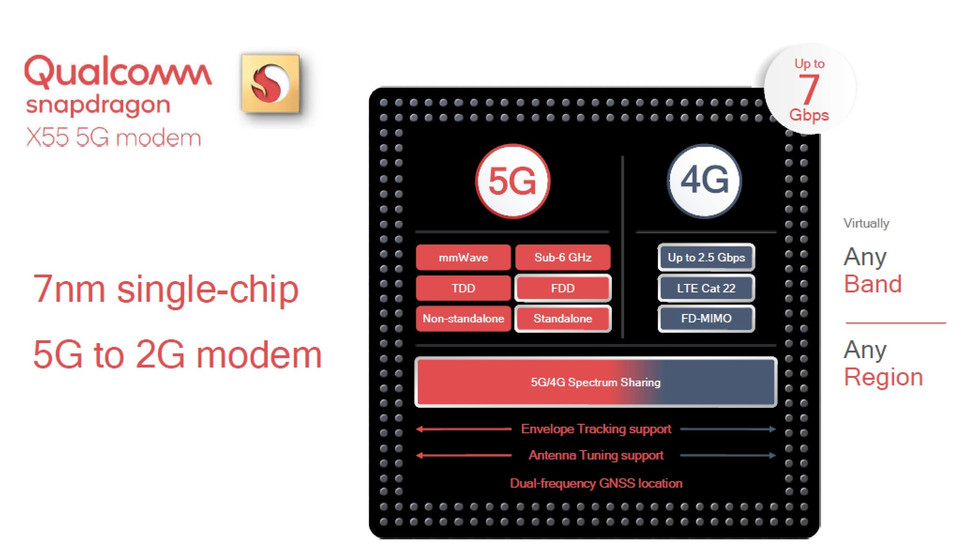 5G Advice: WAIT!
There will be a lot of noise surrounding 5G over the next few months - and we are all especially eager to see what sort of plan pricing and data limits emerge in the 5G world.
But unless you really enjoy being on the bleeding edge, resist the temptation to jump onto any of the first wave of 5G devices that come to market this year!
Only devices launching in late 2019 will feature the Qualcomm X55 modem, and the first wave of devices will very quickly feel like dinosaurs.
But 2020 is likely to be the year where 5G really starts to go mainstream and becomes worth paying attention to. We may even see 5G modems integrated right into mobile CPUs by late next year - allowing the benefits of 5G for very little additional cost over regular cellular devices.
So we still have plenty of time to wait. Until then, sit back and enjoy the show.