The classic weBoost / Wilson Electronics "trucker" antenna had a solid reputation back in the dual-band days of 2G and 3G cellular - and it was installed on many RVs over the years.
But like most older antenna designs, the Wilson RV/Truck antenna was optimized only for the 850MHz cellular and 1900MHz PCS bands.
In other bands, especially the critical LTE Band 4, the old Trucker actually had a negative gain - making signal reception potentially worse than with no antenna at all.
weBoost made no secret of this weakness, saying that using the old trucker for data was a bad idea:
"We try to stick with the 4'' mag any way we can, because many of our trucker/rv antennas are not great with data. They help with the voice, but we hurt data."
weBoost (then known as Wilson Electronics) has been teasing about a 4G-optimized sequel to the trucker for years now - at one point promising a new antenna by the end of 2014, and then in early 2015 when the weBoost Drive 4G-X booster was announced weBoost even teased an image of a new antenna bundled in an RV kit - only to seemingly cancel the bundle in April 2015 saying:
"that kit is likely to be another year out or so."
But after years of delays, it looks like the time has come at last for a new generation of weBoost trucker antenna!
Introducing the weBoost 4G-OTR RV & Truck Antenna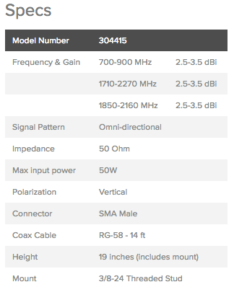 The new Truck & RV 4G cellular antenna is a classic omnidirectional shaft-mounted design that does not require a ground plane. It comes in two variants:
Model 304415

- Has a 19" total height and a spring-mount base to allow for some give if it strikes against something.

Model 304414

- A rigid 24" tall shaft, primarily intended to mount on the side mirror of a big truck.
Other than the shaft height, both antennas are identical - with a 14' antenna cable (with SMA ends) and 2.5dBi to 3.5dBi rated overall gain across all the key cellular frequency bands. They also include a three-way mounting bracket that can be bolted to a wall, or clamped onto a horizontal or vertical pipe.
The list price for the 4G-OTR is $99 - an increase from the $79 price of the old design, but still relatively affordable.
These new antennas should be a great drop-in replacement for any places that the old Wilson trucker antenna is installed, and they should also pair nicely with any of weBoost's 4G cellular boosters.
We should be getting one of these new antennas in for testing soon, and we are eager to see how much of an improvement it can deliver over using the stock stubby antenna that comes with the weBoost boosters.
TIP: Do be aware that at 19" tall - this antenna will be a challenge to mount on many RV roofs, but it should be a good match for rear ladders or clamping to a flagpole
Getting a 4G-OTR Trucker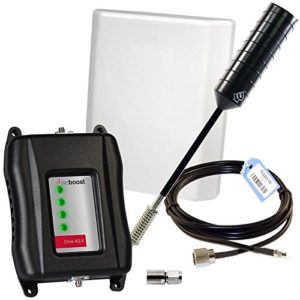 The 4G-OTR is just starting to show up in stock and for sale at various online retailers (like Powerful Signal, UberSignal, 3G Store, and Wilson Amplifiers), as well as on the weBoost site.
Amazon isn't expecting inventory for 2-4 weeks, but they have a great pre-order price of just $58.38 right now:
It appears that various "RV Kit" cellular booster packages are being updated by resellers to now include the 4G-OTR antenna in the bundle, and we would not be surprised to see an official booster / antenna bundle kit put together directly from weBoost too.
If you are tempted to buy a bundled booster kit from a reseller, make sure that you are getting a package featuring the new 4G antenna and not the old dual-band trucker!
June 23 Update - weBoost Drive 4G-X OTR Kit Release: weBoost has sent us their new 4G-X OTR kit, which will be shipping with the 24" rigid non-spring mounted 4G Trucker antenna. This is not as ideal for RV applications & installation. At this time, if you want the new 4G Trucker/RV antenna - we recommend purchasing the 4G-X and spring mounted 19" antenna separately.
Further Reading: