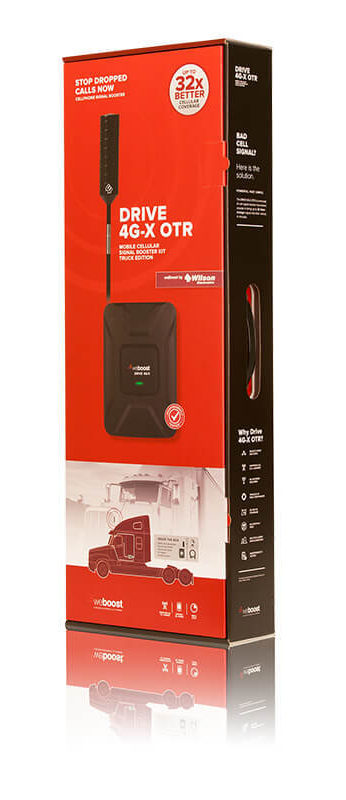 weBoost today announced a new official "Truck Edition" bundle that combines a new version of the Drive 4G-X booster (one of our current top picks) with the newly announced 4G-OTR RV & Truck antenna.
weBoost is clear in their announcement that this is a package targeted at long-haul truckers, saying:
"Whether truckers are driving Atlantic Salmon to the Midwest, California avocados up north or a special holiday gift cross country, they depend on a reliable cell signal to do so successfully. It keeps them connected, entertained and on-track. The Drive 4G-X OTR is carrier agnostic, so the booster will successfully amplify signals for Verizon, T-Mobile, Sprint and AT&T users alike, allowing everyone to stay connected. It simultaneously amplifies voice and data for devices operating on 3G, 4G LTE or legacy bands."
At first glance this may seem to be an ideal package for an RV installation as well, but there are a few potential downsides to be on guard against.
The "New" Drive 4G-X Booster
The first thing of note is that the newly revised Drive 4G-X booster looks substantially different than the model that has been out for a year - with just a single global status LED rather than four distinct LED lights which indicated the status for each LTE band individually.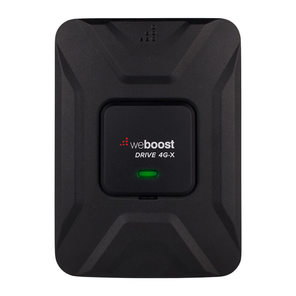 We reached out to weBoost, and after some back-and-forth we got confirmation that there has only been a cosmetic change in the booster design:
"The new 4G-X is exactly the same as the previous 4G-X in terms of performance. This was a case change only. We still use the previous FCC certification as well since there was no change to the inside of the unit (therefore we will still use the same part number).
We went to one LED to simplify things for consumers. This was not an FCC mandated change."
It is good to hear that this change is not being forced by the FCC, and that the booster should perform identically.
But this IS a step backwards for advanced users who will now have no way of knowing which LTE bands might be having degraded performance.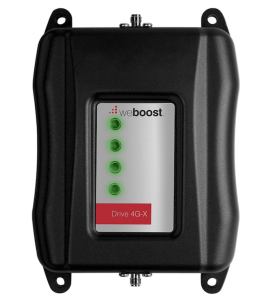 In our experience, it has often been very handy to get feedback about what LTE band is having trouble in a given location. We often see this in areas where one carrier has a strong signal from a nearby tower, and another has a very weak signal but on a different band. If we are focused on connecting to the weaker cell tower, we know that we can ignore the flashing red oscillation alert coming from the stronger tower.
weBoost tells us that now the LED flashes from all the bands will be combined into a single LED. If only one band is experiencing degraded performance, the booster will alternate between showing solid green and flashing red - but you will have no way of knowing which band is at fault.
If having this information is important to you - it may be in your best interest to seek out a Drive 4G-X manufactured before June 2016 while you still can, though this may be increasingly difficult as current stocks get depleted. We've had several reports of the new style being shipped from retailers, even if their own photos still show the old version.
The "Truck Edition" Bundle
The new 4G-OTR RV & Truck antenna comes in two different versions - a 19" tall model with a spring-mount base to allow for some give if it strikes a tree branch.
Or a 24" tall solid shaft model primarily intended to mount onto the side mirror of a semi truck.
Not surprisingly - this new "Truck Edition" bundle from weBoost includes the taller rigid antenna.
If you want the spring-mounted antenna, you will be better off buying the booster (with the default stubby antenna) and 4G Trucker Spring antenna separately (Amazon links).
weBoost tells us that they have no current plans for an official "RV Edition" bundle - but several resellers seem to be filling the void with unofficial bundles of their own.
But if you do want the bundle with the tall rigid antenna - it is available as of today for $549 from the usual list of weBoost retailers - including Amazon and from weBoost directly.
Video Unboxing
weBoost sent us the new Drive 4G-X OTR "Truck Edition" kit a few days before it was announced, so we've already had a chance to film a quick video unboxing (direct Youtube link), sharing our first impressions:
We'll soon be testing the new Drive 4G-X along with the new 4G Trucker Antenna against the older Drive 4G-X and stubby antenna, and as always we will be sharing our results first with our premium members first.
Read More: