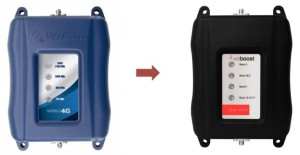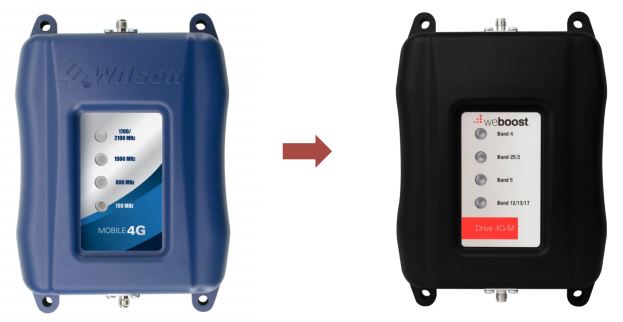 Cellular booster manufacturer weBoost (formerly known as Wilson Electronics) unveiled its new website and product line today, as promised.
As expected - most of the product line is just a new weBoost skin on the old Wilson boosters, but there seems to be a truly new mobile booster "Coming Soon" that may be destined to become the new best choice available for RVers.
Detailed specs on what makes the weBoost Drive 4G-X different than the Drive 4G-M (which is the rebranded Wilson Mobile 4G - and our current top cell booster recommendation) have not been published yet, but weBoost describes the new booster like this:
It offers stronger cellular connections by operating with the maximum output power allowed under current FCC regulations, extending your service range up to 60% farther than other boosters on the market.
The Drive 4G-M and Drive 4G-X support the same LTE frequencies (LTE bands 2,4,5,12,13,17,25) and are both listed as having a 50dB maximum boosting gain (the legal FCC limit for a mobile booster), but the key difference seems to be in transmit power back to the cell tower.
I asked weBoost for clarification, and this is all they would say right now:
The 4G-X has a little more power headed back to the tower - it is about .5 or a watt higher power back to the tower.
Comparing the specifications - I do notice that the 4G-M is rated to use a 15W power supply, while the 4G-X requires 40W - so it clearly has more power to work with.
Pricing and availability are a bit unclear - the weBoost website only lists "coming soon" with a price of "$0.00" right now. I asked weBoost support for more information, and their best guess was that the Drive 4G-X would not be available for at least an additional 4-8 weeks, and that the 4G-X will end up priced $50 - $100 more than the 4G-M.
The New weBoost 4G Cellular Booster Lineup
Here is the new weBoost lineup:
Though the Home & Connect boosters are not certified by the FCC for mobile use and may be too powerful to avoid oscillation when mounted on an RV, some mobile users will still try them, and they may work fine in a large RV. Your mileage will vary.
An RV Kit - At Last!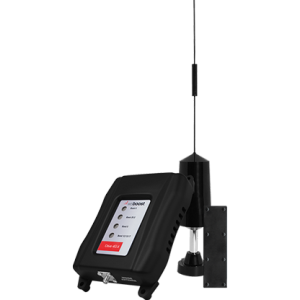 Way back last June we ran a story about "Better RV Antennas Coming from Wilson Electronics" - and it looks like they are at last going to be making it to market.
The weBoost website now features a "coming soon" page for a Drive 4G-XR (RV) kit - which appears to be the powerful Drive 4G-X bundled with a new RV-optimized rooftop antenna!
Presumably the antenna that comes in the Drive 4G-XR kit will also be available separately as well, but the new weBoost antennas page has not been updated with specifications or other details yet.
weBoost also has a Drive 4G-XR (Marine) kit announced too, with an antenna that might be appropriate for RV use mounted to a flagpole or other retractable mast.
Pricing and availability details for the RV and Marine kits have not been released.
Boosting in the Great White North
One other interesting tidbit I discovered surfing the weBoost site - the weBoost Drive 4G-S, Drive 4G-M, and Drive 4G-X are listed as being "FCC & Industry Canada Certified" - meaning that weBoost boosters will work with Canadian cell carriers and will be legal to use north of the border.
In the past not all US boosters were certified for use in Canada - so it is nice to see that in the future travelers heading north with these boosters will not need to worry about being in a legal grey area.
Changing Our Booster Recommendations?
As soon as we can get our hands on a Drive 4G-X we intend to test it thoroughly to see how it compares to our current top cellular booster pick - the Wilson Mobile 4G.
And we are especially interested in taking a closer look at the Drive 4G-XR kit and its new rooftop antenna.
For the time being - unless you see a good deal on the older Wilson branded models being discontinued and cleared out, now is probably a good time to hold off on booster purchases to see if the 4G-X is worth it.
Related:


Wilson Electronics Rebrands As weBoost
Comparison of Wilson's Cellular Boosters - Sleek vs Mobile 4G vs DT
Cellular Booster Testing: New Wilson Sleek & Mobile 4G vs pre-2014 Boosters (MIA Exclusive Content)