Key Points:
Verizon's "new" postpaid consumer smartphone plan lineup adds features for the same pricing as their prior options, bringing them in line with competitors AT&T and T-Mobile.
Verizon's top-tier "5G Get More" plan takes the crown for the most personal mobile hotspot data (50GB) available standard in a consumer postpaid smartphone plan. AT&T's Unlimited Elite and T-Mobile's Magenta Max offer 40GB.
Taking advantage of Verizon's forthcoming C-Band network will require a compatible device along with one of these plans. Compatible devices include Apple's 5G iPad, iPhone 12 and 13, and Samsung's Galaxy S21 line, Z Flip 3, and Z Fold 3.
On January 4, Verizon announced some consumer, business, and home internet plan changes as part of its upcoming plans to launch a new C-band network that will greatly increase Verizon's 5G network capacity. The plan changes went live today. The C-Band launch has been delayed for at least two weeks (see our story here for more on the C-Band drama).
Verizon's new C-Band mid-range 5G coverage will be classified as part of their Ultra Wideband coverage (UW), being treated similarly as their mmWave coverage for billing purposes from their Nationwide (NW) longer range low band coverage.
Verizon stated in the announcement that C-band will launch later this month and promises that
"...more than 100 million people in 1,700-plus cities around the nation will have access to speeds up to 10x faster than 4G LTE via Verizon 5G Ultra Wideband network."
Even though C-Band is a very big deal, Verizon's plan changes are more iterative than revolutionary and are designed to take advantage of the increased network capacity that C-band will give to Verizon's network.
For more background on C-Band, see our previous news coverage of this topic.
Video Version
Consumer Plan Changes
Verizon's consumer postpaid smartphone plan lineup is largely staying the same, with the same four tiers of service that currently exist but with slightly different names.
Here is the "new" plan lineup:
5G Start
5G Play More
5G Do More
5G Get More
The lowest tier plan, 5G Start, is unchanged from the previous iteration, but the other three tiers are getting some improvements, all with no increase in price.
Consistent with these "new" plans being tweaks, Verizon is already sending out notifications to existing customers of the previous versions (August 2020 version) of these plans that they will be automatically upgraded to the new plans and terms in two billing cycles.
More Mobile Hotspot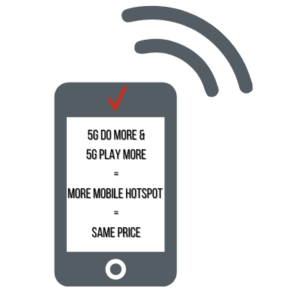 The biggest changes are increased mobile hotspot allowances for the three upper-tier plans. Verizon gets to make the claim that they now offer more personal mobile hotspot than any other carrier - but only on consumer plans. The other carriers offer consumer smartphone plans with 40GB of high-speed hotspot data; Verizon's 5G Get More plan now offers 50GB of mobile hotspot.
5G Start: No change (includes no mobile hotspot use)
5G Play More and 5G Do More: 25GB (increased from 15GB)
5G Get More: 50GB (increased from 30GB)
One major perk over the other carriers is that once these thresholds are crossed, mobile hotspot speeds are reduced to 3Mbps when on 5G UW (Ultra-Wideband) and 600 Kbps when on 5G NW (Nationwide) and 4G LTE. The other carriers hard throttle down to pretty unusable speeds.
However, one major downgrade is that Verizon is changing its mobile hotspot terms for the 5G UW network. Up until this point, plans that had 5G UW access as part of the plan or as an optional add-on, enjoyed unlimited mobile hotspot on 5G UW with no threshold or throttling. With these new plan options, that is changing, and the unlimited hotspot is going away for legacy plans as well.
The newest version of this plan offers unlimited UW mobile hotspot that is slowed to 3Mbps after 50GB of mobile hotspot usage. For older plans, the 5G UW hotspot threshold before throttling will be set to the plans 5G NW / LTE hotspot threshold.
Verizon told PCMag, that mobile hotspot caps will be enforced for the 5G UW network on new and legacy plans. As reported in the PCMag article:
Verizon's new 5G plans will radically expand the availability of the company's fast "ultra wideband" network, but at the cost of unlimited high-speed hotspot use.

The carrier confirmed to PCMag that later this month, hotspot data allowances will start to apply to subscribers on the carrier's fastest 5G network. This change will apply both to people on existing plans and those on the carrier's new plans, the carrier said.
Ars Technica reported the same thing and noted that this change will also apply to the older "Beyond" plans where 5G UW access could be purchased for $10/month.
Premium Data
The top-tier "5G Get More" plan now includes unlimited "premium data" which means there is no deprioritization for on-device data use. Previously, the Get More plan was deprioritized after 50GB of data use (prior to August 2020, Get More offered 75GB until deprioritization.) This brings their flagship plan in line with what the other carriers are offering.
The other plans remain the same as the previous versions regarding premium data:
The 5G start plan continues to have all data subject to deprioritization
5G Play More and 5G Do More get 50GB of premium data before deprioritization
Streaming, Entertainment, and Travel Perks
Verizon made a few other changes to streaming and other perks.
Streaming
Verizon implemented updated streaming speed caps for some of these plans.
5G Start is unchanged and capped at 480p streaming.
5G Get More, 5G Play More and 5G Do More have the following streaming limits:
While on the 5G UW network, streaming is at 720p standard, but customers can activate 4K UHD streaming.
While on the 5G NW or 4G/LTE networks, streaming is at 480p standard, but customers can activate 720p.
Customers can activate the higher-resolution streaming for a specific line using the My Verizon App or by calling Verizon customer service.
Entertainment Changes
As an added perk, the 5G Play More and 5G Get More plans will now include Apple Arcade or Google Play Pass as a standard feature - previously Verizon only included them free for a single year. The Disney bundle is still included with 5G Get More and 5G Play More indefinitely too.
Free Travel Passes
On the 5G Get More and 5G Do More plans, customers get one free international travel pass day per month. These are normally $10/day. Customers can also "bank" up to 12 months of these free travel passes which can make annual overseas trips much more affordable.
Mobile Hotspots, Tablets, and Routers
Earlier this year Verizon rolled out new data plans for mobile hotspot devices and routers - now offering options with up to 150GB of high-speed data usage per month. They offer discounts when these plans are added to unlimited smartphone plans.
With these new smartphone plans, Verizon made no changes to the plans for mobile hotspot devices, routers, and tablets.
For more on the options available for these devices, refer back to our coverage when these plans came out over last summer:
Verizon Launches New Postpaid Data Only Plans – Up To 150GB for $80/month
5G Home and Business Internet
Verizon is also making a bigger push to compete with landline ISP's like cable, DSL, and Fiber thanks to the upcoming increased capacity that C-Band will offer. Changes here include discounts for fixed cellular internet service for both consumers and businesses. The consumer home service now comes in two tiers called "5G Home" and "5G Home Plus." Verizon's Home Internet service will be offered in areas that don't have Verizon Fios landline service - with C-band coming online, the available areas will likely expand.
Verizon 5G Home Internet is not intended for mobile use. See our original news story regarding Verizon Home Internet for more information on the rollout and mobile prohibitions of the service.
A 5G business version is also available but, like the home internet service, it is not designed or intended to be mobile and also requires professional installation. For that reason, we do not consider these options useful as a mobile home-internet replacement. Verizon does however offer LTE Business Internet plans that are mobile-friendly, offering 300GB of speed-tiered data for as low as $69/month - there are no changes to these plans at this time.
However, part-time nomads who live in an area serviced by 5G Verizon Home or Business Internet could take advantage of the 50% bundling discount with one of these updated smartphone plans.
Should you Upgrade?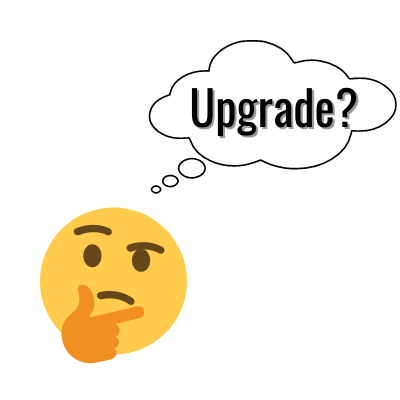 If you're on the most recent Mix n Match version of these plans (launched in August 2020), then you don't have a choice - Verizon will upgrade customers to these newer versions automatically within two billing cycles or you can upgrade sooner manually (Verizon's FAQ has more details). Verizon is already sending out notifications to customers of this update, and a banner notification has been placed in the account section of customers with these plans.
Considering most of the plan changes are improvements with no increase in price, it may seem like this is a total upgrade. However, one downgrade that may impact some is the loss of unlimited full-speed hotspot data when on 5G UW. 5G UW mobile hotspot will now be capped at 3 Mbps after exceeding the new 50GB limit.
For those on the first version of these plans that were available prior to August 2020, as well as older legacy plans, if you like your plan as is, you get to keep it - Verizon is not forcing you to switch. But it might be advantageous to do so. The fact that Verizon is retroactively changing legacy plans to no longer have unlimited, unthrottled 5G UW mobile hotspot makes these legacy plans much less attractive since they carried lower mobile hotspot limits than the current plans.
Overall, you'll need to compare the features you currently have to the new alternatives. For most nomads who are looking to maximize mobile hotspot data or priority on-device data, these new plans are definitely worth looking at. However, if you qualify for a business account, definitely look into the options the carriers offer - you can get up to 100GB of high-speed mobile hotspot for around the same price point.
And with C-Band coming online - hopefully soon - having a plan that has access to Verizon's 5G Ultrawide Band network will become a bigger deal than it has been. For more on the impact of C-Band, see our news coverage.
Switching can be done online or with the MyVerizon app - or by calling a rep or visiting a store.
Comparison to AT&T and T-Mobile
Verizon's new plan updates make Verizon consumer smartphone options competitive with those of AT&T and T-Mobile. The 5G Get More plan now offers the most high-speed mobile hotspot data available in a consumer smartphone plan.
All of the carriers also offer business versions of these plans with higher hotspot limits that are worth considering if you can qualify for a business account.
Use our chart below to compare options from each of the carriers:
For more information:
Updates Made to our Content & Relevant Resources:
Related Updates: