Lots of Data for Hotspots, Routers, Phones, and Tablets
Many RVers, cruisers, and nomads need a LOT of cellular data to keep connected in their travels. They seek a home internet replacement so they can work remotely, learn online, stay in touch with loved ones, and keep entertained.
They want data plans that allow hundreds of GBs of data a month for video streaming, conferencing, broadcasting, handling large files, gaming, and basically being online just as you would from a hard wired cable connection.
Most carrier direct cellular mobile plans are designed for temporary use when traveling away from the home or office and are not intended as a home internet replacement.
So while all of the carriers proudly advertise unlimited data plans, they are typically using "unlimited" with some important caveats or restrictions, to try to limit customers from using traditional cellular services to replace their home or office internet.
As 5G networks have matured, the major carriers have started offering home cellular service in places they know they have the network capacity to support it. Of course these home (or business) services also come with caveats and are not intended for mobile users.
Despite the many caveats, there are options out there for getting a lot of cellular data, and this guide is focused on helping you assemble your arsenal around the realities of the plans available and your needs.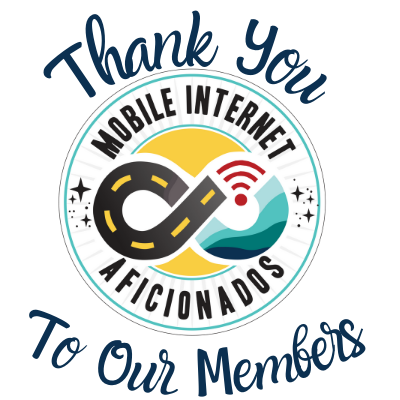 If you're a member, please log in above to access the exclusive portions of our content.
It is with huge gratitude to our members & supporters for making the free content on our site possible. We're not sponsored, you'll find no 3rd party ads and we don't sell 'stuff'.
Our members get exclusive access to our in-depth content, classrooms, vendor discounts (that can save you more than membership!), alerts, insider info and interactive guidance.
If mobile internet is an important part of your lifestyle, consider helping make MIRC possible. 
---
Getting Lots of Cellular Data Video Overview
A quick video overview recapping the way to get a lot of cellular data for use on smartphones, tablets, hotspots, and routers:

---
Understanding Cellular Data Plan Limitations
Many plans come with "gotchas", and it's important to understand what to look for in a plan to make sure it will meet your needs.
And these gotchas are most prevalent on plans advertised as "unlimited".
Your inner voice is probably saying "Unlimited should mean unlimited...." But cellular carriers today have conveniently redefined the term to basically mean no overage charges. Or will use it as a marketing term for very specific purposes.
Here's our video going over some of these restrictions that are frequently part of "unlimited" plans:
There are several common restrictions used by carriers, like throttling, network management, and tethering, that are frequently found in unlimited and tiered data plans on the market:
Throttling
Throttling is when a data plan has terms that limit data speeds, usually at a low level. Throttling might always apply, or it may kick in after a certain amount of data is used, or when used for a certain function or activity.
Check to see if the plan you're researching has any stated hard throttling, which would typically be expressed as a speed cap - e.g. "5 Mbps (Megabits per second)" or "2G Speeds". Some plans clearly define this, while others force you to dig deep into the fine print. But we've already done that work, so you can use our Gear Center entries for data plans to check these terms.
Here are some examples of throttling:
Some plans might slow you down to super slow speeds after using a specified amount of data.
Some plans include unlimited use on the device, but only a set amount is available for high-speed use as a personal mobile hotspot to get other devices online.
Other plans might offer unlimited mobile hotspot, but only at a limited speed.
Some unlimited and high cap data plans are sold in speed tiers - paying more buys faster data speeds.
Video throttling is frequently handled differently and has its own dedicated section below.
Priority Data and Network Management
Some plans may state specifically how much high-priority (or premium) data you get before you might experience slower speeds when on a congested tower. Some plans, such as starter or prepaid plans, are always a lower priority than higher-priced plans.
Carriers use network management policies to prioritize data on their networks, particularly when the cell tower becomes congested. On a congested tower, some data plans will have higher priority data (which means faster speeds) compared to other users. When a tower is congested, everyone suffers from slower speeds - but plans with a lower priority might be slowed down when compared to higher priority customers. And there isn't a set speed - it's dependent upon the current congestion on the tower. Once the tower is no longer congested, full speeds should resume for everyone.
Depending on the level of tower congestion, you might not even notice it. But on a very congested tower, deprioritization from network management can slow data to a crawl or feel like the internet has gone away.
Priority Data is Like the Carpool Lane

Think of it as if you were driving on a highway that has a high occupancy / car pool lane. During normal to light traffic, all lanes travel at full speed.

But during rush hour, if you qualify to use the car pool lane, it's beneficial to avoid the bumper to bumper traffic in the 'normal lanes.' But sometimes the highway is so congested that even the car pool lane is sluggish.

Lower priority data is like this - if you're subject to it, you can't use the carpool lane during rush hour and are stuck in the slow lanes.
Mobile Hotspot / Tethering Restrictions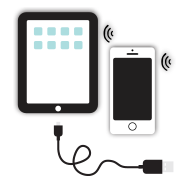 Mobile hotspot is a feature where cellular data from a phone or tablet can be an internet source for other devices. Mobile hotspot allows laptops, streaming devices, and other gadgets to get online using cellular data shared from a smartphone or tablet.
The hotspot capability found on carrier-direct unlimited smartphone and tablet plans assume you have an alternate primary internet provider for most online activities- such as cable, fiber, or DSL at home or the office.
The carriers do not want their customers using traditional cellular plans to replace those sorts of connections - which is unfortunately precisely what many nomads need.
Two Ways for Phones/Tablets to Provide Data to Other Devices
Personal Mobile Hotspot is using a smartphone or tablet's cellular connection as a modem to other devices (like laptops, tablets, or streaming devices) online by creating a Wi-Fi hotspot from the smartphone or tablet device.
Tethering is the same thing, but instead of using Wi-Fi, a USB cable directly connects the phone/tablet to a computer or other device.
Both USB Tethering and Wi-Fi Hotspotting are treated the same by the carriers in terms of how data use is categorized.
Mobile hotspot/Tethering is a great feature, but unfortunately, most smartphone and tablet unlimited data plans limit how much data can be used for hotspotting/tethering at high speed. Once this high-speed threshold is reached, hotspot/tethering data is often slowed down to nearly unusable speeds or even turned off. Some smartphone and tablet plans don't include any high-speed hotspot data or tethering usage at all.
Video Throttling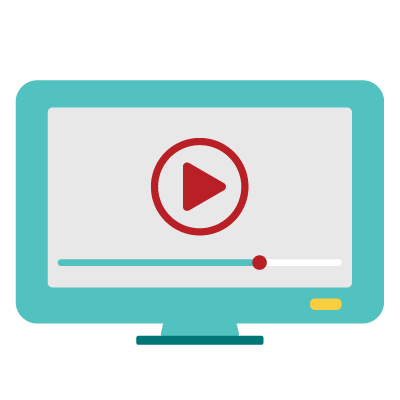 Streaming video over the internet is one of the most data-intensive things people do on the internet. The carriers have been trying to capitalize on that demand while managing their resources.
Did you know that one hour of streaming 4K video can consume 7GB of data? That's a lot of data!
Except for flagship high-priced unlimited plans, many plans restrict video resolution to save data and reduce the strain on their networks. That restriction might be at 480p, 720p, or 1080p to save the carrier and/or the customer on bandwidth.
In some cases, video throttling/resolution depends on the network being use: a plan that includes both 5G Ultra wideband and 5G Nationwide / LTE network access may have different video throttling speeds depending on which one you are using at the time.
Check out our guide to TV & Entertainment on the Road for more details on utilizing cellular data for video streaming, including the best practices for legitimately getting around your mobile hotspot cap to view video on a larger TV screen.
At present time, most carriers do not subject video conferencing (like Zoom or FaceTime) to any such restrictions. However the quality of your experience may be affected by network management, etc. Check out our guide on Video Conferencing for more information about the data demands of this activity.
Device Restrictions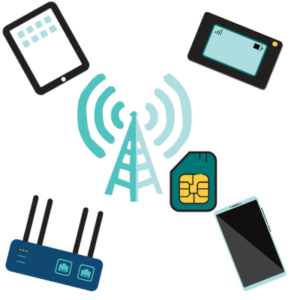 Most data plans are sold specifically for smartphones, tablets, or data-only devices - and they aren't interchangeable. For instance, an unlimited data plan for a smartphone won't work as an unlimited plan in a cellular router.
Most plans are intended for and restricted to specific types of devices. There are also plans for particular classifications of devices, such as Connected Car data plans, which might offer unlimited data, but only via a built-in vehicle's hotspot that will work only while the ignition is on. Or some plans are tied specifically to a single device sold with the plan, and won't work even if you swap the SIM card to a similar device.
Research device restrictions carefully when selecting which plans will become part of your arsenal, to make sure the plan will support the devices you want to use.
Home Internet Plans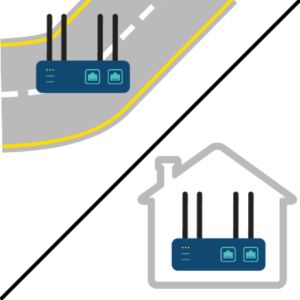 Many of the carriers are offering home internet cellular-based plans that include unlimited or high data caps. These plans are typically only offered to particular markets, where the carrier has enough capacity to serve the needs as a home internet replacement.
Because the carriers don't have the nationwide cellular capacity to be a home internet provider, these plans specifically state that service is for a fixed single location only and can't be moved. Using them away from your home location likely violates its terms of service.
In other words, these plans are not intended for mobile use like an RVer or boater might want.
Fair Use Policy
Even if you find a plan that doesn't have many stated limitations, most plans in the fine print have some sort of "Fair Use Policy" in place.
And while these policies may not have firmly stated hard-capped limits, it gives the carriers and resellers leeway to restrict usage for those who are using more data than the average customer.
On many unlimited plans, you're probably fine using a couple hundred or even a few hundred GBs of data a month unless otherwise stated. But if you start exceeding that you put your own plan at risk of throttling or even termination.

And if too many customers are using excessive amounts of data, that's when the carriers might take action. And, with 3rd party resellers in particular, concentrated heavy usage is what puts vendors on the carrier's radar for finding and shutting them down.
Keep in mind, even some wired home internet options now come with thresholds in the 1TB range.
If you're using that much data over cellular, you're on your carrier's radar.
In February 2022, the FCC announced plans for a Consumer Broadband "Nutrition" Label (after it was mandated to do so by Congress) that will provide a standardized template for tracking features and limits of data plans, and could potentially make comparison shopping plans much easier.

As of mid-2023, this program is still not fully implemented, and in some cases, still receiving pushback from broadband companies for having onerous reporting requirements. We continue to follow this story.
---
Using On-Device Data
So, now that we know even plans advertised as unlimited might not exactly deliver the sort of data a nomad might want in their arsenal, how do you go about getting a lot of cellular data?
Many carriers do offer plans they advertise as unlimited, especially for smartphones and tablets. These plans tend to come with hard throttling limitations for mobile hotspot use. Using hotspot off of a smartphone or tablet can be a workable situation for those with basic needs, as a backup option, or for use when away from the RV or boat.
A tablet or smartphone can play an important role in a mobile internet setup if you know how to use the plan to your advantage - and that's tapping into the part of your "unlimited" plan that is unlimited: the data you can use directly on your device.
Unlimited Smartphone and Tablet Plans
First, let's go over the options for unlimited plans for smartphones and tablets.
This chart offers a quick comparison summary of the limitations and pricing for the carrier direct unlimited postpaid plans offered for smartphones - with the data devices that can be added on:
A cellular-enabled tablet can be a great component to a mobile internet arsenal, and all of the carriers offer affordable unlimited data plans for them.
Unlimited data plans can often be added onto a smartphone plan for as little as $20/month, and some carriers even offer them as standalone options.
For full details on each carrier's direct unlimited plan policies, click on the carrier you're interested in to view all of the current postpaid plan options offered:
Prepaid, MVNOs & Resellers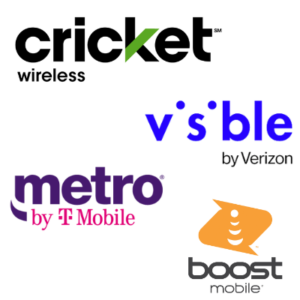 The major carriers have their own prepaid subsidiaries that they utilize to target niche markets, and there are countless resellers, both official and unofficial.
You'll find that prepaid and MVNO brands may advertise unlimited data plans, particularly for smartphones and tablets. But be sure to read the details of the plans for restrictions outlined above - including network management, mobile hotspot use, video throttling, and more. Prepaid plans often have more "gotchas" you'll want to be aware of.
You may also find that there are restrictive fair use policies on these styles of discounted plans.
You can shop for prepaid and MVNO plans in our Gear Center:
Cellular Data Plan Gear Center
Cellular Enabled Tablets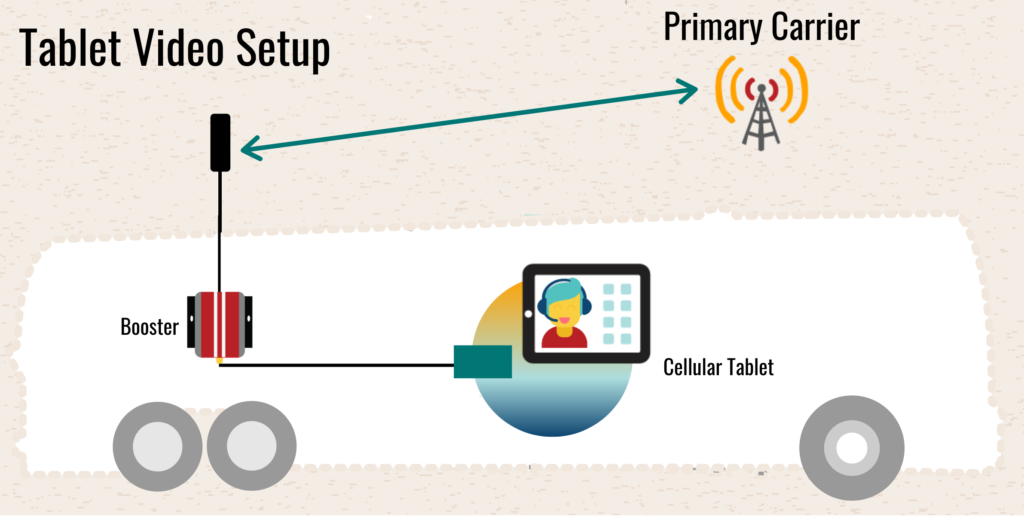 A cellular-enabled tablet like an iPad or Android device can play a key role in a mobile internet arsenal. There are even some laptops on the market with embedded modems.
With a built-in camera and microphone, you can use video conferencing apps like Zoom, Microsoft Teams, or GoToMeeting for interactive video conferencing all in one device. You can even do live broadcasts and webinars to YouTube Live, Facebook, and more.
Paired with a Bluetooth keyboard and perhaps a stand, a tablet can perform many functions of a laptop enabling handling e-mail, web surfing, social media, and even creative pursuits like video production. A tablet's large screen can also be a great way to watch videos online.
The advantage here is that all these activities use the unlimited on-device data without needing to rely on high data cap hotspot plans. This can be a very effective way to tap into an affordable unlimited data plan and offload a lot of your data usage.
The downside of using a tablet or smartphone is that your options for getting a better cellular signal are limited. These sorts of devices don't have antenna ports for use with external antennas, so the only option is a cellular booster, which has its own downsides.
For more on selecting these devices, visit our Consumer Connected Device Selection: Smartphones, Tablets, and Laptops Guide.
Video Screen Mirroring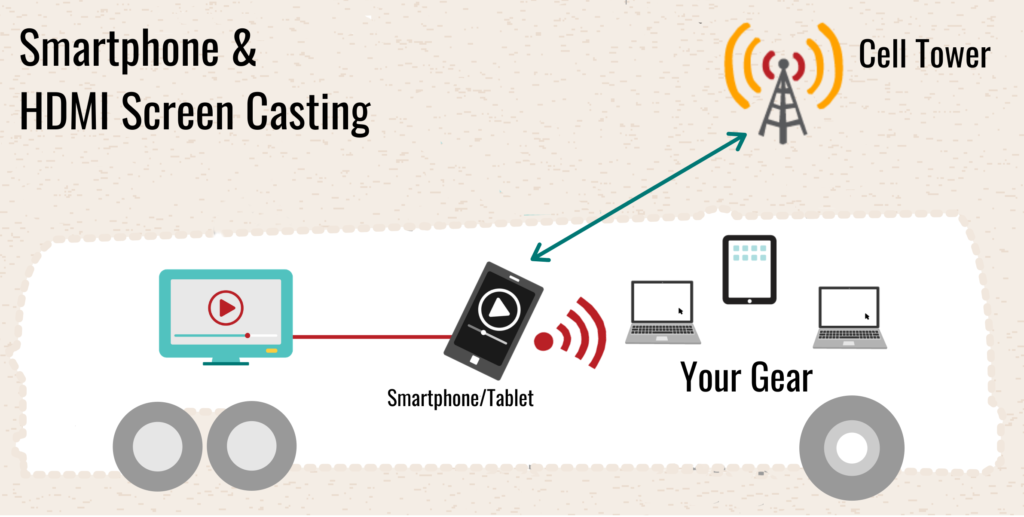 Another great way to offload a lot of your hotspot data needs and utilize on-device data is to use your smartphone or tablet to stream video by directly connecting it to a TV. Many apps and devices (but not all) support using an HDMI adapter or a wireless alternative to mirror or cast the video to another device while still using your phone or tablet on-device data. Many popular video streaming apps like Netflix, Hulu, and Amazon Prime support this feature.
When you mirror your screen on your smartphone or cellular-enabled tablet to a larger TV screen in this way, you are still using your unlimited plan's on-device data. Just be careful, some methods do not actually mirror the video, but instead transfer the video play requests to your smart TV player. These devices then use whatever internet source they are connected to instead of your tablet or smartphone on-device data.
For more on understanding this handy trick, head on over to our Video Streaming: TV, Movies and Entertainment on the Go Guide.
---
Lots of Cellular Data for Hotspots and Routers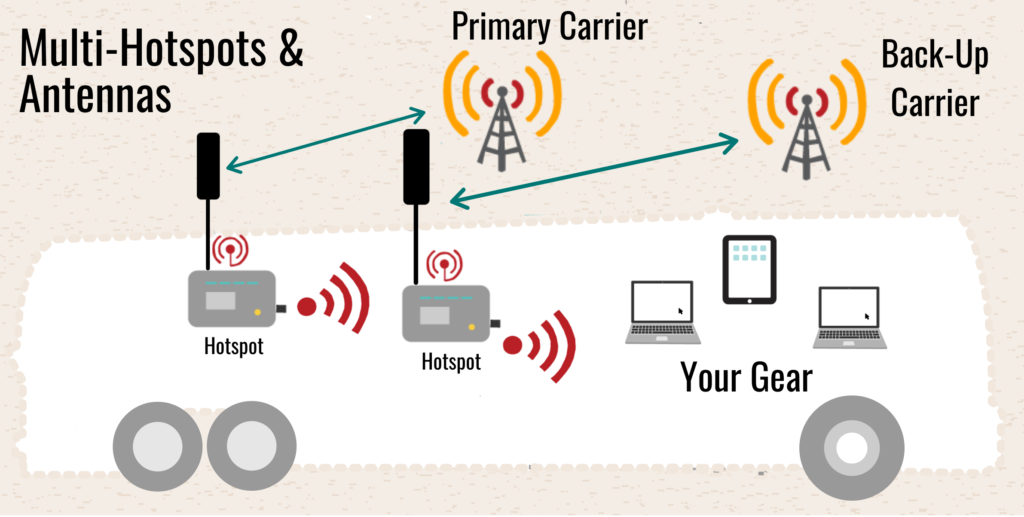 If you need lots of data for use on other devices than a smartphone or tablet, then you need to shop for data plans that can be used in data-only devices like mobile hotspots or cellular embedded routers.
These sorts of plans allow you to share your data pool with any other device, including laptops, streaming devices, remote monitoring systems, game consoles, and more.
Data plans frequently change with time as the carriers compete to balance consumer demand and their own bottom line. And some organizations are able to obtain access to plans that are more attractive than direct with the carriers, which they can resell.
And sometimes, plans meant for one purpose can be made to work with a little bit of rule-bending.
Before you start shopping for data plans, you should do an analysis of how much data you need in a month for this sort of usage. Take into account how much redundancy you need to account for the fact not every carrier will perform equally or even at all at a particular location. Adding redundant options might mean you need to purchase more data than you may typically need in any given month.
Here are some further resources to help with choosing your right approach:
High Cap and Unlimited Data Plans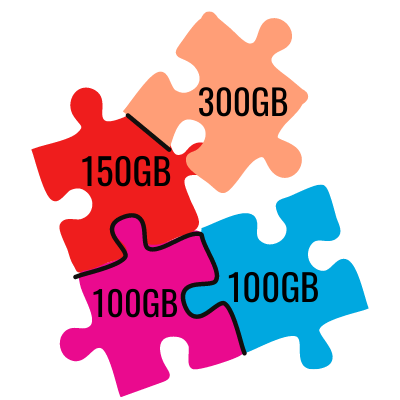 All of the carriers offer data plans for use on mobile hotspots or cellular embedded routers. And some of these plans offer sizable buckets of data in the 100-150GB per month range for an affordable price.
Do pay particular attention to the types of devices that various plans are available for - some don't care if you're using a hotspot or router. Others might be restricted to a particular device or device type.
If you're eligible for a business account with a carrier, you may have access to additional unlimited or higher cap data plans that aren't available to consumers. These business plans, however, may come with some restrictions regarding consumer entertainment like gaming or video streaming, but they are a great option for business use. Qualifying as a business might not be a big deal with some carriers - even sole proprietors might qualify - if you're willing to jump through the extra hoops to get it set up.
By piecing multiple plans together, you can assemble pools of several hundred GB of legit data to support your nomadic needs. Having multiple plans, particularly across multiple carriers helps you keep redundancy in your setup so you can optimize your connection at each stop in your travels.
Of course, redundancy means there is more to manage, including potentially multiple SIM cards, accounts, and devices. A mobile router can help to streamline your setup and make it easier to manage multiple internet sources.
Another thing to be aware of is that high data cap and unlimited data plans tend to change frequently. Fortunately, we constantly track changes and let our members and the public know when options change.
You can browse our current top pick data plans in our guide on Top Pick Cellular Data Plans for RVers and Cruisers.
3rd Party Resellers / Leases
Third-party resellers are companies that have acquired lines of service from the major carriers and are reselling services, typically as rental or leased options. Unlike MVNOs who tend to have a specific agreement with the carriers to resell services, resellers might or might not have explicit arrangements.
You might be familiar with some popular resellers like MobileMustHave, Nomad Internet, Bix Wireless, Unlimitedville, OTR Mobile, Millenicom, and more.
Resellers may advertise unlimited data plans (but watch out for those fair use policies) or offer plans with stated data caps that are typically higher than direct with the carriers.
These plans may be legitimate or could be operating in legal grey areas by reselling lines specifically against a carrier's terms of service, using plans not meant for the purpose of a primary mobile internet connection, or going through master agents who do have legit business agreements with the carriers.
It can be hard to tell, and the reseller isn't likely to be upfront either way. And we see resellers come and go ALL OF THE TIME, oftentimes leaving their customers in a lurch without service with no notice.
This uncertainty means there is a lot more volatility and risk with a 3rd party reseller plan.
Always proceed with caution when dealing with a reseller - anticipate your plan could go away with little to no notice. You could be left with gear that can't be used with another service, including the potential for your device to get blacklisted. You could lose service that you prepaid for. You could experience poor or nonexistent customer service.
If you choose to utilize a reseller-provided plan, always have a backup option in mind for when - not if - your plan suddenly disappears.
We do keep lists of 3rd Party Resellers for each of the carriers, with extra notes and information for our members in our Gear Center: Shop for 3rd Party Reseller Data Plans.
Bending the Rules
All of the carriers have extensive terms of service in their fine print, which spell out what is and isn't allowed with your data plan. Some are just more detailed explanations of advertised features and services, but some go deeper and list specific terms that can make or break how well a plan will work for you.
Some terms are actively enforced by the carriers, and others are not - until they are. Some are periodically enforced and can be used to cancel lines during periodic sweeps/crack-downs. And some carriers let some terms of service violations fly under the radar until they become so widely exposed that plans become widely abused. Once that happens, then the carriers start getting aggressive in cracking down, often by abruptly canceling lines of service.
There are ways to use a plan against terms of service, or in a gray area that may not specifically be covered in the terms.
Here at the Mobile Internet Resource Center we focus on educating you on the ins and outs of these plans. We don't necessarily condone violating terms of services, but we're not here to tell you what to do (or not do). There's a lot of content out in the open web about how to get around a carrier's policies. We leave it up to you to make your own assessment of the risks you're willing to take.
Shopping for Cellular Data Plans
Finding the right plans for your needs is no easy task - quite simply mobile travelers using cellular data as their primary way online is not how most carriers have designed their plans. Many of us want plans that provide copious amounts of data.
Here's our video going over ways to get LOTS of data for use in your travels:
But a data plan alone will not keep you online. You also need the right gear, signal enhancing strategy and planning your travels around the options you carry with you. Head on over to our collection of guides:
Conclusion: You Can Get Lots of Cellular Data
By understanding how you need to be able to use data, there are ways to get lots of data in a mobile internet arsenal for an affordable price. Consider what you need to do online, how you need to do it, and come up with a game plan to approach your setup.
Once you understand your needs and the gear you'll use in your setup, you can shop for plans that meet them.
Explore the Resource Center
Join our 'Library Desk':
Internet for RVers & Cruisers Facebook Group
We cross post news articles and guides, and can help point you in the right direction to our content here on the resource center.
It is with gratitude to our premium members that we're able to offer our free content - and for that, they also have access our private Q&A areas for more in-depth guidance.
The MIA is our premium membership - designed for those who consider mobile internet an important part of their lifestyle.
In thanks for making content like this possible, we offer a bunch of additional perks. From interactive guidance, in-depth member exclusive content, discounts, alerts, classroom and more. 
We totally understand that a membership isn't right for everyone.
However you can still support this content with our supporter level for just $25/year. 
With our gratitude, you'll get access to all our free content without the 'nags'. 

Stay In the Know
We're constantly tracking the industry and analyzing new developments for mobile travelers. If you'd like to receive updates, we offer several ways: