Unlimited Cellular Data Plan Directory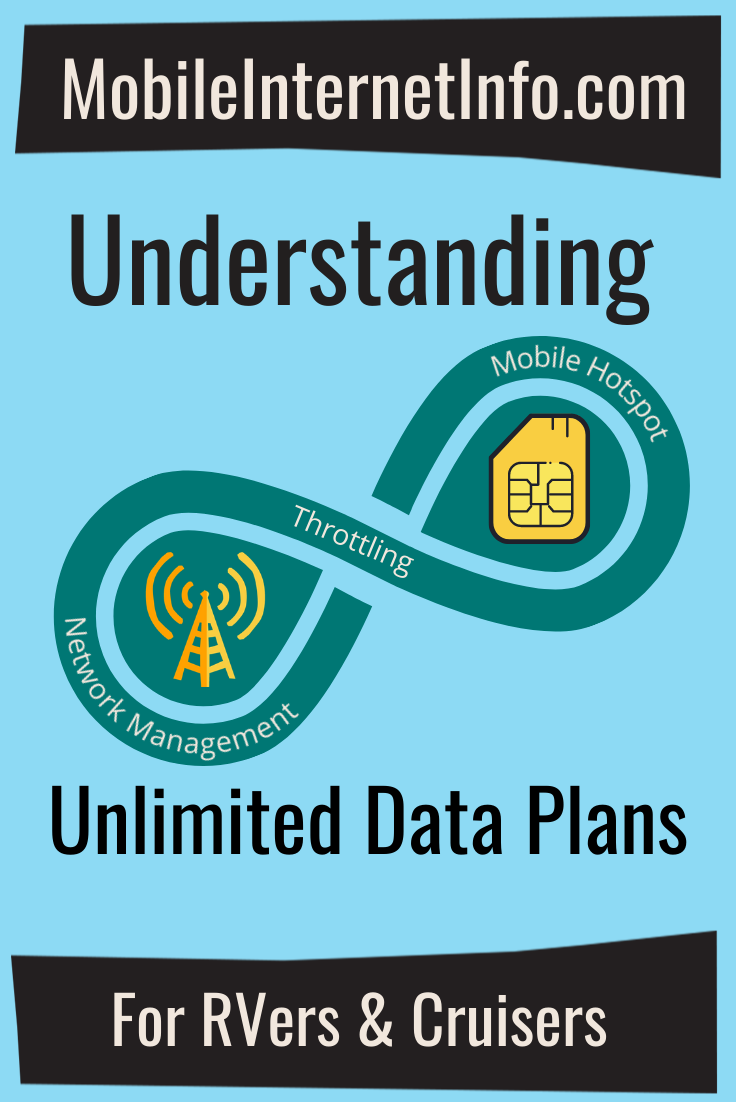 Many RVers, cruisers, and nomads are seeking a home internet replacement so they can work remotely, stay in touch with loved ones and even keep entertained.
Unlimited cellular high-speed data plans are in high demand for the mobile community who would like to affordably use hundreds of GBs of data a month.
Most carrier direct plans are designed for use when traveling away from the home or office - not as a home internet replacement.
So while all of the carriers proudly advertise unlimited data plans, they have redefined the term "unlimited" to try to limit all of their customers from replacing their home or office internet with cellular.
Finding truly unlimited data plans without restrictive throttling on mobile hotspot use or video usage can be a challenge. But there are options out there and this guide is kept up to date as a directory to the options.
This Guide Brought to You by Our Members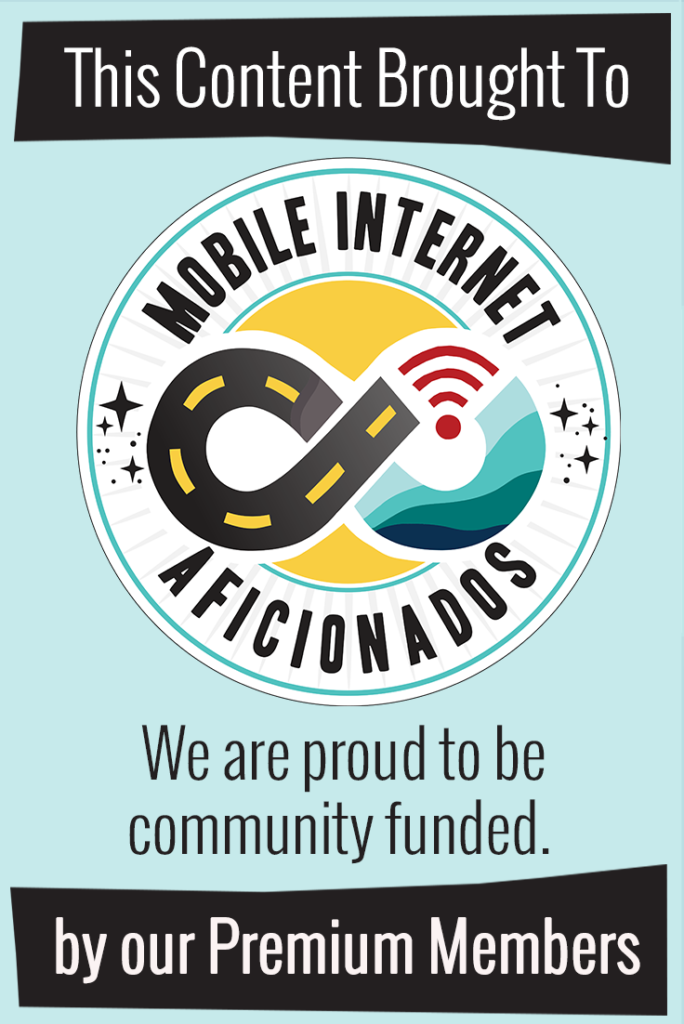 We are honored to be able to provide this guide for free - without 3rd party advertising, sponsorships or trying to sell you stuff.
In thanks for funding this resource center, our premium members also get access to all of our in-depth guides, classrooms, reviews, Q&A forums, discounts and more. But we understand, membership isn't for everyone - there are lots of ways to support our content.
If mobile internet is an important part of your lifestyle, here are ways you can help:
---
Video Overview
A quick video overview recapping unlimited data plans:
---
Understanding the Limits on Unlimited
Unlimited should mean unlimited... but the carriers have redefined the term to basically mean no overage charges.
So before we get into listing specific plans - you should have a base understanding of the terms used.
Many plans come with gotchas meant to restrict a plan being used as a primary home internet solution.
Which is precisely what many RVers and cruisers are seeking.
Here's a quick recap of the most common restrictions that come on "unlimited" data plans to be aware of:
Throttling vs Network Management
Slowing down speeds can get a bit confusing. Don't let terms like Throttling and Network Management trip you up.
Throttling - Is when a carrier or reseller always slows down speeds. This might be for the entire month, only after a certain amount of data is used, or for specific usage like via a mobile hotspot.

Plans that have throttle points tend to be slowed to a specified speed at a specified set limit. (i.e. 128kbps)

Network Management - Is when a carrier

reserves the right

to de-prioritize the traffic of high bandwidth users. So, during times of congestion, you might be slowed down temporarily compared to other customers. There is often a threshold before this kicks in (22-75GB of usage in a month). Some plans are always subject to it. The pre-network managed data is also be referred to as 'premium data' by some carriers.

Plans that are subject to network management don't tend to have a set speed of slowing if slowing is needed on a tower. They are generally just 'slowed' for the time necessary to allow others on the tower who haven't incurred network management to utilize their plans at full speed.
Mobile Hotspot / Tethering Caps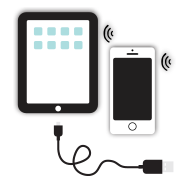 Mobile hotspot is the feature most critical to those using cellular data as a home internet replacement. It's what allows your smartphone, Jetpack or router to create a local network that gets your laptops, tablets, streaming devices and other devices online with your cellular connection.
The carriers currently don't have the capacity to be a home internet replacement for everyone, so they tend to have caps on how much high speed mobile hotspot use they include in their plans.
This is definitely something to pay particular attention to when selecting plans. It's not a feature important to many non-nomadic consumers, so it tends to be glossed over in a carrier's marketing.
Video Throttling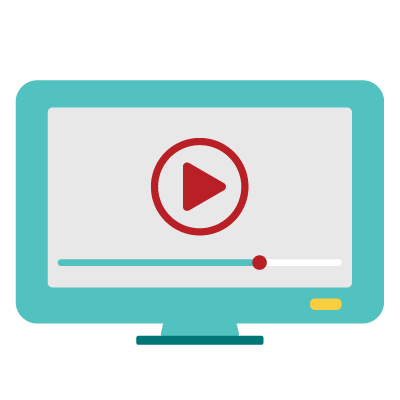 Most unlimited plans these days include unlimited video streaming on your smartphone or tablet. However, video resolution might be restricted to 480p, 720p or 1080p to save carriers and/or consumers on bandwidth.
Check out our guide to TV & Entertainment on the Road for a lot more details on utilizing cellular data for video streaming, including the best practices for legitimately getting around your mobile hotspot cap to view video on a larger TV screen.
Fair Use Policy
Aside from limitations on mobile hotspot, video and network management - the carriers haven't designed most unlimited data plans to be a home internet replacement.
So if you find a plan that doesn't have many stated limitations, most plans in the fine print have some sort of Fair Use Policy in place.
And while these policies may not have firmly stated hard capped limits, it gives the carriers and resellers leeway to restrict usage for those who are using more data than their average customer.
On many unlimited plans you're probably fine using a couple hundred or even a few hundred GBs of data a month, unless otherwise stated. But if you start exceeding that you put your own plan at risk of throttling or even termination.

And if too many customers are using excessive amounts of data, that's when the carriers discontinue plans across the board - which may or may not be grandfathered in. And in particular with 3rd party resellers, concentrated heavy usage is what puts vendors on the carrier's radar for finding and shutting down.
For those who regularly need more than a few hundred GB of data, we recommend having multiple plans to spread your usage out. This keeps you off the carrier's radar to both protect your plan, and helps keep options available for others.
Keep in mind, even some wired home internet options now come with thresholds in the 1TB range. If you're using that much data over cellular, you're on your carrier's radar.
---
Types of Unlimited Data Plans
Carrier Direct Postpaid Smartphone Plans
This chart offers a quick comparison summary of the limitations & pricing for the carrier direct unlimited plans offered for smartphones - with the data devices that can be added on:
For full details on each carrier's direct unlimited plans & policies, click on the carrier you're interested in to view all of the current and recently retired postpaid plan options offered:
Unlimited Tablet Plans
A cellular enabled tablet can be a great component to a mobile internet arsenal, and all of the carriers offer affordable unlimited data plans for them.
With an unlimited on device plan for a tablet you can keep up with e-mail, web surfing, social media and stream lots of video to a usable screen (or cast to a larger screen). And because most tablets have a camera built in, you can even use video conferencing apps like Zoom, Microsoft Teams or GoToMeeting for interactive sessions. You can even do live broadcasts & webinars to YouTube Live, Facebook and more.
All using your unlimited on device data without needing to rely on high data cap hotspot plans.
Unlimited data plans can often be added on to the carrier's smartphone plans - and some carriers even offer them as standalone plans.
Verizon - Available as a $10-30/mo add-on, or stand alone for $80-90/mo.
AT&T - Available as a $20/mo add-on, or stand alone for $20/mo.
T-Mobile - Available as a $20/mo add-on, or stand alone for $75/mo.
Sprint - Available as a $25 stand alone plan.
Learn more in the postpaid carrier details linked above.
Prepaid & MVNO Brands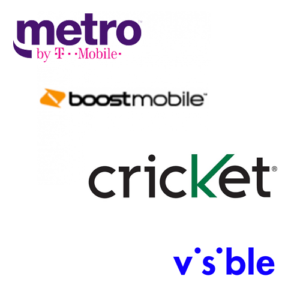 Each carrier has their own prepaid division that they utilize to target niche markets.
They also each have prepaid subsidiary companies they operate under their own brands. Such as AT&T owns Cricket, Verizon owns Visible and T-Mobile owns Metro by T-Mobile. BoostMobile was Sprint's prepaid brand, but they are now owned by Dish Network. You acquire these plans at branded storefronts (i.e. you can't go to an AT&T store to get a Cricket plan).
MVNOs on the other hand officially buy service in bulk from the major carriers and resell it under their own brands with their own terms and provide their own customer service. These "virtual" carriers usually directly negotiate and operate under authorized contracts with one or more major carriers to resell service.
Some examples of MVNOs include StraightTalk, Consumer Cellular and Google Fi. None of these companies are owned by the carriers themselves. They are operated completely independently.
You'll find that under prepaid and MVNO brands there may be unlimited data plans advertised, particularly for smartphones and tablets. Be sure to read the details of the plans for restrictions outlined above including network management, mobile hotspot caps (or even if the feature is included), video throttling and more. You may also find that there are restrictive fair use policies on these styles of discounted plans.
You can shop for prepaid & MVNO plans in our Gear Center:
Cellular Data Plan Gear Center
3rd Party Resellers / Leases
These are companies that have acquired lines of service from the major carriers and are reselling services, typically as rental or leased options. Unlike MVNOs who tend to have a specific agreement with the carriers to resell services, resellers don't always have explicit arrangements.
These plans tend to be the closest thing on the market for 'home internet replacement' levels of high speed data for use in a mobile hotspot device or cellular embedded router - and thus are the most attractive for our audience. But do be sure to dig into the fine print for any fair use policy limitations the reseller may have in place to prevent abusive use that could put their plans & business at risk. Many resellers also have tiered data plans.
These plans may be legit, or could be operating in legal grey areas. They could be reselling lines specifically against a carrier's terms of service, using plans not meant for the purpose of a primary mobile internet connection or going through master agents who do have legit business agreements with the carriers.
It can be hard to tell, and the reseller isn't likely to be upfront either way. And we see resellers come and go ALL OF THE TIME, often times leaving their customers in a lurch without service with no notice.
This uncertainty means there is a lot more volatility.
Always proceed with caution when dealing with a reseller - anticipate your plan could go away with little to no notice. You could be left with gear that isn't viable for other use later. Your device the plan is used in could get blacklisted by the carrier. You could lose service you prepaid for. You could experience poor or variable customer service.
If you choose to utilize a reseller provided plan, always have a back-up option in mind for when - not if - your plan suddenly disappears.
Note: Our vendor list of data plan resellers can be found within the '3rd Party Rentals' tiles below for each carrier. This is where you'll find options like OTR Mobile, Mobile Must Have, Bix Wireless, Nomad Internet, Unlimitedville, etc.
---
Unlimited High Speed Hotspot Data Plans
Below are data plans that we currently know of that allow for "unlimited" high speed mobile hotspot use. Plans may be subject to network management and fair use policies - but there is no hard throttling after just a few dozen GBs resulting in unusable speeds.
---
Unlimited-but-not-Unlimited Plan Options
In addition to the plans above, there are options advertised as unlimited that might not really include unlimited high speed mobile hotspot use. Here are some that we get asked about often:
Verizon
Here are some alternative options for unlimited data on Verizon's network:
PopData (Tiered Data Plans)
For those on tiered postpaid Verizon data plans post-October 2016, the carrier allows customers to purchase 30 minute ($2) and 60 minute ($3) unlimited data sessions, giving a lot of flexibility for consumers to handle large file transfers when needed.
Verizon 'Unlimited' Postpaid Data-Only Plan
You can activate a Jetpack or a Tablet on Verizon's unlimited postpaid plan - they offer Unlimited and Unlimited Plus. A Jetpack or Tablet on this plan will provide 15GB or 30GB of full-speed mobile hotspot data, with anything beyond is then reduced to 600kbps. For tablets you also get unlimited high speed on device use, subject to network management after 15GB or 30GB and unlimited HD (1080p or 720p depending on your device) on-device streaming. When using Verizon's 5G Ultra Wideband, there are not as strict limitations.
Adding a data-only device to an already existing account costs $10-30/month depending on the plan, or they can be activated as the primary line of service (same price as a single phone line).
Verizon Prepaid Unlimited
Verizon Prepaid offers an unlimited smartphone plan. However, the plan has an add-on feature to enable 10GB of high speed mobile hotspot use for an extra $5/month. Often folks see this plan and assume it is now retired prepaid Jetpack plan, but it is not.
Xfinity Mobile & Spectrum Mobile
These home-based cable services offer special plans on Verizon to their customers. On-device data is 'unlimited' - with the first 20GB being at full speed. Mobile Hotspot however is restricted on both plans - only 5GB at high-speed on Spectrum's plan, and all at 600 kbps on the Xfinity plan.
Fixed Wireless Access Home Internet Plan
Verizon offers a Fixed Wireless Access Home Internet Plan targeting some areas of the country and offering unlimited data for $40/$60 per month on their 4G LTE network. This plan is not viable for mobile use - and is only available to be used at specific addresses.
AT&T
Here are some alternative options for unlimited data on AT&T's network:
Connected Car
If you have a vehicle with the OnStar system built-in, you can generally qualify for an unlimited standalone $20/month data plan through the Connected Car department. This plan only works when the vehicle's ignition is on.
For a few months in 2017, and a quick resurgence in early 2019 - the Mobley device was in stock and available for activation. This device could be used outside a vehicle's OBD-II port with a power adapter.
AT&T Prepaid Smartphone
AT&T offers two prepaid smartphone plans with unlimited on-device service. One does not include any mobile hotspot use, and their higher tiered level plan includes 10GB of high-speed mobile hotspot.
Cricket Wireless
Cricket Wireless is a prepaid brand owned by AT&T. They offer unlimited data plans for smartphones - one that is always slowed to 3mbps speeds and one that is full speed on device. Both are subject to network management after 22GB of usage in a month. Customers can add on 10GB of high speed hotspot use for $10/month on select phones on either unlimited plan. (While SIM cards from unlimited Cricket plans do work in hotspot devices with unlimited service, we have received reports of Cricket enforcing their terms of service for unauthorized use. Some customers received text messages and others had their accounts terminated.)
Consumer Cellular
Retiree-focused Consumer Cellular is an AT&T and T-Mobile MVNO with an 'Unlimited' data plan offers 35GB of high-speed data, and and then throttled data speeds after 35GB of use. This plan can only be used via a phone or tablet device, but hotspotting from either device type is permitted. 10GB data boosts are available after 35GB of use - up to 55GB.
Skyroam
Skyroam is an international global SIM provider prominently advertises 'Unlimited Data' for $9/day or $99/month on their proprietary hotspot device. However, read the fine print - Skyroam has a fair use policy that gives them the right to slow the speeds of your data whenever they feel the need to manage their traffic. They also offer a $49/month domestic "unlimited" plan that actually only includes 20GB per month of high speed usage. They refuse to disclose what carrier(s) they use in the US as well (but at one time it was AT&T.)
Business Unlimited Wireless Broadband Plans
AT&T offers Unlimited Wireless Broadband plans, however, these plans require a primary use location and are intended for 'machine to machine' usage. As attractive as these plans would be for mobile users, AT&T has specific restrictions that make it uncertain if they will be valid long term for how our audience wants to utilize such a plan.
T-Mobile
Here are some alternative options for unlimited data on T-Mobile's network:
T-Mobile Home Internet
T-Mobile Home Internet is a $50/month unlimited data plan with their LTE Gateway Device, intended for home internet use. It is only available to select addresses with a waitlist to be invited, and is supposed to be locked to a fixed location with no authorization for mobility.
T-Mobile Prepaid Smartphone
T-Mobile Prepaid offers two unlimited plans - Unlimited and Unlimited Plus. The Unlimited Plan includes unlimited hotspot data, but it is always slowed to 3G speeds. The Unlimited Plus Plan includes up to 10GB of 4G hotspot data, and then speeds are slowed to 3G after 10GB.
Metro by T-Mobile Smartphone / Hotspot
Metro by T-Mobile is a T-Mobile prepaid subsidiary offering two unlimited on-device plans with 4G LTE data on device, and either 5GB or 15GB of mobile hotspot data for $50 or $60/month. A dedicated mobile hotspot device can be added to accounts with smartphone lines. The mobile hotspot plans range from $35/month that provides 10GB of high-speed data, up to $75/month that provides 35GB of high-speed data.
Google Fi
Google Fi is Google's cellular plan that combines T-Mobile, Sprint, and US Cellular. Their 'unlimited' plan is $70/month and includes 22GB of high-speed data, all of which can be used as mobile hotspot. Data after 22GB is slowed to 256kbps (2G speed). Additional high-speed data can be purchased at $10/GB.
Consumer Cellular
Retiree-focused Consumer Cellular is an AT&T and T-Mobile MVNO with an 'Unlimited' data plan offers 35GB of high-speed data, and and then throttled data speeds after 35GB of use. This plan can only be used via a phone or tablet device, but hotspotting from either device type is permitted. 10GB data boosts are available after 35GB of use - up to 55GB.
Sprint
Here are some alternative options for unlimited data on Sprint's network:
2-in-1 PC Devices & Tablet Plans
Sprint has an unlimited on device data plan for select 2-n-1 Snapdragon based PC-like devices and BYOD tablets for $15/month. Plans include 480p video streaming and 10GB of LTE mobile hotspot use.
Boost Mobile Smartphone Plans
Boost Mobile was Sprint's prepaid subsidiary. They are now owned by Dish Network. Their two unlimited plans are the Unlimited Gigs plan, which includes 12GB of hotspot data, and the Unlimited Plus plan, which includes 30GB of hotspot data. Both plans are subject to Network Management at any time - but most importantly is when Dish took over Boost, they put in a hard cap of 35GB of high speed data on device too.
Google Fi
Google Fi is Google's cellular plan that combines T-Mobile, Sprint, and US Cellular. Their 'unlimited' plan is $70/month and includes 22GB of high-speed data, all of which can be used as mobile hotspot. Data after 22GB is slowed to 256kbps (2G speed). Additional high-speed data can be purchased at $10/GB.
---
Conclusion: Know the Limits of Unlimited
Unlimited cellular plans are in high demand in the mobile community, but finding truly unlimited plans without restrictions or throttling can be a challenge. Make sure you understand the specifics of any plan you are considering.
---
Selecting the right cellular data plan for your mobile internet needs is only one part of the equation. Here's some further guides on understanding the selection process as well as the additional gear you might need.
Explore the Resource Center
The MIA is our premium membership - designed for those who consider mobile internet an important part of their lifestyle.
In thanks for making content like this possible, we offer a bunch of additional perks. From interactive guidance, in-depth member exclusive content, discounts, alerts, classroom and more.
We totally understand that a membership isn't right for everyone.
However you can still support this content with our supporter level for just $25/year.
With our gratitude, you'll get access to all our free content without the 'nags'.

Have Questions? Stay In the Know
Join our 'Library Desk':
Internet for RVers & Cruisers Facebook Group
We cross post news articles and guides, and can help point you in the right direction to our content here on the resource center.
It is with gratitude to our premium members that we're able to offer our free content - and for that, they also have access our private Q&A areas for more in-depth guidance.
Stay in the Know
We're constantly tracking the industry and analyzing new developments for mobile travelers. If you'd like to receive updates, we offer several ways: