10/1/2020 Update: Verizon released a 5G home gateway router for this service, replacing the 4G LTE device described in this article. However, all the terms remain the same except the home service now has access to Verizon's 5G UW (mmwave) network and will likely have access to Verizon's upcoming nationwide 5G network as well.

Additionally, Verizon has added many zip-codes to expand the service to additional areas. However, we have confirmed several popular nomad mail forwarding service addresses are NOT included in the new service areas. Many people are reporting that they are in an eldgible zip code, but their address is not currently available for service.

Regardless, this is NOT an option for mobile users, it is intended to provide cellular broadband service for fixed locations only.

Details about the new device and existing plans (which have not changed) can be found in our gear center entry. Our original article continues below:

Verizon has unexpectedly announced that the company will be offering a new fixed wireless access home internet service built on its 4G LTE network.
While Verizon has recently been touting their 5G prowess, it seems that the COVID-19 catalyzed movement towards more people requiring higher bandwidth connections while at home has incentivized Verizon to quickly deploy a service to support consumer needs.
Currently, Verizon's 5G network is not widespread enough to cover most people's needs - especially those in rural areas. Verizon's 4G LTE network, however, has a much wider net.
As of today, Verizon has deployed their new fixed wireless access home internet service to a few areas: parts of Savannah, Georgia, Springfield, Missouri, and the Tri-Cities in Tennessee, Virginia, and Kentucky. More locations are anticipated to be added soon - although specific locations have not been announced.
But... is it mobile?
No.
Video Version
Subscribe to our YouTube Channel
Service Details
This new fixed wireless service provides unlimited 4G LTE data, with 'promised' download speeds of 25 Mbps and peak speeds up to 50 Mbps.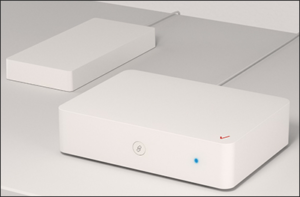 This unlimited data plan will set customers with mobile phone plans on Verizon back $40 a month and will cost non-Verizon customers $60 a month. With autopay. Without autopay, add on another $10/month.
All video on this service is throttled to 1080p, and terms of service indicate that "Live TV streaming is currently unavailable".
The service also requires that you purchase a proprietary router by Askey which costs $240, or with lease payments. It's a Cat-12 modem with ethernet ports for a local area network, an Ethernet WAN port, and a single antenna port for an optional window-mount antenna. It's not yet known if this port supports other antennas.
Verizon has indicated that customers can self-install the device, which looks to be a simple 'plug-and-play' type install.
A Mobile-Friendly Option?
Verizon is making it clear from the get-go that this plan is not intended for mobile usage of any type.

"The LTE Home Internet service is only available in certain locations, and your service is tied to your specific service address. If you are moving and want to see if you can get LTE Home Internet service at your new address, please contact Verizon customer service. Contact Verizon."
So no, don't expect this option to be suitable for RVers and cruisers who are not in a stationary situation in one of the very limited targeted markets.
However, at present time it does not seem Verizon has any way to restrict service to a specific address and we're already getting reports of sales representatives telling customers they can use the device wherever there is a Verizon signal. If you are eligible with a mailing address in a current service area and decide to move service with you outside the designated area, know that Verizon may limit service in the future.
Thoughts
Verizon's new fixed wireless access internet option runs on Verizon's 4G LTE network. It is suspected this service was rolled out to fill a gap for in-home internet access in rural markets since the Coronavirus Pandemic has caused many to remain in their homes for work and schooling - a gap that Verizon's 5G service is not yet ready to reach.
This is not intended as a mobile internet solution - which is clearly defined in Verizon's terms of service.
This plan is similar to the fixed internet plan offered by T-Mobile, although with T-Mobile's Home Internet Plan you don't need to purchase a router up-front.
Related Articles:
Related Guides