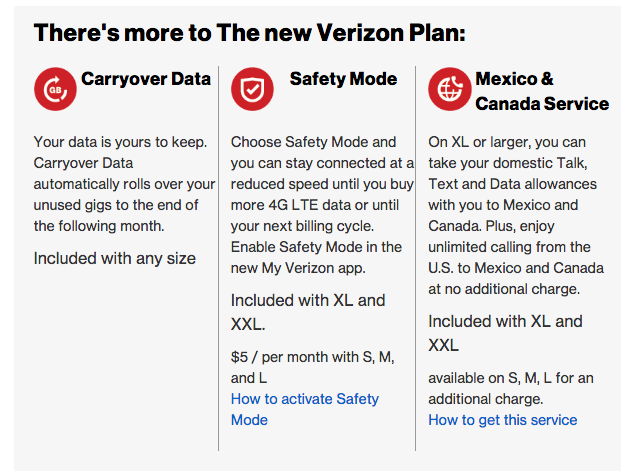 As we reported on last week, Verizon has been dropping hints about "fireworks" this week, fueling rumors of newly revised Verizon plans with some exciting new features about to be announced.
And today - Verizon made it official, announcing the new plans will become available tomorrow, July 7th.
And while the new features are indeed pretty exciting, not all the news is good news.
Particularly for those who aren't heavy data users (the average Verizon customer uses just 2.7GB/mo!) - your monthly bill may be going up if you choose to opt-in to the new plan.
Verizon is our top recommended carrier for most RVers who are mobile. Verizon's nationwide coverage is the largest of the four major carriers, and they have no limitations on domestic roaming.

For more on the pros & cons of each cellular carrier for RVers:
Here's everything you need to know about the new Verizon plan, and how it might apply to you:
The New Verizon Plan: Data & Pricing
Verizon is keeping the same simple naming scheme for its new plans: S, M, L, XL, XXL
But every one of the tiers is changing - getting more data included.
But the prices are going up across the board too - by as much as $10/mo.
Verizon justifies the price increase with their new slogan:
"Some people say cheaper is better. We say better is better."
Overall, every plan size is seeing a reduction in the cost per GB, which is always a pleasant shift to see in the industry. But for those more focused on price than data, the price increase will be unpleasant news.
Here's the comparison of the old versus the new plans:

As in the past - Verizon will continue to offer plans beyond XXL for those who need even more data. All higher tiered are priced at a flat $4.50 per GB (a significant drop in price from the older plans at $7.50/GB).
| | | |
| --- | --- | --- |
| GBs | Price | Price/GB |
| 30 | $135 | $4.50/GB |
| 40 | $180 | $4.50/GB |
| 50 | $225 | $4.50/GB |
| 60 | $270 | $4.50/GB |
| 80 | $360 | $4.50/GB |
| 100 | $450 | $4.50/GB |
Verizon also continues to offer data-only plan prices for customers who do not have any smartphones or voice line on their plan, but those prices are not changing. These data-only prices range from 2GB for $20/mo up through 100GB for $710/mo.
TIP: If you are seeking out a data-only plan, you will actually save money by having a phone on the line once you need more than 16GB for $90/mo. But if you need this much data, you can actually save a ton in the long run by getting a grandfathered Verizon unlimited plan line, which can cost as little as $45/mo for truly unlimited data.
On top of the data plan, customers also pay a line access fee, which have remained the same from the Old Verizon Plan:
Tablets are $10/mo
USB modems and mobile hotspots are $10/mo
Smartphones are $20/month if out of contract or on an equipment installment plan (or $40/month if under contract).
Connected devices are $5/month
As before you can have up to 10 different devices sharing your data plan, but now with the new Verizon plan "connected devices" such as smart watches do not count towards your ten device limit.
Pricing Example:
As an example, a XXL plan with 24GB of shared data a month, with 2 smartphones and a mobile hotspot (Jetpack) would be:
$110 + $20 + $20 + $10 = $160/month
Then of course, there's taxes and regulatory fees on top of that. For those who qualify for employer or veteran discounts, don't forget to ask Verizon to apply those to your account too.
The New Verizon Plan: Features
Here's a run down of the new features the Verizon is introducing with their new plans:
Carryover Data:

Verizon is at last joining AT&T & T-Mobile and rolling over data that is not used in this billing period to the next.

Carryover Data will be similar to AT&T's Rollover Data and will only roll unused data from one month over to the next. The carryover data is then only tapped into after you've used all your tiered data for the month. And if you do not use it, it will expire at the end of the billing period.
T-Mobile's "Data Stash" feature is much more flexible in that it lets unused data carry forward for up to a year, however you can only "Stash" up to 20GB at any time.

"Safety Mode" Unlimited 2G-Speed Data:

Verizon will be joining T-Mobile and Sprint by getting rid of (some) overage charges - instead offering a 'Safety Mode', allowing customers to choose what happens after they reach their data cap each month.

With Safety Mode enabled, once your high speed data is used up, your connection will simply be slowed down to 2G-speed 128 kbps (just enough to do the basics) for the rest of the month - essentially 'unlimited' slow speed data.
Safety mode is included in the new XL and higher plans, or is a $5/month option on lower tiered data plans.


UPDATE:

Starting September 6th, Verizon is including Safety Mode for free with all sizes of the New Verizon Plan.
For comparison, T-Mobile and Sprint automatically switch to slow speed unlimited data after high speed data caps are reached - at no extra charge, but with no option to opt out.

TIP:

128kbps is painful for anything interactive - but for bulk background uploads and downloads, that works out to over 1GB/day, or 40GB/mo.That can actually be very useful, if you are smart about it.

Data Boost:

For customers who have entered Safety Mode, Verizon's new "Data Boost" feature will let you elect to purchase more high speed data at $15/GB (basically an opt-in overage fee), or you can switch to a different plan.

This ability to purchase extra high-speed data as needed can be very handy for those who rely on mobile internet for work. This extra data WILL rollover to the next month if you do not use it all.

Mexico & Canada Service:

Copying T-Mobile's "Mobile Without Borders", some Verizon plans will now include free roaming into Canada and Mexico, including calling and high-speed data.

The feature is included on XL and XXL plans.
Unlimited calls to Canada and Mexico can be added for an additional $5/mo charge on smaller plans, and roaming into Canada or Mexico remains available on the more basic plans via the $2/day Travel Pass.
Verizon warns that if more than 50% of your talk, text, or data usage during a 60 day period is in Canada or Mexico, your usage in those countries may be removed or limited.

TIP:

Because Verizon makes it easy to change plan tiers, you can change to XL before a trip in Canada or Mexico, and change back after.

The New My Verizon App:

To manage everything, Verizon is rolling out a new Android and iPhone app that will let you instantly see how much data you have used, and will let you activate Safety Mode, Data Boost, or even change plans instantly on demand. The app will even give you on demand access to Verizon support.

TIP:

You can turn on/off Safety Mode whenever you want, but it does not go into effect until all your high-speed data for the month is used up. It is smart to leave it turned on so that you do not run into any surprise overage charges.
Even though Verizon is playing catch-up to the other carriers in rolling out many of these features, these are all welcome additions.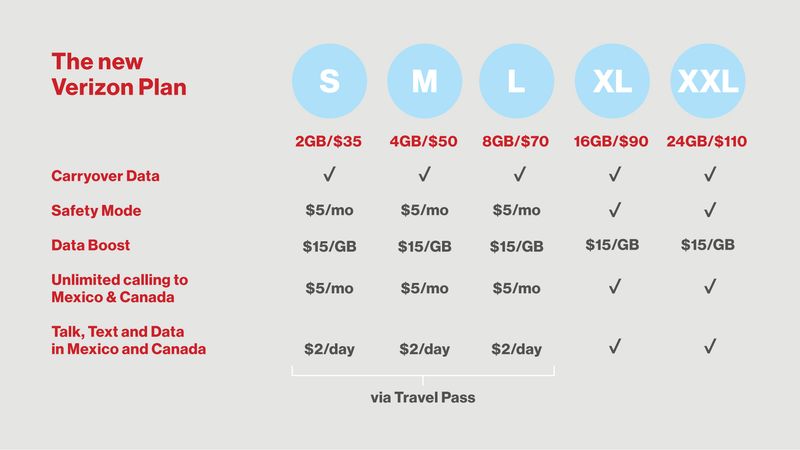 It's a Brand New Plan - You Have To Opt Into It
Like last year when Verizon launched the 'The Verizon Plan', this too is a brand new plan that is being dubbed The New Verizon Plan.
No customer will be automatically switched to it, and to obtain the all of the new features (and the price increase) you must agree to switch to the new plan.
If you like your existing plan, pricing, promotions or features - Verizon is allowing you to keep your current plan.
But new customers who sign up starting tomorrow will only be able to sign up for the new plan, and changes to your old plan (including changing your monthly data size) will force you into a new plan as well.
WARNING: If you have any old promotional plans, you will lose them by switching!
Of particular note, those holding on to any of these past promotional plans should very carefully consider if it makes sense to switch: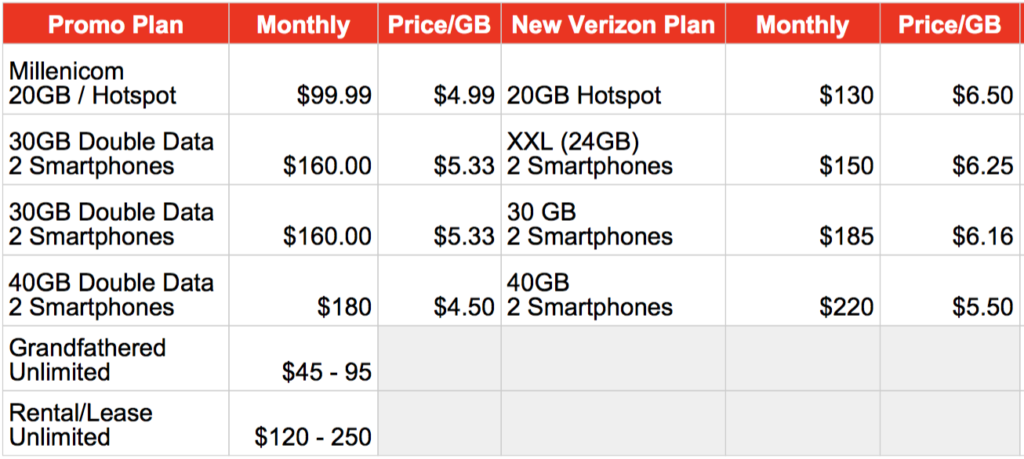 If you do decide to switch from any of these past offers, just remember you will never be able to get these old deals back.
Verizon's New Referral Program - Earn $25 to $100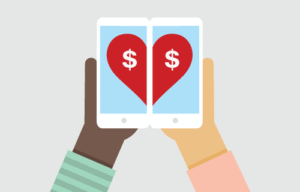 Also new from Verizon is a referral program that rewards you for Tweeting and posting on Facebook encouraging your friends to sign up with a Verizon plan.
If someone signs up via your link, you can earn up to $100 per month.
The Verizon customer who shares the link earns $25 for one referral, $50 for two referrals, and $100 for three or more in a given month.
And each of the friends who sign up gets $50.
All payouts will be sent via Visa gift cards after the new account has been active for 45 days.
For more information on this new program, visit: www.verizonwireless.com/refer
TIP: If you don't have a friend to share the wealth with and you want $50 for signing up with Verizon, you can use our referral link to get the $50 credit. We appreciate the support in funding this site by using the referral. Thank you!
Further Reading: