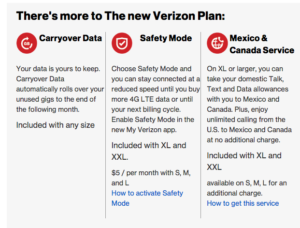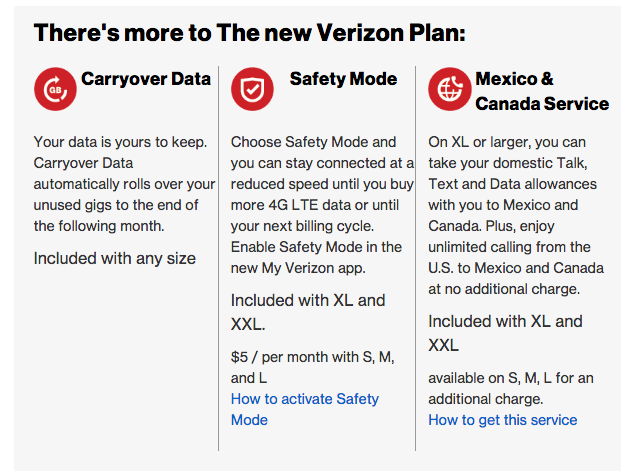 When Verizon announced the New Verizon Plan in July, one of the core features was "Safety Mode" - an optional feature which eliminated $15/GB overage charges.
Instead - once the high-speed data allotment for the month is used up, if "Safety Mode" is enabled your account will get throttled back to glacially slow 128kbps for the duration of your billing cycle.
Slow but unlimited "2G speed" data sure beats a surprise bill, but Safety Mode was only included as a feature for those with a 16GB "XL" ($90/mo) plan or larger.
For everyone with a smaller plan, Verizon was charging $5/mo for the "protection" from being gouged by overage charges later.
No surprise - Verizon customers were not particularly excited to have to pay Verizon for protection from Verizon.
Verizon Ending its Protection Racket
First reported by The Verge, and confirmed by a Verizon spokesperson to Engadget yesterday - Verizon will be getting rid of the $5/mo fee to enable Safety Mode on all plans starting September 6th.
Customers who have signed up for the Verizon Plan since July 7th when the new plans became available will now get Safety Mode as an option to enable for free.
Customers grandfathered in with older plans on the other hand will have to decide if it worthwhile to migrate to Verizon's current offerings - Safety Mode will not be an option for older plans.
IMPORTANT: Even though Safety Mode will be included for free with the New Verizon Plan, it is still opt-in. If you do not explicitly enable Safety Mode via the Verizon app, you are still subject to $15/GB overage charges. It would have been nicer if Verizon had taken the reverse tact and made Safety opt-out, but that would likely have resulted in a lot fewer people accidentally getting hit with huge overage charges. Thanks, Verizon!
Verizon Also Introduces 12GB Plan


Verizon also confirmed to Engadget that a new 12GB plan will become available on September 6th for $80/mo, sitting in Verizon's lineup between the "L" 8GB plan for $70/mo and the "XL" 16GB plan for $90/mo.
The 12GB plan will only be available for a limited time, so if this is a usage sweet spot for you - lock it in now.
Further Reading: