Update: As of 4/2017, Verizon's TravelPass has increased to $5/day in Canada/Mexico.
Verizon is joining the other carriers and making it easier and more affordable for their customers to use their existing cellular and data plans in other countries.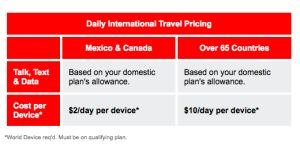 Yesterday, the red carrier introduced their new TravelPass international option.
For $2 per device for a 24-hour period in Canada and Mexico, or $10 per 24-hour period in over 65 other countries - customers can utilize their existing domestic talk, text and data plans. The data will not be slowed down, and be at full speed of Verizon's roaming partner.
To activate the service, customers just need to make the adjustment on the MyVerizon website or mobile app to enable TravelPass in the International Services section. There is no charge to make this change and keep it active.
A world/global capable device is required to be used internationally, and only qualifying plans can add this service.
Unlimited Data Plan Warning: To the dismay of many grandfathered unlimited data account holders, international services have never been available on legacy Nationwide plans. They are domestic only, and adding any international plan requires switching to a current plan.
When the customer arrives to a supported country, they will receive a text message reminding them of the service. As soon as a TXT message, phone call or data is utilized, the 24-hour period is started and charge made. The customer may use as much talk, text and data as their domestic plan is set up for.
If no such service is requested in a 24-hour period, there is no charge. To ensure no charges are made without explicit consent, Verizon recommends customers either disable the feature on their account, or keep their devices in WiFi only or airplane mode when traveling internationally or close to borders.
This presents a very flexible and simple option for those who cross international borders.
If a customer has a large data bucket on their Verizon account, paying a small fee on a daily basis as needed may be worth the while. In Mexico and Canada, this amounts to just $60/month extra to access the full Verizon account features - which can be considerably cheaper than trying to source a local high data prepaid option.
Of course, if you're going to be in a country longer than a couple weeks, it may be more worthwhile to seek out other options - including a local prepaid SIM card.